Calling Indian Friends, WHERE ARE THEY?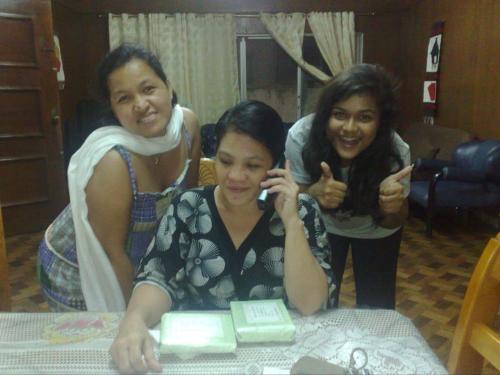 Philippines
June 5, 2011 9:44pm CST
Hi mylotters, We had the chance to call our Indian friends in India (mylotter and non mylotter) we tried to call atleast 10 of them but they are not picking up their mobile phone, so where is everyone? I told other mylotter maybe they are attending wedding since it's marriage season there we asked our Indian friend if there is some festival going on. We tried and tried to contact them at last one mylotter answered it but he is having his lunch so we just tried to call him again first he don't know me of course so I told him it was bhabycatch013 from mylot he remembered me hehehe(even we are not yet friends here hahaha) but it seems the connection was not that good so I said goodbye to him. Another try again yippeeeeeee....another mylotter answered it but he is busy doing some wedding doll so the talk did not take long but still we are happy we are able to contact him. We tried to contact our friend from Kerala but he is not answering we tried many times so our Indian friend which is his cousin tried to contact him also but he contacted a wrong person instead of his cousin (which one we are trying to call) he dialed his Uncle's number we all laugh because he said " I am trying to call Mohan and I dialed your number so How are you?hahaha!it was funny he even laughed about it later and told us this is happening if I am not wearing my glasses. The last call after so many attempt he answered his mobile I said May I speak with Mr. Shiby he answered back yes this is Mr. Shiby so I told him this is a collect call from Manila will you take it Sir? He said okies I will take it, Then I changed my voice and told him it's me he was laughing he recognized my voice hahaha!we talk for awhile and I passed the phone to his Didi and they are laughing and i heard the "MEOW-MEOW" they are talking about the kittens and she requested something from him I don't know if it was granted hahaha!. She returned the phone to me and I was hearing Shiby Meowing hahaha! I asked him how was the cow he told me it was on the field MOOOOOOOOOOOOOOOOO-MOOOOOOOOOOO......then I made a sound of a dog AWW-AWW hahaha!We talked everything under the sun before I hang up the phone. [b][/b]Even we are thousand miles away we are happy to connect with them in this way. happy mylotting have a great monday!
4 responses

• Philippines
6 Jun 11
did i hear wedding bells before you hang up?




• Philippines
6 Jun 11
@
jaiho,

of course not

Maybe you heard the baby's crying (maybe it was his baby

)


• Philippines
7 Jun 11
Haha,that was so cool bhaby!

You talked to amigo,haha! You guys must have had lots of fun yesterday,lol!

It's great to know that you all are having a deeper connections,wow! I know you know Sids and Vidh too...am sure you were also calling them,haha! See yah!


• Philippines
7 Jun 11
hi mrtguanlao, Yes your amigo calling me if he is not busy with his Ladies

Just got a chance to call him last Sunday, it was a collect call so I need to get the payment for the overseas call

. Just talk to Sids for a minute then Vidh uuuhhmm......we just bump into discussions Do you think Meow Meow and I have a deeper connections?

thanks for the response happy mylotting

• Philippines
7 Jun 11
Haha,I just had a thought of it bhaby,I think there's nothing wrong with it since you are both single,haha! Who knows..you both might ended up in the church..
DO INVITE ME OK!



• Philippines
7 Jun 11
hahaha! first it was a deeper connection then ending up in church



Let's see for sure you are invited hahaha!


• Philippines
6 Jun 11
hi shiby, Meow Meow

Obviously you were so excited

So when can i get the fee? It was a collect right and you accepted it

thanks for the response happy mylotting

• India
6 Jun 11
Thats really a Good thing , it will very much fun to have a call to unknown people , the only problem will losing much money

• Philippines
6 Jun 11
hi stylewaves, I told Shiby it was a collect call so I am going to collect some later

Well we used our Indian friend phone he is paying for it actually he always offer us to call our Indian friends using his phone. thanks for the response happy mylotting have a great monday