Does computer games affect your life style?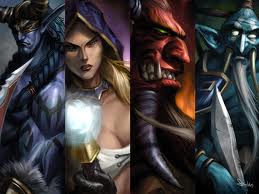 Australia
June 7, 2011 7:22pm CST
I know that games like Warcraft make people so addicted that they even forget what is the real life. They even forget what going out with friend is. They only know the virtual friend through they are playing with? They even take the game like a life or death situation. They MUST win.. or else... bad things can happen. I even hurt that people even commit suicide which is bad.. very bad.. Well..anyway.. what is your view on the computer games nowadays? do you play as much games as them? How much do you play per day? or week? or per month
10 responses

• Canada
8 Jun 11
I would have to agree with this.I am a avid computer gamer and console gamer and feel that the development of video and computer games over the years is just pronominal to say the least.The issue thought with this is the old saying To much of something can be bad for you is quite true here.I an guilty of doing all nighters gaming on the computer and console.It is quite addictive , and once you are engaged in the game it blocks out all sense of time and reality and puts you in a virtual world that makes you happy and feel entertained and thrilled.I feel that people can teach themselves self control and therefore be able to play video games without to many adverse health effects and lack of exercise and social interaction.

• Lithuania
8 Jun 11
Play video games is very interesting occupation, but it's addiction when you look deeper. I would like to say: life is the biggest game, when why play this litle computer games?

• Australia
8 Jun 11
yea.. its very true... but computer games is a virtualised of our real life game.. ;) thats why we are so fond of it... some people wish to be a pilot.. but computer games can make them a pilot.. some people wish to be a hero that kill zombies or monster.. they can be the hero.

• Philippines
8 Jun 11
Hmm... well, games have good points and bad points I guess. If you become too addicted that you only think of the game and nothing else - you forget your priorities and forget to take care of yourself, then that's bad. But it can also promote some good qualities I suppose, like coordination and teamwork, if you play with others, and strategy and things like that... I don't play much now, but I used to play an mmorpg before, and one of the nicest things about it is the friends that I met through that game. =)

• India
8 Jun 11
I too have seen many people busy with virtual games too much... Well sometimes i laugh on them but many people are very serious about playing virtual games and many people are too much addicted to them... Virtual games have taken a regular place in the daily routine of many people...

•
8 Jun 11
They certainly do affect your lifestyle in a very big way indeed. Before computer games, I spent a lot of time playing out with my friends, but now that I have games to play on I tend not to spend quite as much time outside as I might have done before. I believe that computer games are mostly to blame for the rising levels of obesity in the world at the moment. If people continue to play on computer games for so much of their day, they are going to be heavier and heavier; and that's an incredibly unhealthy way for people to live.

• Greece
8 Jun 11
I play games for much time everyday, but they do not affect my life at all. I stop when I should, I eat as I should (or maybe more doh...I have gained some weight last two years) and I do go out with friends often. Games are just games - a cool way to have some fun, but nothing more than this. Have a nice day!

• India
8 Jun 11
Definitely , but i won't tell it will affect our life style but it will have a effect on our life style , like i used to play Tekken very much , and when once i got up into a fight with a Guy , i gave a shot like Lei ! Ha ha ha ! But its true !

• Cagayan De Oro, Philippines
8 Jun 11
Hi xx, Not much for me. I don't have time to play games given the hectic schedule I have all day. I do go speeding in Need for Speed from time to time if I have the chance. Diablo too, got me a while back but when I finished all the conquests including the expansion packs, it gets boring after that. Now I just go for a spin on that Hyundai at Bayview City just for old times sake.

• Philippines
8 Jun 11
Hi xxj3ffxx, I was once addicted to the games in Facebook. It was all I could think of even when I was at work.

However, it took away too much of my time. Sometimes, I go to work late in the afternoon because of playing. I got to a point where I didn't like the effect on me already. It was a conincidence that we were nearing Christmas break. I went home to my province without brining my laptop. We don't have an internet connection at home so I can't really browse and play. When I got back after that break, I did not return to my games in Facebook anymore.

I think it's ok to play computer games as long as you don't become disconnected with reality.


• United States
8 Jun 11
I tend to get addicted to games very easy. I use to play several games on facebook until I realized thats all I was doing. I think they should put time limits on some games..If that makes since?