New Gadget? USB Internet Radio & TV Player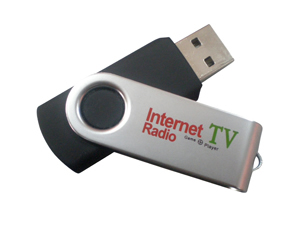 Malaysia
June 8, 2011 2:44am CST
Recently I accidentally came across this new gadget (may be it has been there for long time) the USB Internet Radio & TV Player where you can turn your computer into a TV where you can have access to over 20000 radio and 5000 TV stations worldwide. If that is real and true, I might consider to stop my satellite TV and save the monthly fees. Is anyone here have heard about this gadget or have actually use it before? Please share your experience.
3 responses

• Guangzhou, China
9 Jun 11
This is something very interesting. Since I seldom listen to the radio today, so I am not so keen on the USB internet radio. However, the USB TV Player sounds to be very attractive for me because I can access 5000 TV stations all over the world. Isn't it fantastic?:) I just wonder is it expensive for the USB TV Player? Do you need to subscribe the extra TV channel fees? I love China




• Malaysia
10 Jun 11
Since you are in China, I actually saw this USB TV player is selling in some of the China website, so I believe you can get one in your local computer shop too. From what I learn is that all you need to do is to purchase the USB Internet radio and TV player and you can get free access to those TV programs. It will be really good for those TV maniac.


• India
8 Jun 11
May be you have a come a bit later in the encounter with this technology. But there are number of new and innovative things you could choose now. Even I had an internal tv card with my PC in 2002 to watch television and able to listen the internet radio. But today you can easily find all these things in USB.

• Malaysia
10 Jun 11
I have heard about TV tuner card for PC many years ago and with the card, you can actually receive TV program just like your normal TV but that are just limited to the local TV program. But it surprise me that this USB TV dongle can actually enable you to watch TV programs from over 5000 station worldwide and is free of charge. That is why I am interested to know whether it is reliable or usable or not.

• Hong Kong
8 Jun 11
It is not very new actually. But it can work quite well and help you save some monthly fees if you choose to use it long term. But sometimes it can be very unstable due to internet connection and the screen may not be as clear as you watch in traditional TV. And in some areas or countries (like in Hong Kong), this usb players are regarded to be illegal and people selling this would probably be arrested by the Customs and Excise department. It seems to be because of the violation of law of intellectual property right. But may be it is legal in your area. But to me I would not use it to replace the tradional TV as sometimes when my internet is disconnected, I can still watch traditional TV to relax...But if you use the usb...I cannot imagine how bored you will feel without TV and internet...

• Malaysia
9 Jun 11
You mean it will be unstable because of the internet connection or it will cause the internet connection to be unstable? I have not heard anyone talk about this in my country before and I am not sure whether it is illegal or not in my country. But I believe it will definitely violate some law and regulation related to the copyright since as you mention there are countries which banned it. I think if not to consider the illegal part, it can actually replace the traditional TV since nowadays the internet connection here are good enough to handle movie stream and will not be much affected. And I can still connect my computer to the TV if I want. But in term of the quality, I am not sure how will it look like, so, still hope that there are more people can provide such information here.