What is your favorite breed when it comes to dogs?

Philippines
June 10, 2011 8:15am CST
There are a lot of different types and breeds of dogs out there. I just want to see which ones are particularly popular among the myLot people :) I have a miniature schnauzer, salt & pepper whose name is Kiko. I love him to death. He's very stubborn but he's antics are also very funny. I've also never had a dog as grumpy as my schnauzer :)
7 responses

• Philippines
10 Jun 11
My fave dog breed is shihtzu,bullmastiff,lhasa apso to name a few... but any breed would do. I have a 1 year old crossbreed but she is funny,cute,and loveable as well. My husband has a pitbull show type. At first I hesitated as he nearly bit off my shoulder when I first entered their house before we were married. The dog was gigantic and has a loud bark. But it changed when he got used to seeing me everyday and I was the one feeding him.

• United States
10 Jun 11
I don't know how to spell the name chiwawa and poodle.


• United States
10 Jun 11
I love almost any kind of dog, but I'd have to say my absolute favorite is a cocker spaniel.

• Australia
14 Jun 11
Friends of ours have the same dog as you, it is a girl though and her name is Kiki. I don't have a particular breed of dog I like. I've had a few different types of dogs while growing up at home. I don't have any now..

• United States
12 Jun 11
I can't really say I have a favorite breed of dog as I have had several dogs and each one of them were my favorite I have had a black lab, a pomerainain, a sheltie collie, a mut, boxer, pit bull, now we have a beagle "Sparky" he is adorable we manage a mini storage and he helps hubby make the night rounds he hops up on the golf cart and rides with him when he cloes the gates at night and also works in the office with us on Saturday all the customers love him

• United States
10 Jun 11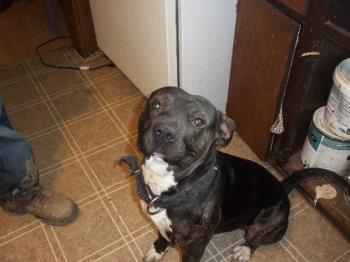 I like all kinds of dogs. My dog is a pit bull. We live out in the country so it is okay to have him. He is like a big cuddly bear!

He is great with my kids even when they try to ride him like a horse (which is not allowed!) He is such a big baby. His name is king. When my boyfriend and I go to lay down at night he has to squeeze right in between us and trust me he is not a little dog.

The greatest part is that when me and my boyfriend wrestle around our dog goes to protect me and barks at him. He is a great guard dog and he is protective of our kids as well.