Video games and relationships.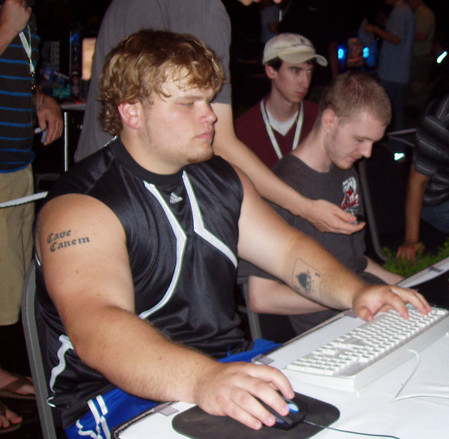 Canada
June 12, 2011 2:25pm CST
Hi everyone, I have been thinking. Do having a boyfriend for example, that plays a lot of video games, some dorky, some not, affect your relationship? Or do you feel comfortable with your boyfriend playing a lot of video games as long as they are able to be with you at appropriate times. I have noticed some guys hiding the fact that play play video games in order not to feel shame of themselves in front of women. Some women enjoy men who play video games, as women tend to play video games to. Also, i would like to point out that a gamer. He goes by the name "Incontrol", and he played starcraft and starcraft 2, he is quite famous in that game. He is dating miss oregon of united states, who will be competing in Miss USA pageant this year. In the starcraft world this is really a huge surprise and usually a question mark. You can search on mylot search engine for proof. But my question is, do you mind as women? Also do you as women play video games? For MEN, do you hide the fact that you play video games? I personally don't hide facts about me. I am very open to people and women always respect honesty
7 responses

• Philippines
12 Jun 11
I do play games and mostly go online surfing, this is one thing my girl does not want me to be doing when I am with her though, because she wants my complete attention and I can really be insensitive sometimes and pay more attention to games or internet surfing rather than her. The saying "you can't serve two masters at the same time" really applies to this situation. By the way, nice information on that Miss USA tidbit.


• Canada
12 Jun 11
Ha ha, maybe you can convince your girl to just try it. Just say, "here's the controller, just try it, i know you hate it, but try it."If its a FPS game, "that guy killed you, you cant take that, go get him." Perhaps this will slowly allow her to gain interest on games. But I'm glad that even though she knows you play a lot of games, she hasn't given up on you. Thanks for replying. Cheers.

• Philippines
13 Jun 11
It's not the game that is the problem or the interest in it, it is the attention that she is very much concern of. She does pay computer games which I tell her to try but when we are together I rarely have the chance to play any. It's not so much a problem for me though because I like giving my attention to her and if at times I do need to surf with her she does understand.


• United States
13 Jun 11
Video games wouldn't bother me in a relationship, seeing as I am an avid gamer myself. I can't think of a day I haven't wasted hours and lost sleep due to a video game. So I wouldn't mind that he played video games. We could play them together. Unless he was better than me, I might have issues with that.

• Canada
15 Jun 11
Another female that enjoys video games! This is great, guys seeing these posts should start asking for emails. I am glad that video games do not affect your relationship. Losing sleep however not a good idea, tsk tsk, just kidding, but seriously. Ha ha, Thanks very much for the comment.

• Philippines
13 Jun 11
I love video games. It's probably one of the very few things I have in common with my brothers and my guy friends. I started playing Doom ever since we got our first personal computer when I was in highschool and I got hooked. RPG's are my favorites. My absolute favorites so far are Vampire: The Masquerade Bloodlines, Hellgate London, Jade Empire, Sims 3, Fable 3. My younger brother and I would even make a trip to the mall just to have a go at the playstation gaming booths (back when playstation first came out)to play Tekken. Personally, I wouldn't mind if a guy likes video games since it's something we could share together. But he's got to know his limits and should always have time for his girl too.

• Canada
15 Jun 11
Hooray! A female and claims to love video games. Ha ha, this is a bonus for any man out there. Doom was an excellent game, very addicting too. I never really tried the other games you mentioned though, except for Sims, Fable and Tekken. Though, I had too short attention span for Sims and Fable. However, tekken on the other hand was one of the funnest game I have ever played. Especially back in the Playstation 1 days. With that dinosaur Gon. Who i still insist on being back in the game =p. Thanks for your post.

• Philippines
13 Jun 11
Why would I hide the fact that I play video games? I don't see anything wrong about that. Playing video games isn't a crime or a social taboo! Haha! But on a note, anything that is excessive is really bad. Same goes with excessive playing of video games. Some gamers actually get too addicted and attached to their games that they tend to live in a virtual world and can't already see the real world. I have read an article regarding this in Reader's Digest and I do have experinces too of being a game addict. Really not good if that happens. So, to conclude, It is just okay to play video games as long as you know the limits. :)

• Canada
15 Jun 11
Ye, you should never hide the fact that you play video games. I don't understand it but people tend to. Especially games that ones community or surrounding has considered a really bad game. This will for sure lead to someone hiding or keeping that information a secret. Anything excessive is bad for sure. Ha, addiction is just plain bad. You do end up cutting your social life and create a desperate mind for your addiction. Moderation always helps. Thanks very much for your honesty.

• Italy
13 Jun 11
I think it actually does inflict a relationship. I'm a man, and i showed my GF my videogames 2 days ago. She didn't like them all, but liked one, "Minecraft", and, as i said, I didn't hide the fact i play videogames. I'm planning to teach her my "C++ programming skills", beginning from the simple Binary Code Logics.

• Canada
13 Jun 11
Ha ha, that's good, if you can teach her C++ that'll be even better. That stuff is so hard to learn. Gets really confusing. Perhaps I can send you messages when i have questions lol. Thanks for the reply, and good luck on your relationship.

•
12 Jun 11
Why are people surprised that Incontrol is dating someone generally seen as attractive? That's like me saying she must be dumber than a lump of wood because she's in a beauty pageant. Personally, I think it's about time the public stopped treating gamers (and people in general) as stereotypes - in this case as if they were "dorky" - and woke up to the fact that they're often a lot more normal than, for example, all the sports heroes everyone thinks are so cool. I don't hide my gaming. I don't need to: my lady thinks I'm her Prince Charming and that includes supposedly "bad" things like gaming. My lady's not a gamer but she'd be even more awesome (if that's at all possible, given how awesome she is already) if she was.


• Canada
12 Jun 11
Good man, confidence in ones self is always a bonus. Incontrol really opened to most people who consider themselves dorks, that it is not only in Hollywood that the nerd gets the girl. Ha ha, and yes its always a plus when women enjoy playing video games. It's a quick turn on for me lol. But you have to agree, there are women out there whose usually is "ew" but you will also agree that they are definitely or possibly as dumb as a lump of wood. thanks for the reply

• Philippines
13 Jun 11
For me it is defends on the way the woman is but in me not at all it is better that my husband not do it wearied played.