My Tink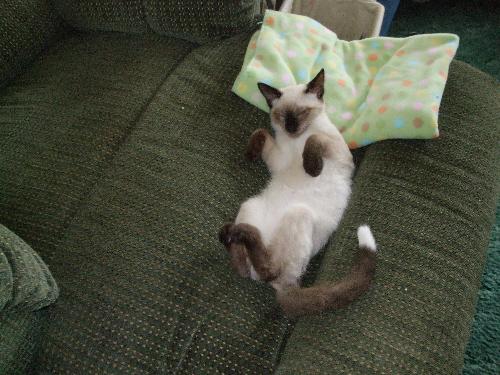 United States
June 12, 2011 4:19pm CST
I got my kitty while volunteering with a Vet's office. A litter of 5 was dropped off by the humane society and the groomer was to give them a bath. They were about 5 weeks old. Two were black and white, two were siamese in coloring and one looked like a snowshoe (kind of whitish siamese)all from the same momma. The groomer at the office was teasing me telling me I needed another pet. Told her my hubby would kill me if I brought home another cat as he JUST allowed me to have my first one. The kittens were placed in a larger kennel after I left for the day and when I came the next day there they were all trying to climb up the front of the kennel. Unfortunately they were ill upon examining. Doc had them in the back and was treating them. I told the groomer I really liked two of them and and she said since I volunteered with them I could have one I finally decided on Tink. He was very ill and spent almost 4 months in the kennel but Doc finally got him better and he has been home with me for 2 years now. I am enclosing a picture of him. He has very unusual markings for a siamese that is why I know he is not full blooded. I always tell him, God must have gotten tired of painting his colors because the very tip of his tail is pure white. Enjoy the pic for those that are cat lovers!
3 responses

• United States
13 Jun 11
That kitty is so cute! I had a black and white cat and when she had kittens there were four of them. One was all black, two were black and white like the mama and one was grey and white. I wanted to keep the grey one, but I had to move and although I took them with me, we couldn't keep them at the house I was staying at so my brother let me keep them in his shed. Unfortunately when they were old enough to be separated from the mother they had all become so wild we couldn't give them away. I was the only one able to go near them. Finally, my brother said they had to go because it wasn't safe for his kids to go near the shed because the cats would attack. Oh well... Have a great week!!!

• United States
13 Jun 11
My neighbor had a litter of feral kittens. We called the animal control and I had a large cage from when I raised bunnies. We decided as we got each one trapped we would stick it in the larger cage. One got my attention because of her markings. When animal control come to get them I told him to leave her as I wanted to try and tame her. Well, I had to go to the store after he came and got the rest of the kittens and momma. do you know that little lady figured out a way to get out of that cage and was gone when I got home? I had been studying on feral cats and had really hoped I could turn her into a good kitty. That didn't work!

• United States
14 Jun 11
Sometimes feral cats/kittens just want to stay that way I guess. It would have been nice to be able to keep her, but I guess it wasn't meant to be. Did you ever see her around again? Was there a hole in the cage that she climbed out of? Have a great week!!!

• United States
14 Jun 11
It's too bad that the cage wasn't more secure. It would have been nice to save a feral cat from being that way. If she wasn't ran over, it is possible some wild animal got her. Who knows? But at least you tried. I guess it would be a good idea to have back up supplies in case such a thing happens again.


• United States
13 Jun 11
Yes I have a black and white cat that hardly has a voice at all. And Tink lets out a howl that I swear outside everywhere can hear him. Neither of my kitties are allowed outside. so even though they are both fixed, he will sit in the kitchen window and howl like he needs a girlfriend. I put up with him way more than he puts up with me LOL

• United States
13 Jun 11
Yep Tink has a BAD personality always into something. If I was younger it would be more fun LOL On the other hand I have another kitty named Mawmaw she is quiet, VERY independent, and will let YOU know when she wants to be petted. She will come sleep with me this is her personal time with me. If I pet her she meows like ok I am here that is as far as you get LOL you have a great week too!

•
13 Jun 11
I am a lover of cats and I have also found out that cats are very quiet creature. They are very peaceful. But they could be very dangerous when it comes to hunting. I do know of some african cats that hunts for lizards, rats and other household rodents. Many grand dad and grand mom do keep a lot of cat for this job of hunting. A neighbour once praised his cats for helping him reduce the rat population in his house.

• United States
13 Jun 11
My grandpa kept a barn of cats for that very reason to keep the mice and rats out of the feed. When we would go to milk the cows, the kittens would show up and beg for milk. I remember my uncle when he was younger shooting the milk in the air and the kittens jumping up to try and catch the spurts of milk from the cows udders. They were fun to watch!