Annoying Friends

United States
June 14, 2011 10:25am CST
Ugh. The perks of social networking. Everyday I get on Facebook I see my friend complaining out her dog. & it's at the point I'm ready to unfriend. They have a special needs daughter who is only 9 months & decided to buy her a puppy. They don't have the time or willingness to train the poor dog so it's been peeing & pooping in the house. If you want a dog let alone a puppy make sure it's trained or your willing to take it to doggy school. Puppy's & babies are the same. They need love & they do get jealous. Ugh. I wish I could take the dog from them ;)
4 responses

• United States
20 Jun 11
I have one person in particular who loves to chat with me on Facebook. This person is constantly complaining. No matter how many times I try to point out the good things going on in their life they still want to complain complain complain... if I actually trumph this person and prove that there is something good going on in their life she will then start talking about how bad she feels. I love this person dearly but she makes me so mad at times! I feel sorry for that poor puppy.

• Canada
14 Jun 11
I honestly don't know WHAT people are thinking sometimes. A puppy is a HUGE commitment and, in a family with a special needs child (especially one so young), they were
clearly
being impulsive. Firstly, you don't buy a dog "for" a
baby
! The
baby
can't take care of it, train it, etc. You're buying that puppy for yourself and, if you're not 100% prepared to raise it, DON'T get one! There are enough unwanted pets filling SPCAs, shelters and rescues to overflowing already. I just adopted a one year old miniature dachshund myself and the past two and half weeks that I've had him have been totally dedicated to his training and adaptation to his new home, neighborhood and family. It's work...
HAPPY
work, don't get me wrong!

... but still much time and dedication. Is this friend of yours someone you know locally? Would you seriously be interested in taking the dog? I think they've made a decision that doesn't work with the needs of their household and the longer they have the dog, the worse his behavior will get. He deserves to be in a home where people have time to give him the attention he needs.


• United States
14 Jun 11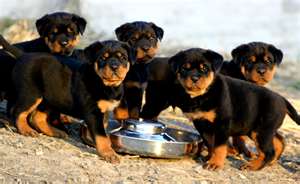 You are right about the puppy. I can understand people wanting to get a puppy to crow up with the child and as you stated this takes time and the owners should have a willingness to work with the dog and if they don't then give it away or STOP complaining because their friends don't want to hear about it. Ipersonally wouldn't of gotten a dog for my child until it was older and could understand a little bit about the care of the dog.