Effect of sodas...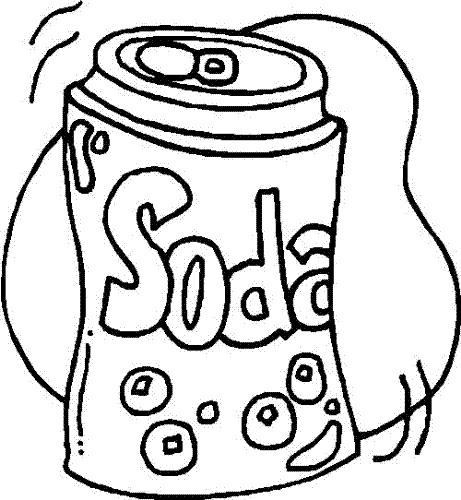 Philippines
June 15, 2011 8:01pm CST
How many of us know that regular drinking of soda has a harmful effect on our health? There's a lot of write ups and news suggest that drinking soda everyday is not healthy. Diet soda and regular soda does the same effect on our body. We are all aware of this but its been like a drug that is hard to resist and its been part of the lifestyle of people everywhere.
10 responses

• United States
16 Jun 11
I had a friend who lost 50 pounds in 7 months. When he was asked how he said I used to drink a 6 pack of soda a day now I have one. Just a thought...

• Canada
16 Jun 11
That's truly amazing, I've heard that refined sugar basically turns into fat because your body doesn't know how to process it. That's why the extra fat gets stored in our bodies. Well, that plus overeating, I guess. I've heard several stories of people giving up sugary drinks and foods and they lost a ton of weight. Crazy, eh.

• Philippines
16 Jun 11
That's great! There is really a link between soda and obesity coz its high in sugar and calories.

• Philippines
16 Jun 11
well!me too i was addicted in drinking of soda specially here , the soft drinks or soda are cheaper here, just like the water you can buy anytime, anywhere.I usually drink soda after we eat, i know it was not healthy to drink soda everyday but i can't resist, specially the weather is hot, you loved to drink the cold soda....wow... Any way what i did was to maintained my healthy lifestyle if ever i drink i can of soda today i should drink lots of water so that the soda i can drink would be eliminate during my urination...

• United States
16 Jun 11
know it's bad but I have that urge for one sometimes. If we gave up everything we enjoyed in life it wouldn't be worth living. Seems like everything is bad for us these days.

• Philippines
17 Jun 11
ummm...not really, just know the limits coz too much in not good.

• Philippines
16 Jun 11
I love drinking sodas especially on hot days like these but I make it a point to drink at least 2 glasses of water after drinking a can. I know that there are harmful effects to it and another thing is that it has a lot of sugar content or worse aspertame for diet sodas. It's important that we should at least take these types of drinks moderately since it can really be harmful if we drink a lot. It can also cause UTI if we drink too much soda and we don't drink enough water.

• Philippines
16 Jun 11
Water is the best to eliminate trash in our body..if its hard for some to totally get rid sodas, better be watchful and drink occasionally.


• Philippines
16 Jun 11
I agree, better avoid it earlier than getting sick before to quit.

• Philippines
16 Jun 11
A lot of people now a days love to drink sodas or soft drinks especially on a heavy meal or just in ordinary days that It would be the part of their diet.I have known a lot of people who drink less water and more on sodas which It is really unhealthy for us people to just get used to it.My friend told me that it's not good to drink water after you had just drink a soda.Is it really true?if you have any idea can you tell me more about it?I am just curious on what will happen to our stomach after we had did that.I am really not a soda lover,I only drink soda after a heavy meal and meat.I love to drink lots of water because it really help me to replenish my thirst than drinking soda.

• Philippines
16 Jun 11
I don't think so. I just read that its not good to drink soda after doing exercise coz it will cause dehydration and fatigue. I believe water cleanses better than soda and so I drink lots of water after drinking soda to expel acid.

• Philippines
16 Jun 11
I think, sodas are bad for our health. Personally, I would rather drink water than to drink soda. As far as I can remember, I am not drinking softdrinks for almost two (2) years. Soda contains little vitamins or essential nutrients. Most softdrinks contain high amount of simple sugar, and too much sugar is bad for us. Excess sugar ends up being stored as fat in our body. This will result in weight gain and elevates risk for heart disease and cancer. In the case of a diet soda, it contains artificial sweetener which has also bad effects in our health. :)

• Philippines
16 Jun 11
Precisely! Drinking diet soda has a big role on weight gain as well! The higher the amount of soda taken, the higher the obesity risk also. Thank you your comment.

• Canada
16 Jun 11
Yes, sodas are detrimental to your health, and I have given up drinking cola especially. In fact nowadays if you see me buy a can of cola be rest assured that I'm going to be cleaning out my oven tonight. hehehehe I now just drink a lot of water and tea (with splenda or stevia in the tea, not sugar or aspartane). Even juices I'm careful with except for the 100% pure from time to time, as a lot of cocktail drinks and cheaper juices are still full of refined sugar. I might be a bad gurl and drink some ginger ale


• Philippines
16 Jun 11
Good for you! Before I really like sodas and its taste is really enticing but it did harmed me when I got ulcer. Now, I never even taste it, looks enticing but dangerous! LOL! Even tea and citric juices should be avoided. I just now drink milk...ha ha ha.. Thank you for commenting!

• Canada
21 Jun 11
I am not a big soda drinker but I have a weakness for pepsi. Whenever I eat unhealthy food like McDonalds I HAVE to drink a coke or pepsi afterwards. Have you ever drunken water with a bigmac? No way! I always say: "Something unhealthy asks for something unhealthy." That's why I drink coke or pepsi. The same with heavy food like noodels. I have to take a pepsi otherwise I feel crowded. I have the impression that coke or pepsi helps my digestion after a meal. Maybe it's only imagination but I feel better.

• United States
17 Jun 11
I agree.I swapped from the regular sodas to diet sodas.I thought I was helping my diet,but I was doing more damage with the diet.I try to drink more water,now.I also felt better when I got away from all of the them.I gave up regular about 30 years ago and the diet about a year ago.Lost weight by cutting out the diet sodas.They are just as bad as the regular drinks.