Would you ever get your dogs ear pierced?

United States
June 16, 2011 6:48pm CST
I have heard of people getting their dog's ears pierced. Personally, I think it would be cute... BUT I would never do it. I think it would cause them too much pain! Plus, they are not able to care for piercings like a human can. They could rip it out really easily, because they are often rough and playful... and scratch themselves. Also, their ears are really thin. What do you think about piercing dog's ears? Do you think it's okay, and would you do it to your dog? Why or why not?
7 responses

• Romania
17 Jun 11
I don't see any reason to do this to my dog. This should be considered animal cruelty because this is something the dog would not appreciate and they will surely have no benefits from this. It is the same stupid thing like tatoo-ing your dog. If you like futile pain, go put rings in your ears, not your dog's years.

• United States
17 Jun 11
Hi Octav1, Thanks for responding! :-) I completely agree with you. It should be considered animal cruelty, and i doesn't benefit the dog in any way at all. In fact, it can be really harmful. Not just from the pain of getting it pierced, but it can get ripped out, infected, etc...

•
17 Jun 11
No, that is just as sick and evil as parents that get their kids ears pierced all the best urban

• Romania
17 Jun 11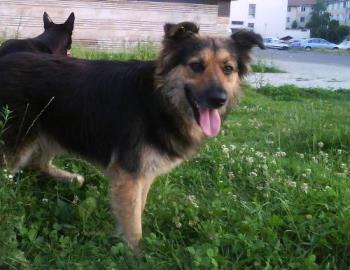 Hello Angelee, I don't like the idea of having dogs' ears pierced. Ear piercing, hair dyeing, nails dyeing, tattooing, ear cropping, tail docking and any other useless modification of the way dogs look should not be done to any dog. In my town there is a non-profit organization who catch, spay/neuter and register all the strays, then free them back on streets. Of course, they canot do this alone, there are many dog lovers (including me) who are involved in this operation to reduce the number of unwanted dogs on the street. In order to know which dog has been neutered/spayed, they put a earring to each dog's ear, with the registration number on it. Well, this was not the best idea because, in many cases, the dogs' ears got infections around the earring and some of them ended up with their ear tore apart because they scratched themselves too much. I wish they could have had funds to put a microchip on each dog instead of using earrings, but they can barely pay for the surgeries. If more people were involved in this operation (not to mention the authorities!

), maybe things could have been done better and dogs wouldn't suffer this much.

• United States
17 Jun 11
Hi inu1711, Thanks for responding! :-) Wow, I agree... they really should find a better way other than piercing the dogs ears with a tag. At least it isn't just for the cuteness though.

•
17 Jun 11
horses, sheep and cows though, have much tougher ears, and don't scratch or rub them as easily or often as dogs do. dogs are always scratching at their ears. and the skin is much thinner in a dogs ear than in large livestock. and I grew up with horses, which we kept on a dairy farm. it's completely different. much more risky.


•
17 Jun 11
I wouldn't pierce a dogs ear. what on earth would be the point of that? it has too many risks of injury, serves no purpose (unlike ear tattooing, which is used for ID. I wouldn't have this done, but a rescue greyhound of ours had ear tattoos, and apart from any pain having it done, it had no negative impact on him) and you can't improve on perfection. dogs ears are wonderful. so soft and silky I woudln't pierce their ears, I wouldn't mutilate their ears to make them stand up and I wouldn't mutilate their tails as so many people still do. I hope no one here against piercing dogs ears (or nipples for that matter) is pro tail docking or ear cropping. because that would be very hypocritical.

• United States
19 Jun 11
Hi Galena, I completely agree with everything you said. I am against tail docking and ear cropping, just as I do not think it is right to pierce dog's ears. They are dogs, not humans... why do they need to be made to look different? They are not humans, and should not be "made up" just so they'll look "cute" or for whatever other unnecessary reason people choose to do these things.

• United States
22 Jun 11
I would never pierc my dog's ears. Baxter tends to scratch at his ears a lot, and I have a feeling he would tear them out. His ears are really thin, and he can do this weird thing with him that makes them stick out from his head at a hilariously funny angle. Plus, there's too much of a chance they would get infected. I don't have the time to clean them everyday after the piercing (which is what human ear piercings require for weeks after the procedure) and neglecting that duty would let them get infected. Also, I just realized that there's also a chance that the dog could have an allergic reaction to the metal in the earing, and that would cause a lot of pain and itchiness, which could lead, once again, to him tearing it out. All in all, piercing a dog's ear just doesn't sound like a good way to accessorize them for me. If you want to buy them a fancy collar, leash, or even one of those weird doggy sweaters, that's fine, but piercing their ears is just taking it too far.

• India
19 Jun 11
yes i did this once..............and it pained him alot so i quit.

• United States
18 Jun 11
To be honest I have never seen a dog and or a picture of a dog with their ears pierced. I suppose those that do this enjoy seeing it. If I had a dog, I can't imagine doing this though, somehow I can't see the fashion or purpose with it. But to each their own, I suppose. lol