Facebook Addiction Warning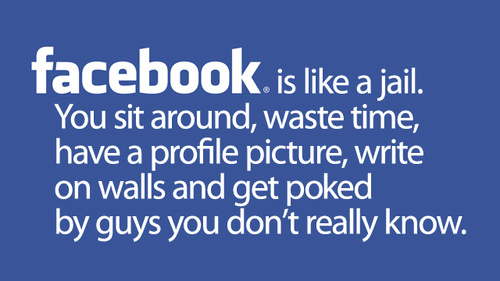 Philippines
June 17, 2011 11:26am CST
Hello everyone, is anyone out here a Facebook addict? Facebook is not that overloaded before. Its members were not hyperactive and the network was peaceful. But today, the social network is way beyond in control. Everybody is posting crap on their walls and can be a potential victim. And worse, it can get you fired. If you want to read a full article review about this, just leave a message.
5 responses

• Philippines
18 Jun 11
Hello piyoz000. I'm not a facebook addict, but I used to be an active member in facebook. That doesn't mean I deactivated my account..what I mean is, I lessened my time even more on facebook even though I hardly spend some time on the site. Back then, I would spend like, 30 minutes on the site..but now, I hardly even log-in. When I was still new to facebook, I used to log-in everyday, because of the excitement in exploring the site and finding my old friends. But then, I realized I was posting too much, commenting too much on nonsense photos and statuses and I was expressing myself too much through wall posts. I came to an epiphany that sooner or later, I will tarnish my reputation if I keep on doing it. There's more to life than just wasting your precious time on facebook, you know. Facebook is good, but face-to-face is better :).

• India
18 Jun 11
Yes no question about facebook being addictive. but these days i don't know why maybe because of overcrowded facebook, i have lost interest in it so nowadays i am not logging in facebook much. even if i do i will be online only for a few minutes and then logout.

• Bacau, Romania
17 Jun 11
I also login to Facebook every day,but I don't think I spend more than 15 minutes a day there;I just use it to check if there are interesting updates from my friends and to post a link or a video I like and to promote my articles.Anyway,Facebok addiction is a phenomenon that has big proportions and I agree that it can go beyond control,so I prefer not t get involved in it too much.

• Philippines
17 Jun 11
I agree as to how much Facebook has changed over the past few months and i guess maybe people had somehow found a way for them to communicate better and faster. Honestly i think those who are very active in such networking sites May need a true social life.

• United States
17 Jun 11
I go on facebook almost everyday but i dont hardly ever post anything.. but i do see ALOT of people posting EVERYTHING about there life and what they are doing every minute of the day. This stuff can be very harmful in many of ways, but some dont find a problem with it which is why they do it. But then again facebook isnt the only interactive website out there, there are so many on the web that can be potential harmful! So i always say "just be careful what you put out there for the whole world to read!"