Sadhus of India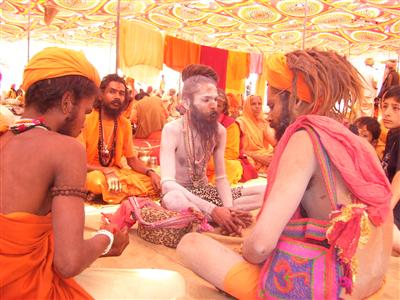 India
June 20, 2011 2:09pm CST
India is said to have over 20 million saffron-clothed persons, called Sadhus, calling themselves to be divine or divinely connected. Innocent people easily get victimized by these Sadhus. As a first step, know that anybody wearing the saffron is doing so to cheat others, and enjoy life as a social parasite without himself doing any work. And because of foolishness of Indians, these Sadhus accumulate huge amounts of money with them in short spans of wearing the saffron while preaching people to keep away from lust of money.
2 responses

• India
21 Jun 11
Sadhus i think are the class of people who pretend themselves to be divine but i think are not even close to being divine. If they are divine, why don't they live out an austere life? why don't they banish the greed or money and property? Neither they believe in philanthropy. well most of the sadhus are not what they pretend themselves to be and i think people should be educated and protect themselves and their families from them. A number of cases are already running against various sadhus e.g. the guru ram rahim (whatever i do not know his exact name) from sirsa.

• India
2 Jul 11
You are right Pankaj. See the wealth of SAi Baba, Ramdev, etc. who preach austerity and goodness to others but follow jut the opposite path.

• India
2 Jul 11
well It would be great if the sadhus use the accumulated wealth for a good cause in an area where government does not help well like see the condition of the government hospitals. It is not about the money it is about how it is used and if it is used for a good cause then everything is alright even if they are not that austere as they pretend to be... Have a nice day


• India
20 Jun 11
so do u mean to say India is having sadhus who are dishonest and wrong people.Do all the sadhus come in to one category .

• India
2 Jul 11
Yes surely, anybody in the saffron clothes means to cheat the people and lead a free life on other's earnings.

• India
2 Jul 11
Hi , not everyone.May be some might do so.Many good people also there and great philosophers and saints had been in Indian country.,