My best friend - husky!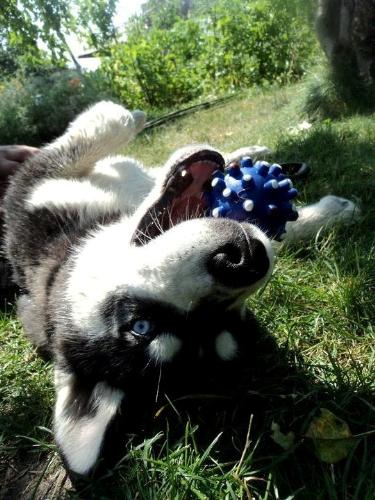 Lithuania
June 23, 2011 5:58am CST
I want to share my experience with these dogs. When I first saw him, I thought that it's the cutest thing I've ever seen. Eventually he was howling in our house. After some time our doggy started to live outside, and then we experienced the worst thing that husky could offer - EVEN MORE HOWLING! He was like screaming for us, some people even asked if he was hurt or something. Doggy has different eyes - blue and brown. His look is so deep, that it seems as if he knew what you're feeling. Do you won a husky? Could you share your impression of these dogs? :)
3 responses

• Philippines
23 Jun 11
What kind of husky was that? There are several kinds of huskies. Husky is just a general term for a sled type breed of dog. There are two kinds of huskies. Alaskan husky and the Siberian husky. They are wolf-like but they are very friendly. My cousin owns Siberian huskies and he told me that they are really clean dogs. They clean their own cage because they don't want to sleep on their dirt. In fact when the dog gave birth, they clean their own babies by licking the blood off them. Other dogs usually don't do that. They're very friendly too. My cousin just leave them roaming around their house and when i visit they play with me. They're very smart dogs.

• India
23 Jun 11
dogs are really the cutest things. i really envy the ones who have those cute dogs. somehow i really never had the patience to take care of a dog. if u have then good for u! maybe u should post a couple of photos of your dog over here ?

• Philippines
23 Jun 11
I also have a dog and I can definitely say that dogs are man's best friend. They can really brighten up your day and make you feel special at the same time. I like it when mine scurries towards me whenever I arrive home from work or where ever. He's just too grateful even if I scolded at him for a couple of minutes.