Touchy subject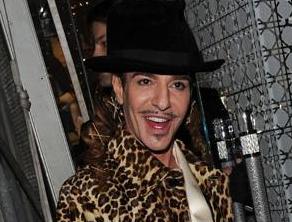 Canada
June 23, 2011 2:11pm CST
John Galliano appeared in court. He's charged with antisemitic slurs in a Paris Cafe. Apparently its not the first time as a woman claims he did the same a while back in the same cafe. I want to say that Im NOT racist. But what is bothering me about this is our freedom of speech. I know that words can kill as well as knives but I still feel we should be able to say what we think, no matter what. I have been hurt in school by other kids because I had an Italian name. They made jokes and called me "spaghetti". I learned over the years that I did have a different name at the time and Im still using that name. Now I dont care if people make jokes about my name or call me spaghetti. I love spaghetti by the way

So it means that the kids who made those jokes could have been charged also. Where do we draw the line? Ive been told on mylot that I had a dirty mind for a post I made. Well that wasnt very nice but does it mean that the person who said it.....actually who WROTE it should be charged also? I tend to speak my mind freely and if it offends someone, I expect that person to be mature enough to tell me so I can either explain myself or say Im sorry. I feel the same with other people. If they say something that is offending to me, I'll let them know. They can then explain it or say they're sorry or just ignore my comment, but whatever the outcome, I would never EVER expect charges to be laid because of something that was said. Maybe I think this way because Im Canadian and we sure have a twisted sense of humor. We have a sense of ridicule like you wouldnt believe. We say the worst things about our politicians and sometimes its personal and very hurtful but nobody has ever been charged for it. It seems we are free to say what we think. I thought that freedom of speech was a gift that shouldnt be taken away from us. So many countries dont have the leisure of being able to say what they think.....they are being killed for voicing their thoughts. It scares me to death to think that one day I might not be able to say what I think about ANY subject!! So what do you think. Should we now start to bend the rules and jeopardize our FREEDOM OF SPEECH? http://www.guardian.co.uk/lifeandstyle/2011/jun/22/john-galliano-court-race-claims
6 responses

• United States
23 Jun 11
I am in the United States and we have so called Freedom of Speech. Galliano would never be tried in an American Court for his anti-semitic remarks but he might be tried in the court of public opinion. I am of the opinion that I might not like what someone says but I believe that they still have the right to say it. However, not everyone agrees with me. For instance, I live in Texas where the "N" word is never said. Even saying it could cause you some difficulty. I also am around a lot of politically correct people and there is a sort of party line if you know what I mean. There are protected groups and you better be careful about what you say about members of these groups. But there are some groups where it is accepted and expected you will make fun of and dis. Myself, I am a moderate who walks a fine line between all kinds of persons and groups. More and more, I keep my thoughts and opinions to myself.

• Canada
23 Jun 11
I dont think he would have been charged here in Canada either and I wasnt sure if it would be the same for you guys in the US. But I thought France was a very open country, part of the """civilized""" countries. They make so many jokes about their tiny president lol. I used to walk a fine line also in between people but I dont anymore. As for the "N" word....there are expressions in French that have no sexist connotation and are being used widely here. Its "working like a "n"" meaning working too hard, the others I cant really translate. Those expressions are also used by colored people. Thanks for sharing!!

• United States
24 Jun 11
It is possible that the laws against hate speech in France, England and also Germany stem from the holocaust. It was a terrible time in European history. I think some Europeans are haunted by their past. And so are some of the countries. I believe that Germany, France and England all have laws against hate speech. A person can be charged for hate speech and I believe that the same person can be sued in civil court for hate speech. I do not believe that there are laws like this outside of certain European countries.

• Canada
24 Jun 11
That might be true that they have laws against hate speech. It was a terrible time when that war happened. I dont want to belittle it. It was horror for anyone having to live through it, very sad for those who lost their lives and those who were tortured. What we forget though is that its still going on in some countries. Some people are still being tortured and killed. THAT has to stop. So many people are being killed for voicing their opinions also. I guess we are the lucky ones here in North America and other places in the world where they can be free to do and say what they want. Have a nice weekend and thanks for replying!


• Carlisle, England
23 Jun 11
I agree with everything you say there. It's political correctness gone mad and if this Galliano bloke had been an ordinary citizen, I doubt very much there would be this much fuss. He's a "celebrity" so he is being made an example of. Quite pathetic. Also, he was filmed coming out with all that "stuff" so why hasn't this covert operation to catch him out (he was drunk as well) been criticized as well? It's getting to the stage where we can't say anything..oh, and I'm not racist either.

• Canada
23 Jun 11
Well I think that its safe to say that you and me could just about say anything since we're not celebrities lol. Yes Im sure it has to do with who he is. But I thought France was an open country and people could say just about anything. They make jokes about their tiny president all the time and we both know how susceptible he is haha.....Sorry but that man makes me laugh so much!! Back to Galliano. They say he could end up in jail

thats crazy!!

• Carlisle, England
24 Jun 11
I love that last comment about loving his creations and sorry you can't afford them..same 'ere lol.


• United States
24 Jun 11
Hi Bubbles! You weren't kidding...this is a touchy subject. Where I agree with you, I do believe that some people completely take advantage of the freedom of speech! I don't know what the rules are in France, but I do know that in the US you can pretty much say whatever you want and get away with it. I do believe that we have the right to say what we want, but some people obviously John Galliano is one of them, don't know about discretion. Again, I don't know what the laws are in France, but perhaps, they don't have Freedom of Speech as they do in the States.

• Canada
24 Jun 11
Hi GD, Yeah I like touchy subject, its a good workout for our brains!! Oh I agree with you, he is not the smartest person when it comes to making comments. Apparently the house he works for is owned by a Jewish man!!! Im thinking thats where the comments come from. He must be very unhappy working for another house when he would really want to run his own show. That poor woman was a scapegoat!! Here in Canada, we also can say just about anything and not be sued for it. I cherish this freedom we have and sure hope it'll never be taken away from us. I dont agree with the comment Galliano made but I wish he wouldnt be found guilty. I thought France was a free country. Thanks for sharing with me!!

• United States
24 Jun 11
Gee, I'm not sure about this. We have freedom of speech, but I can't say something defaming about that person, because then I can be charged and maybe sued for slander if it isn't true. If you and I were in a restaurant and I piped up and started telling everyone that MagicalBubbles stole something from me, and don't anyone in this establishment trust him with anything... you could probably get me in a whole lot of trouble for saying hurtful things to your character. I'm just guessing.. I don't know this for a fact, but it seems reasonable. I said all that to say that free speech goes so far. I don't think you can defame anyone and get away with it. Well, the president gets abused a lot and he doesn't sue or have people arrested... but the regular person could probably do something about it.

• Canada
24 Jun 11
I understand what you're saying. But having opinions and "accusing" someone of something illegal like stealing may not be the same. Im not sure. We did accuse our Prime Minister of fraud....someone even has a facebook account just for that and nothing happened. So sounds like we can pretty much say what we want. Mind you, our Prime Minister did sue another Minister who accused him of fraud and I think they settled out of court or it was cancelled for the simple reason that the Minister was right, and yet nothing happened. Nobody arrested our Prime Minister for fraud. I was once accused of stealing at work and no charges were laid. My Union defended me and I kept my job, no big deal. On the other hand, I know that if they would have fired me, they would have needed proof and since I didnt steal anything, they didnt have any proof.....SO!! Galliano wasnt making any accusations, he said that woman should have been gassed......Im thinking the woman he was talking to is Jewish. I dont agree with what he said, but I can only hope that he should have the right to "say" it. As I said, its a very touchy subject and the future we'll find out if he's found guilty or not. Thanks for sharing...you have me thinking now!!

• Philippines
24 Jun 11
I live in the Philippines and we have a similar constitution with the US, thus we have freedom of expression as well. The only thing that curtails this freedom of expression in our country is the Catholic Church, always claiming to be righteous and telling people to obey them as if there's no more separation between the church and state (despite the explicit constitutional statute saying there is!) I'm a very opinionated person and i do express myself regarding a lot of topics nevertheless there are those that i tried to avoid due to some bad experiences here in mylot as well. But sometimes when i'm provoked i can't help but voice out what i have inside. I don't want my freedom of speech or expression to be curtailed in whatever way and i don't wanna go to prison for that. I believe i have such right and it should be exercised.


• Canada
24 Jun 11
I feel the same as you do and you can say whatever you want when replying to MY discussions. I enjoy everybody's opinions even if they are not like mine.....especially if they are not. I feel I can learn new things by sharing with people who dont think like me. I dont care if people are being nasty with me in some discussions...they must be very unhappy to be like this

or very old haha!! We have the Catholic Church here too making public comments now and then but they dont have any power over Governments anymore. They used to and they made a mess of it with our First Nations. Im Catholic but still have free reign over my mind and thoughts. If we were charged here for speaking our mind, I would have been in prison a long time ago !! Thanks for speaking your mind!

•
23 Jun 11
I do believe in freedom of speech but there are things you can't and shouldnt be able to say i antisemitic comments like those made by John Galliano.And these comments are worse than comments about other ethnic groups due to the history of the treatment of jews the obvious example being the holocaust however that wouldnt have been possible without widespread antisemitism going back centuries mainly based on the belief that the jews killed jesus.Galliano said to a jewish woman how she would have been gassed in my opinion they should throw th book at him.

• Canada
23 Jun 11
I know its true what happened to the Jews in Germany. I have met a couple who were in the concentration camps. I know it happened, I know its true. Its sad and should be taught in schools as I dont think it is anymore. That said, I know what he said wasnt very nice, but what about freedom of speech? Where would you draw the line.....at the Jews? Remember, Im not racist and Im not doing this to offend anyone. I just want to understand. Thanks for sharing!!