I don't know how some of you all do it

United States
July 8, 2011 6:51pm CST
When I use to be a waitress I mean people would order their steak medium rare and I would look at them like they were crazy I mean blood would be running off the steak as if it was still trying to live, I mean everytime I ordered a steak I wanted mine well-well done and I would say that everytime we would go eat some where because I mean that stuff looks nasty to me, I really don't think its healthy but who knows I know onething my steak better not come to my table with blood, LOL. But how do someof you guys eat your steak?
11 responses

•
9 Jul 11
you know, it's very bad customer service to look at a customer like they're crazy for asking for something as they like it. I don't just like mine medium rare. I like it rare. it's tenderer and sweeter. the only downside is that it gets cold a lot quicker. a lot of good chefs would consider you to be a phillestine for wanting an overcooked steak. it gets tough, and you lose a lot of the flavour. give me a delicate, tender, juicy dripping steak any time.

• United States
19 Sep 11
Well honey child you go with your bad self ther is no way that I am going to eat it that way..

• United States
9 Jul 11
My grandma likes her steak bloody. It's sooo gross :( I prefer mine medium well. That way it's cooked through and still a bit pink in the inside, but not bleeding all over my plate :P

• United States
19 Sep 11
I know that is right you are not the only one that likes it that way.

• United States
9 Jul 11
I have not had steak in a long time.I like mine pink in the middle. I don't like it well done. I think it loses flavor that way

• United States
19 Sep 11
No it don't lose the flavor when it's well done it has more flavor that way..

• Canada
9 Jul 11
I like my steak medium rare, and I expect it to look red and bloody. Meat done this way is tender and juicy, and very flavorful. A friend I often eat with, wants his sirloin done to his specifications. When the waitress asks him how he wants his steak he says, "Just chase it by the fire!"

• United States
19 Sep 11
That is so nasty lol, well good for you because i can't eat that, I don't want to taste no one elses blood yuck well you go! you are very bold to eat it like that..

• United States
19 Sep 11
I don't want dripping blood..lol

I agree that is gross but I do not want it overcooked either...I want it cooked just enough for there to be no blood but not well done..I like it pink...medium. A few years ago I heard it is unhealthy to eat beef rare to medium, but I still like it medium becaue I too think it has more flavor e...ven though I use A1 sauce

• United States
9 Jul 11
I almost always get my steak or burger medium rare. Like others have said, I think it has more flavor, is easier to cut and eat, and is nice and juicy. I don't mind a little blood coming out, lol. However, at certain restaurants I get medium because medium rare is a little to rare for me.

• United States
19 Sep 11
LOL you are something else tha is the most nastiest stuff ever, yuck well good for you if you like eating it that way LOL I can't do it though.

•
9 Jul 11
I agree with you walking2010. I like my steak well done. No blood for me please! I'm like that with all meat. I know somemeats like lamb and beef are supposedly best eaten pink, but I prefer it cooked thoroughly all the way through!

• United States
19 Sep 11
Thank you because i be looking at some cooking shows and they be showing some of the chefs eat their food that way and it is no nasty. How they eat the meat all runny and nadty.

•
9 Jul 11
my friend likes her streak that way I really don't like it this way :( I wonder some time that how does she eat it even I cant sit with her when she is eating it really spoils my mood and I cant even eat anything else:( well I don't like the streak this way so I agree with you and your thoughts :)

• United States
19 Sep 11
I know right I can't eat the food that way because I thought that you get beef worms that way really.

• United States
18 Sep 11
I don't know how they can do it either. Once I have found out what medium rare meant, I never said that is how I like for my steak to be when it is cooked. If it is rare or, medium rare it is not cooked well to me. I will make sure that I will say, well done for any steak that I would like to eat at the restaurant, because if I don't I may have a bloody steak on my plate that the waiter/waitress will be coming right back to pick up.


• Philippines
7 Aug 11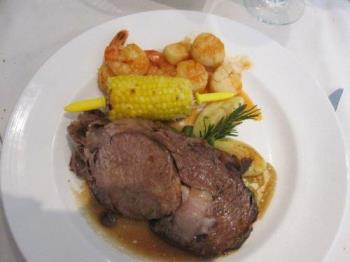 Oh no! I can't eat a medium rare steak. I can't eat bloody meat.

In fact I'd return my steak if its still reddish. I want my steak well done and therefore it should be brown enough. I don't even eat steak too often. I only do once in a while because I know red meat should only be taken in moderation. But when I eat steak it should be well done or else I won't eat anymore.


• Daytona Beach, Florida
9 Jul 11
Like you I like my food well done to the point its almost burnt. If I smell blood I'm instantly sick. I don't honestly think its healthy to eat almost raw food, but there are those who do it, and those who don't. I'm one of those who don't. Though I'll admit, I haven't had staeak in a long time simply because I can't afford it.