Can you make up your mind????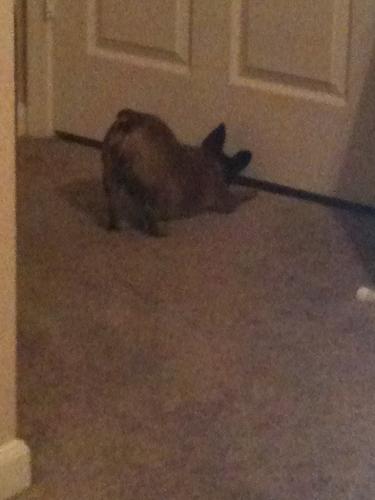 United States
July 15, 2011 12:10am CST
Currently, I'm watching my chihuahua/yorkie mix with her nose under the door and her rear end in the air. She is wanting in the living room with my daughter and son in law. I want to relax on the bed, watch the news and catch up on gather and mylot. Instead, I find myself getting up and letting her out, then getting back up and letting her back in when she decides that she wants to come back in here....whereas she sticks her butt in the air and starts wanting in the other room again. She simply can't make up her mind. It reminds me of the "Grass is always Greener" old saying. So what about you...do you give in to your pet even when you know they are not going to be satisfied immediately?
7 responses

• United States
17 Jul 11
Oh my word, you're totally describing how I dealt with my baby, Annabelle last night. She wanted on the bed, but I knew she was going to want right back off. And a few minutes later she was staring at the floor, waiting for me to let her down. Then she came back with her chew toy and wanted back up. I got her up there, but knew eventually she would want to put that particular chew toy back down. But I did what she wanted me to anyway. She's too cute to ignore. : ) My bed is too high for her to jump on and off.

• United States
25 Aug 11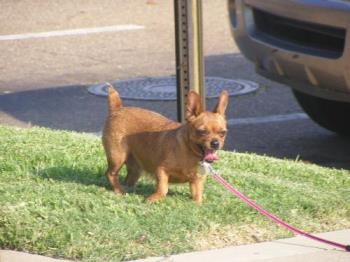 Baby can jump off the bed very easily. She CAN jump up by herself, but she doesn't like to so she will sit on the floor and make kind of a half hearted attempt and whine at me like "Poor pitiful me, I can't do it." Mike tells her (As he's picking her up and putting her on the bed mind you) that if she'd lose some weight she wouldn't be such a rolly poly and could get up by herself. I tell him part of the reason she can't lose any weight is because they do everything for her. She's become un interested in any kind of exercise.

• Australia
16 Jul 11
I have a very active dog and she does the same thing. She is a red heeler and collie cross and, because she is partly working dog she loves running around outside. Of course she loves us and wants to be near us so she is usually torn between staying indoors and running around outside. She drives us crazy because she is in and out constantly. She spends most of the time outside because we do get fed up and just leave her out there after a while!


• United States
25 Aug 11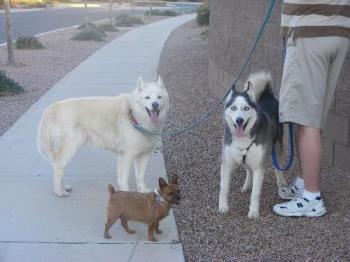 When I stay at my in laws for any reason, I can leave her outside for awhile because they have a huge fenced in back yard. She doesn't have that here in the apartments. That's one of the reasons why I take her over to Robbie and Ronnie's...to give her some room to run. Unfortunately, they have two big dogs who believe they are lap dogs. So I put her out, and she follows Koti and Jake right back in the doggie door. I end up having to track down the gate to the doggie door and locking them all three outside! But then they stand out on the patio and look at me with their eyes downcast like I've mistreated them. As you can see from the picture, they look very abused and underfed and unloved! LOL

• United States
16 Jul 11
That is the most adorable picture! It's funny how pets just can't make up their minds as to what they want to do. Excitable little creatures chihuahua's are anyway, and so I bet your little doggie heard the slightest pecuilar noise to it's ears and wanted to go investigate but then comes back and wants to spend time with it's mama.

• United States
25 Aug 11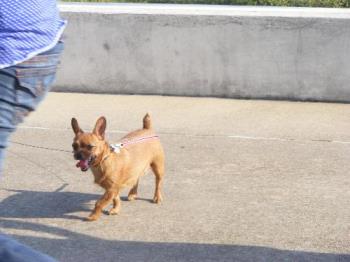 Our daughter and son in law live with us. She can hear one of them get up out of bed and go to the bathroom that is attached to their bedroom, and she immediately wants out of my room. She will run across the house, into their room to check and make sure they are ok, and then she'll come be bopping back into my room and crawl up on her pillow like "Ok, I'm done" Kristen asked her this afternoon. "can I not pee without you watching me?"

• Holiday, Florida
15 Jul 11

coco does the same thing. pets dont like closed doors. they like to have access to all their people.

every pet ive ever had is like that. unless you can teach them "NO" you dont get it open so might as well cool it.

coco knows that now at night. my door goes closed in bedroom and she dont get out. finally she has excepted it, but she gets a treat to for coming to bed and she knows that. lol.

• United States
25 Aug 11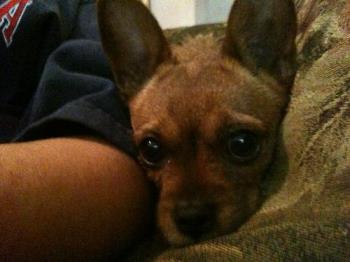 Baby Girl is ok at night...unless we go to bed before one of the girls gets home. If that happens and she hears them come in, she has an absolute FIT until either Mike and I get up and let her out, or they come and open my door to let her out. She doesn't want to stay out long, just enough time to make sure that they are home and settled in for the night. Then she comes back to my room and is ready to go to sleep for the night.

• Canada
15 Aug 11
I don't, but my husband does. He spoils our cat absolutely friggen rotten, and then wonders why the cat's so annoying, and begs all the time. haha Also wonders why he's so FAT. Because Hubby feeds him whatever he wants, whenever he wants!

• United States
25 Aug 11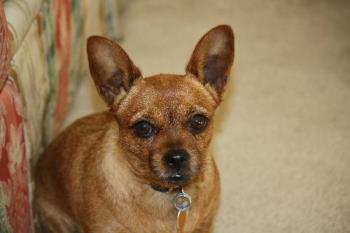 It sounds like our house! The rule is that Baby is to get ONE treat a day. But what that means to my husband and the rest of the family is that he can only give her one COOKIE. (She loves the doggie cookies that you purchase at Petco and PetSmart) So if she's already had a cookie, he will give her a potty tidbit, or a liver treat. Also, He says that if he has given her a treat, that it's ok for Kristen or Lauren or Zack to give her one. I tell them that I can't do anything with her because if I say no...she just runs to one of them!

• United States
16 Jul 11
My cats think that we have a revolving door on the back. I sing to them "The cats go in, the cats go out, the cats have whiskers on their snout. The cats go out the cats come in, the cats have whiskers on their chin" Tune is "The Worms Go In" The cats know it is just for them.

• United States
25 Aug 11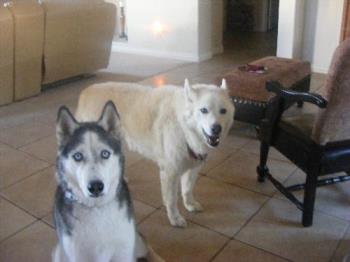 that's TOO funny. My sister in law has two gorgeous huskies. I was over there last week and my mother in law asked me to put the dogs out. Now, keep in mind, they have a doggie door and can use it. When I take Baby over, she can come IN, but isn't tall enough to go OUT. Anyway, Reggie, the UPS guy was at the door. The dogs think they are supposed to be the center of attention at all times. So I opened the patio door and shooed all three of them outside, and then Pat answered the door. I shut the patio door and started across to help the UPS guy get all of Lauren's AVON order in the house. As I bent over to pick up one of the boxes, I felt a cold nose up the back of my shorts! The dogs had come back in the doggie door and had just about beaten me to the front door. They were happily greeting Reggie who was laughing. He said the dogs had come in and were "Sneaking" around the opposite side of the kitchen counter from me, like I wouldn't see two big dogs that weigh 80 pounds each!!!

• India
15 Jul 11
Dear friend, May be it could be sing of may way of words, any how that is what it has to convey through actions. But mind differs from them and us. This difference is well projects in their ways of behaviors. But I feel they are could be much sincere in their behaviors.


• United States
25 Aug 11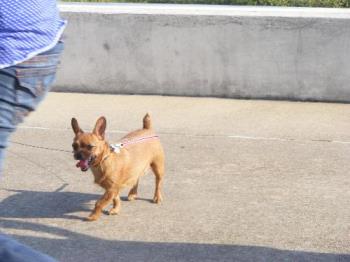 Interesting words, though I'm not sure exactly how they pertain to this discussion. However, I appreciate your taking the time to read and answer my discussion starter. I'm leaving you with a cute picture of my dog.