Bananas As Healthy Snacks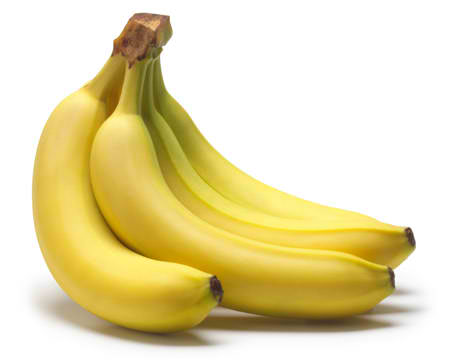 Philippines
July 16, 2011 8:39am CST
I've read somewhere before that bananas are excellent as snacks. Not only do they replenish much-needed blood sugar quickly, they are also rich in potassium, not to mention a great source of fiber. They're tasty too. As a freelancer, I find that I have to reach for healthy snacks on intervals because our work tends to get so enjoyable, we forget to eat. Thus, food like bananas are welcome on our tables. Do you like bananas? Have you tried snacking on them instead of reaching for chips?
5 responses

• Indonesia
16 Jul 11
bananas us my favourite fruit after lunch.it's not only tasty but also good for your consume organ.if I have time sometime I also make fried banana as my breakfast.it's both tasty and healthy


• Philippines
16 Jul 11
Ahh yeah! Fried bananas! In my country, there are lots of varieties of fried bananas. We have the sliced, fried and sugar-dusted bananas, the whole, sugar-coated fried bananas served on sticks, and the floured fried banana patties. :) Fried bananas for the win! Thanks for answering!

• Indonesia
16 Jul 11
it's sounds so yummy!!

my favourite is fried banana with pour of chease and chocolate above it! taste great



• Philippines
5 Aug 11
Cheese and chocolate on top of fried banana. Hmm. That's a yummy thought! Thanks for sharing, Red!

• Philippines
26 Jul 11
I agree, I do love bananas. I am already substituting bananas for snacks instead of chips. I always buy bananas now instead of buying junk food which have no nutrients and will just add up to your weight. I always eat banana before my cardio exercise at the gym. I also eat one banana after the gym just to fill up my stomach instead of eating in fast food restaurant. Bananas are cheap, affordable and very nutritious.

• Philippines
5 Aug 11
That's nice. :) Good to know that you've shifted to the healthy lifestyle. Good for you! :) Good tip that: eating a banana after the gym. Working out really makes a person hungry. Kudos to your changed lifestyle! :)

• Philippines
1 Sep 12
True that. :) But lately I discovered that plantains are better sources of potassium. :) I have a bad habit though -- when I buy fruits I allow them to spoil. :( So I really should just buy what's good enough to eat for a day. :)

• Philippines
16 Jul 11
All fruits are really good substitute for chips.I heard that eating 2 bananas a day is like taking a multivitamin capsule.I like bananas but limited to specific varieties.I'm eating it especially if I need a good source of sugar.

• Philippines
16 Jul 11
Wow. 2 Bananas = 1 multivitamin capsule? That's awesome! I'm going to research on that in a bit and I'll make sure I have at least 2 bananas a day! Thanks for sharing. :)

• Philippines
16 Jul 11
Yeah I like banana too. Its easy to eat. You dont need to wash it because you just have to peel it easily.

• Philippines
16 Jul 11
Oh yeah. My doctor told me to skip eating exposed fruits when I got sick with Hepatitis A and Amoebiasis. The only fruits he allowed were fruits you need to peel, and bananas were on top of the list. :) I love eating raw plantains too (saging na saba in Filipino), I find them more tasty and I heard they were healthier. :)

• United States
16 Jul 11
I do not really like bananas unless they are dehydrated. the seem to have more flavor and are real good this way. You should try it.

• Philippines
16 Jul 11
Oh yeah. Banana chips. Somehow, I don't like them as much as fresh bananas, but I do, on occasion, indulge in banana chips. In my country we have dehydrated/fried/caramelized banana delicacies called Pinasugbo. But that defeats a banana's healthiness because it's now coated with a whole lot of sugar! Thanks for answering! :)