Do you chase after money? Or do you let money chase after you?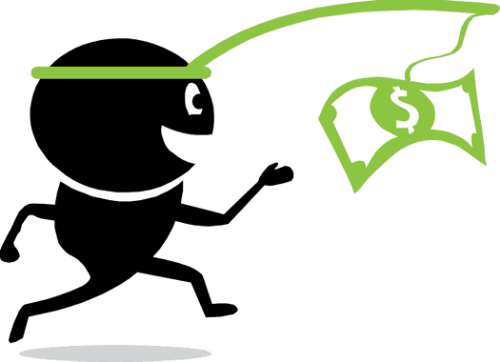 Singapore
July 17, 2011 12:21pm CST
From the time we start schooling for an education, we are told that whatever we learn from the books and in school, it will help us to lead a good life when we land that lucrative job and enjoy the life that was suppose to be. But many a time, after we graduate, when reality slaps us awake to real life vs reel life, we realised that we are actually chasing after money. Going after that new paid-to-surf program. Hankering after that elusive formula for winning at stocks or shares. Pursuing that so-and-so get-rich-quick scheme... etc etc. But there are some individuals who made it in life such that money chases after them rather than they go chasing after money. Think Warren Buffet. Donald Trump. Simon Crowe. Jennifer Lopez. JK Rowling... and many more. So, which category do you fall in? The one that chases after money? Or the one where money chases you?
9 responses

• Malaysia
18 Jul 11
My concept is we have to chase for money. It is because if we don't put efford to chase money, we still can earn the money when the money come to us. If someone tell me there is an opportunity to earn a good money. I still won't earn the money unless i go and grab the opportunity, right?

• Singapore
18 Jul 11
before i respond to this discussion, i've got something you want. that elusive formula you are hankering after? buy when everyone's selling and sell when everyone's buying. you may not be the biggest winner but you almost can't lose doing just this.

now back to the discussion proper. i guess i've never really chased after money. i'm lucky to have a supportive family who doesn't expect me to provide them with a lavish lifestyle. my parents don't expect me to give them thousands of dollars every month. so i really don't need a lot of money.

i don't chase after money, and money certainly don't chase me. i guess i'm in between, no chasing and not chased.


• Malaysia
17 Jul 11
It is only the selected few who are blessed to have money chasing after them. They have that inborn talent that is marketable, which do not need much effort to attract wealth. Their wheel of fortune keep generating money for them even while they sleep. No amount of education can guarantee a person will become wealthy unless they have sown the right seeds. They have to work hard to earn fat income. We should be smart enough to let money work for us to generate more residual income instead of being slave to money.

• India
17 Jul 11
I think which the big name you gave here are realy a big personality and big name in world.but in my personal view i would say if you want money to chase you,then first have to chase money and then hold or shape money as you like and then money will realy chase you.take an example of waren buffet.when he was just 17-19 years,he invested in stock market and bought shares.and after that he never look behind.after that he invest in many sectors and money start chasing him. J.K.ROLLING was not a rich lady befor her noval of Harry Pottar series.but when she starts writing to get some money,then she become popular and money starts chasing her.it is also must to have a skill to make money chase you.

• Philippines
19 Jul 11
I can say I am not the type who chases after money.. I can say that because until now, I still dont have a stable job, 3 years after I graduated.. But I still eat well, travel, and being able to sleep in the night. And I can also say that money chase after me, because even if I dont look after them, they present themselves to me.Like one time, after our prayer session in church our pastor just gave me 500 pesos which was a big amount. And he said that God told him to give... Aint it cool?

• Singapore
19 Jul 11
After u succeed in chasing after money, money will come chasing after u.. haha =D It's all about branding ourselves.. haha =D

Maybe i should say investing in ourselves? Once we gain recognition, money will come flowing to us. That's why u see there's so many people trying to be famous for anything, just to grab global attention. ONce attention is there, money will be heading their way, to be spokesperson for products, and whatever money pays them to do.. haha


• Israel
18 Jul 11
Hey there! I think that you must chase after money in order to in the future the money will be chasing after you. All of those you mentioned like Warren Buffet and Donald Trump worked very hard in the begining of their careers and I am sure that they chase after money. It's a good thing to be a person who want to be rich and chase after money but we must do it smart if we really want to be rich... I can say that I'm a person who really want to have a lot of money, but I won't do anything for it and I will always remember that there are things which worth much more than money like health and family...

• Canada
18 Jul 11
There is a famous quote, "the more you try to chase after money, the more chance you will get none." Everyone desires money, it is important in our daily lives. But the more we want it, the more we wont have any. Unless you are one who is very clever, then you may just receive all the money you want due to your ability. It is very much suggested that you have to search for something you enjoy, and earn money that way. Or else you will have nothing but stress in your life and you will definitely not enjoy your life even with the money you earn. For example, most of the people you mention actually enjoy their jobs and they earn in correlation to their job (except Donald Trump, he is "old money", that means it is from his family). Warren Buffet on the other hand, started his investment like attitude at a very young age, and declared that he will become a millionaire, so I can assume he must enjoy what he is doing. I am in the middle, I only chase money when I require money. But personally, I only require like 50$-100$ a year to buy whatever I need. I don't require much in my life. I am young and still in school, and I rarely spend. I usually would have desire for an object, usually a computer equipment or something that can make my life easier during school. But other than that I rarely spend, I mean I get enough during Birthdays and Christmas.

• Indonesia
18 Jul 11
chasing after money... that's me and most of people since life become not easier now

searching good job is not easy even you're university graduated.food rate is getting higher and higher and so on.actually there's corelation between that statement above : "people chase after money" and "money chase after people".all people starting with chase money.I think it's a must.work out, extra effort, energy, sweat, pray, support are compile to be one package.if you have a big luck, then your effort turn to something call bright career, then you don't have to chase money anymore, money work for you now!