Idle

Philippines
July 18, 2011 10:41pm CST
Hello Everyone! It's been two weeks now that we are not receiving projects in our company. At first it was fun because we can just go surfing the net or watch movies in the office and still get our pay. But as the days stretches into week, it becomes boring. Aside from that, if this situations stretches more, the company might go bankrupt. I'm terrified of the thought of losing my job. How about my fellow myLotters, have been in this kind of situation too? what actions did took?
9 responses

• Delhi, India
19 Jul 11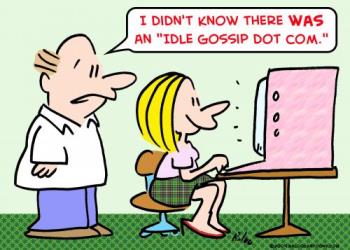 Hello BannedHelsing, Its not the good situation. Many times we feel that if we have less work at job but to think that is wrong we should have so much work at job that it becomes difficult for us for handling it.If there is lack of work it should be an alarm for you to change your job.

I had a job around 7 years back in which i had little work to do.I changed that job after doing work for around 1 year there and joined the job presently where i have been working and here there is so much work that rarely i could complete my daily work always i have lot of work pressure on me but i never complain for it as i know its better for me only.


• Philippines
19 Jul 11
It's good for you.You have a secured job. I really hope projects come pouring soon for us too.

• Thailand
19 Jul 11
Hi BH! Projects will come soon, if you think of it that way. You can only get what you hope for. My advise is to enjoy your free time and think of new projects to come in soon.


• Philippines
19 Jul 11
I believe you have a positive outlook of life even on the most negative situations. Maybe I can use some positive thoughts. Projects will come soon! Thanks for the reply.

• Thailand
20 Jul 11
Oh yeah! Positive thinking helps you relax. It takes you in a good place. So don't let seemingly bad situations get the best out of you! Cheer up! All will be well, BH!


• Philippines
19 Jul 11
That is scary indeed! Gratefully for me, our company does not have the same situation as yours have. On the contrary, projects are piling up that we tend to get loaded most of the time. It is a good thing though because most of my co-workers are cooperative thus we finish task quite satisfactorily and on time. I guess that on your end you just need to pray and continue to do your job at your utmost productivity. And when projects do come, do your best to make it as satisfactory as possible to attract more clients/ projects.

• Philippines
19 Jul 11
Good for you! When the projects come I'll make sure I will have quality outputs so that we will not be like this again.

• Philippines
19 Jul 11
For what it is worth, you can actually take this lean work days as opportunity for you to channel your productivity somewhere like mylotting.

Just think positive and dont dwell in negative thinking cause it will sore your outlook, thus negatively affecting our performance. And yes, in every task we need to give our best shot in order to satisfy our clients. That way they will keep coming back to avail of our company services and this will also attract more clients. And pray. Nothing works better when coupled with prayer. God bless.

• Philippines
20 Jul 11
it is quite boring indeed doing nothing for a long period of time even if you were geting paid for it. why not just try to find something to do for the company while you are still waiting for them to give you some task. i don't know what kind of work you are in, so maybe you can try to look for some paperwork or do something else that can help the company in some way.

• Philippines
20 Jul 11
Unfortunately we don't have paperwork here. Thanks for the response.

• Philippines
19 Jul 11
It's quite boring if you will sit down and do nothing for a day. How much more if you'll do nothing for a week. Your company is experiencing a lot of financial problem and absence of projects is quite a strong sign. What you can do for the meantime? Search for a new job, it's quite helpful to be prepared than to be surprised.

• Philippines
19 Jul 11
I'm on this already. Though I don't want to leave the company I need to look for new ones, just in case.

• Philippines
19 Jul 11
Yeah, it's really boring if you got nothing to do in work. The working hours seems to take forever in moving. Waiting to go home is a hard feeling. Whenever I get those lean days at work I make sure to try to organize my files in there. Also, I busy myself learning other stuff in the internet. If your company don't have much of the projects, it'll be very hard to sustain the business. Well, maybe I recommend you to start looking for prospect jobs then just to be prepared if ever your company goes down. Haha!


• Philippines
19 Jul 11
Thanks for the response. I really need to start to look for a new job.

• Philippines
19 Jul 11
I'd feel the same way, it's a sign that the company isn't getting any money in. Therefore, there might be a chance that they'd just shut down. I don't think that you could do a lot about it. Unless you're into sales, you could find clients for your company. Well, it actually depends on the type of company or business that your company is doing. But I think that what you could do as of the moment is to look for another job. It takes a while to find another one so it's best that you look for one while you're still employed so that you won't need to panic looking for one when your company does flop. It's better safe than sorry. Have a great MyLot experience today!

• Philippines
19 Jul 11
Your right. Actually i am contemplating of finding a new job right now just in case. I really can't afford to lose a job since I have mouths to feed.

• Singapore
22 Jul 11
It's not good to get paid without doing anything. It might be fun initially but it's bored like u said, as it stretches into weeks or worse, months. NO company can survive months or years without any projects. It's either, head of the company do something about it, or replace him with another person. If not, be prepared for the closure of company.

• United States
20 Jul 11
Oh yes. I know this story all too well. I had been fortunate enough get a job as a tech support rep for an online company. It was great! I was able to work from home and make some very descent money. After a year or so the company lost it's owner due to jail time, which was his own fault I'm sure. Not to mention he didn't care about us workers, but anyway, we lost the contract and I lost this income. It has been very hard for me since this happened. I have had to find other ways to make the ends meet. I recently heard that they company was relaunching. I have been asked to come on board again. I am thinking of doing so as I could truly use the money and it wasn't a bad gig from before.