I am getting expiring jobs from microwokers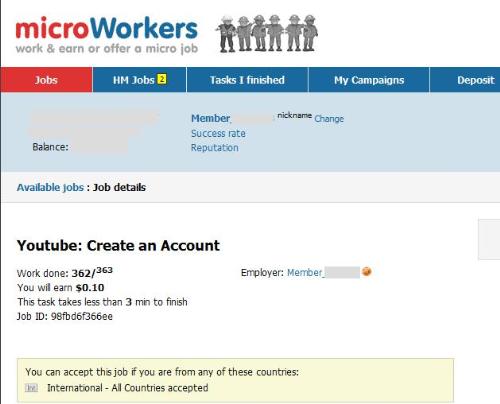 Malaysia
July 19, 2011 4:42am CST
I believe many mylotter are quite familiar with Microwokers and have been the member there for quite sometime, and from my very own experience, I found that I keep getting many jobs that are expiring soon. For example, the allocated task for a particular job was 363 but when I first saw it appear in the job list, 362 of it have already been done and only one more task available. (See the attach picture for clearer image of the situation). If I just continue with the job, I always get the message that the job have been stop running and closed, and I don't earn a single penny even though I have done the job. Such a situation are quite frequent and I wonder why the job can be done so fast once it is released for the workers. I do suspect that the job doesn't show up when it first released in my list. What I can do is only keep refreshing the list and hopefully it will appear earlier so that I have got enough time to grab and finish the job. Did you encounter the same problem? How do you deal with such a situation? Do you always have enough time to finish the job before it is closed?
7 responses

• Malaysia
19 Jul 11
Recently, i am also getting a few that kind of tasks, so i am ignoring them. Because previously, i ever done a few of them and was paused by the system when i submitted them. So, i think the best is don't accept that kind of task. Better check that the number of people completing the task is still far away, before accepting the task. Good luck to you...


• Canada
19 Jul 11
I do encounter some jobs like this. But I chose to ignore them because there is a big chance someone has already done it, this way I could save time and effort and probably doing other jobs with a higher possibility of success rate. You can't really put the blame on Microworkers because there are a lot of Mircoworkers member.

• Malaysia
20 Jul 11
Hi! After a few trial and failure to secure to task, I now tend to ignore these kind of task. I believe most of the time, some tasks probably are allocated and only show up for certain group of people. That is why when we first saw the task, it was already near to finish all the work available. In order to save time and not doing free job for people, now I prefer to check it out before I complete the job.

• India
26 Jul 11
Hi. i think everybody faces the same problem. I am also getting many jobs that shows "paused by the system" after submitting proofs. Now jobs are very less compared to the early times. But surely it is the best site among small task sites.

• Malaysia
28 Jul 11
Yeah, I find that there are many error or bug in microwokers. I did get to see some task that have plenty of job that have not been done, but when I tried to submit my task, I get prompt that the job was paused by the system, and later the same task show up again in the job list. It is really weired.

• Malaysia
20 Jul 11
I did have such experience for many times. Whenever I have this problem again, normally I shall cancel in whatever I have done earlier. For instance, I shall dislike, undugg and cancel the post in my facebook account, my digg account, my delicious account and so on. But not all of the completed jobs could be removed or canceled successful. This problem was due to the huge number of members who rushed to grab the same job. For me, I shall refresh the site very often and complete the suitable job as soon as possible. Never accept those jobs which are nearly to be full in the offer.


• Malaysia
19 Jul 11
I encounter 2 times but the rest is usually have a lot of days left. Maybe you should contact the admin. Best of luck!

• United States
19 Jul 11
Oh yes the pause type assignments. Yes I have seen several like that and I also ignore them as I feel that they will either be on pause and or expired so I try not to waste any efforts on them, especially if the earning is very small. I have had about two that even though I completed them it was too late, so now what I do is specifically see if at least more then 2 are still available before I attempt to accept.

• Malaysia
20 Jul 11
Hi! Yeah, I have the same though too. I try to ignore such a task but sometime after refresh the page for few time, it still show up then I will try to see if I can complete it on time. But most of the time, I failed.

and I was doing free job for them. I did encounter some task that are still really new and have plenty of task available but when I finished the task, it show that it has been stop running. That kind of task really waste a lot of my time.