Mount Etna gives a Spectacular Show with Fountains of Lava!

Sweden
July 19, 2011 10:15pm CST
Take a look at the latest eruption of Mount Etna! It is incredible how thin the crust of the Planet Earth is! In some places the hot inside of the earth comes through and at that time it is safer to be a long way from that place. Etna is spewing lava 200 – 250 meter high. http://www.bbc.co.uk/news/science-environment-14208862 (Mount Etna is Sicily's greatest natural attraction.. In the ancient mythology of the Greeks, Mount Etna was the realm of Vulcan, that was believed to be the god of fire, and the home of a one-eyed monster called the Cyclops.) Last week another volcano in Indonesia erupted and ashes, sand and stones flew up 1500 meter. Thousands have been evacuated. Watching this spectacular show is only a scratch on the surface in trying to understand the enormous power of our Creator! What did you think when you saw the show?
6 responses

• Canada
20 Jul 11
Watching it from far away, it does make for a spectacular show. However for those that live in the area it can be life-threatening. I totally agree that we have so much yet to learn about this amazing planet.

• Sweden
20 Jul 11
Hi, 1hopefulman

I wonder why people take the risk of living so near an active volcano? Yes, we need a whole eternity to learn about what our Creator has planned for all His children. At least we know that He has the solution for every problem!



• Canada
21 Jul 11
Probably the mineral rich volcanic ash grows great vegetables with lots of nutrition. Just a wild guess, I really have no idea. I would not want to live near an active volcano. Though some think that the mountain in the middle of Montreal is actually a dormant volcano. If it is, I hope it remains dormant. Let sleeping volcanoes sleep!

• Sweden
21 Jul 11
Yeah, I think I have heard about the good soil there. But still, there should be ways to cultivate the earth and not live there permanently. Perhaps live in a boat and be ready to leave in a few minutes..

I do hope your possible volcano continues sleeping forever!!



• Chile
20 Jul 11
I´m afraid I´m not particulary fond of volcano eruptions, friend, as I live surrounded by them. Last week, my sister had to come to see my mother for her birthday by bus (a 12 hour trip) because the Puyehue-Caulle volcanoes had covered skies and airpport where she lives with ashes. She brought my Mom a big and very light stone. In 2008, the Chaitén´s eruption ended in having to evacuate all th people in a town. The word evacuate sounds as saving. But it means people lose everything they have. They lost their animals, their houses, their furniture, clothes, you name it. The word "Show" does not sound a good one in my ears

Those people were poor but had a living. Now they have nothing. The government can relocate them, but it cannot give their old life back.

• Sweden
20 Jul 11

Hello, my friend - I can understand you as things like this must be very real to you. It´s a good thing if they saved their lives - hopefully they get a safer place to live on and near their neighbors and relatives. Maybe many had no choice but live in that area, but I would not like to move there myself.


• Chile
21 Jul 11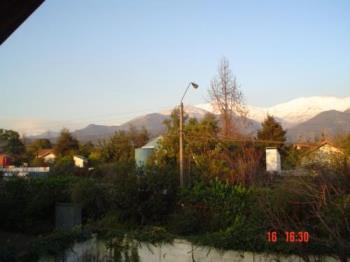 Dear buenavida, I don´t think the planet as a whole is an easy place to live. Some people live near volcanoes, some have tornados and hurricanes, other have floods or droughts.Somehow their elders came to live there and found other good things that meant living better than else where. And they made it their home. There´s no safety anywhere. Where I live there are earthquakes. We have learnt to build better houses and we know betterhow to deal with them. And while it´s true that the earthquakes are here, we have the beauty of the Andes mountains at our door, the mining riches and the good soil and climate. I would not like to live in a place where there´s snow all Winter. I am acostumed to having my Winter garden to water and even my Winter flowers to talk to. Once in a while (often) it starts to tremble while I´m at the computer. The lamp sways and I run to the garden. It´s not usually a big earthquake, but you never know. Two minutes later, I climb the stairs and continue playing. I would not like to live at any other place in the world.


• Sweden
21 Jul 11
Well, marguicha - you live in a very special place and it must be very beautiful. Every place has its advantages. I didn´t know you can have a winter garden - that is wonderful! I just met a man from Chile btw but he lives in Sweden like many from South America do. He is married with a Finnish woman.. One family I know went back to Ecuador after 3 years here. I can understand them, fresh food all year and friends and relatives near..




• Sweden
22 Jul 11
Yes, it must be an impressing thing to see, as long as we can look at it on a safe distance..

There are hot springs here and there on this earth, but I´ve never bathed in one. It would be an interesting experience..



• Sweden
24 Jul 11
Yeah, cool and hot at the same time!!


•
20 Jul 11
Wow. Always makes me wonder why people live right next to it. I mean, can you imagine trying to sell a house there? "Oh, yeah - the volcano. Don't worry about that. It's just burning-hot magma and flows of lava. Nothing to be concerned about. Honest." By the way, the Greek god of fire (and volcanoes, blacksmithing, etc.) was Hephaestus. Vulcan's the Roman equivalent. And the cyclops didn't live under Etna - they were cast into Tartarus (which is sort of a hell equivalent). You're probably thinking of Typhon, the Titan, who was trapped under Etna by Zeus once he (it?) was defeated.


• Sweden
20 Jul 11
Yeah, selling a house there might be a bit difficult..

You seem to have done more research than I have about this mythology. I just read about it here http://www.bestofsicily.com/etna.htm But everything online perhaps isn´t correct..

No problem, we can always do more research. At least these "gods" and "half gods" don´t exist. But it can be interesting to be more familiar with the history of Greeks and Romans..


•
20 Jul 11
Amusingly, my knowledge of that particular story comes from a short story by Roger Zelazny, not from any clever research.


• Sweden
20 Jul 11
Well, we´ll find out sooner or later the facts about this.



• Sweden
21 Jul 11
Yeah, that is possible, but nowadays it is possible take photos and videos from a long distance. Some photos can be taken from a satellite. But the videos are amazing..



• France
20 Jul 11
Spectacular for us, maybe less for the neighborhood, as it is the 6th eruption of Etna this year

. I was more surprised by something that happened during the previous one on July 11th : all the digital clocks around were put forward 15 mn. It is a magnetic phenomenon very difficult to explain, and we have still many things to learn from vulcanology, which is a very young science.

• Sweden
20 Jul 11
You are right, not good to live too near a place like this. I hope people there could find a safer place to live on. Never heard of that digital phenomenon, we sure have a lot to learn..