Pitt Bulls will always get a bad rap!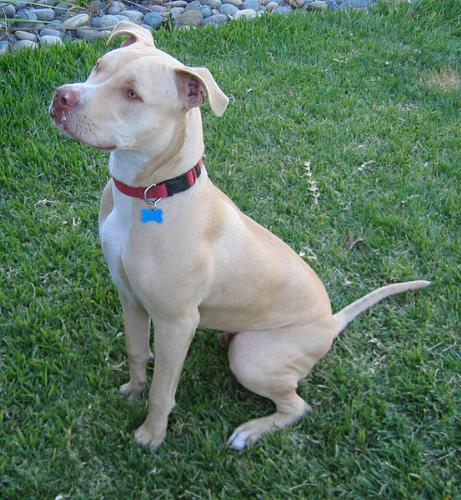 United States
July 22, 2011 12:12am CST
I truly believe this unless dog fighting is stopped and never happens again! We all know that will never happen! It is a digusting sport dog fighting is! Thanks to that I know alot of people who don't like or trust a pitt bull! Not all Pitt Bulls are used for fighting! Alot of them are great dogs! They can be great with families! I started this discussion becuase a friend of mine found out his brother has a Pitt Bull. My friend Chris can't stand the breed and he thinks his brother has the Pitt Bull because it makes him look cool and gives him the "You don't mess with me" look! Chris's brother is a drug addict and I have a feeling this pitt bull will get abused by him some day! All this makes me sad and mad! I hope someday the Pitt Bulls imagine gets alot better!
7 responses

• United States
27 Jul 11
Sounds like the brother is fitting in to a degree w/ the stereotypical profile of someone who may have one. This dog will always get a bad rap, not just because of the unsavory people who are known to have them but they do have a reputation for turning on people. A woman here was attacked by her pit a few weeks ago, she was kenneling another dog and the pit whom she raised since being a pup attacked her and the neighbor who tried to help her. These dogs have a vicious tendancy to snap on their owners. They are not the only ones as I've heard of Rot's being of similar reputation.

• United States
29 Jul 11
I have heard some pitbulls turning on owners. I have heard this with Rottweillers and German Shepards,too! After the bad rap the Pit Bulls are getting,the rottweillers are second on the list! So sad! It should not be that way!

• India
23 Jul 11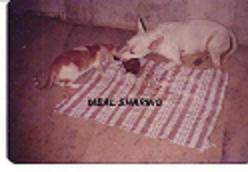 We went through tough days in the initial stages when we brought home our bull terrier but found it to be the most affectionate of our pets specially the way he got along with the cats. We used to hand feed him and he refused to eat on his own. I think the atmosphere around pets that can change their basic instincts.

• United States
29 Jul 11
I couldn't say it any better! I love the photo of Rana and the cat! Very cute!

• Japan
23 Jul 11
Dear Animal Lover, Yes, unfortunately all Animal abusers are cowards, only the worst type of humans can enjoy to watch them tear each other apart, they train the Animals for survival, it's not like they ever wanted to kill a fellow Pitbull and it's worse: they actually grab small Chihuahuas or defenseless Dogs to trainning. PitBulls shouldn't have bad reputation, even a labrador can become preatty agressive if He/She learns they have to bite and fight to survive. I just rescued another puppy mill Dog so it's really getting into me these Dogs on shelters. She's terrified, she suffered a lot locked up in one cage.

• United States
28 Jul 11
Puppy Mills is another animal topic that is something that is so wrong and abusive! I know in the dog fighting world sometimes the fighting dogs,to get ready for fights, are let to spar against another Pit Bull,they call a "Bait Dog"! This dog just is used for training! The more I know about dog fighting the more digusting it is! Luckily I know most of Michael Vick''s pit bulls were rescued and fostered! Most have become great pets!


• United States
28 Jul 11
I totally agree with you!

• China
22 Jul 11
Oh! I really understand you! I love dogs, and can't help feeling sad when I see the poor situation of dogs! I had watched a TV shows which is reveal us a company that is particularly do everything to save Pitt Bull, and to improve their living environment. They printed placard in order to tell us Bitt Bull is good behavior, smart, lovely ... they also talk to some owner of Pitt Bull who treet their pet as breed dog. They take these owner to the local shelter for Dogs to let them know how cruel it is. These Bitt bull are all abandoned by their owners. What a pity! I also against the dog fighting, it is so curel. We shouldn't make fun or money in this way! Pitt Bull, all the animals have the same life as human beings. I'm glad to meet you! We have the same wish to give pets a better life. Wish we can succeed.

• United States
27 Jul 11
I have heard stories of people adandoning pitt bulls! It is so sad! Then I seen on some of this animal shows were pitt bulls are found fighting and all the kennel is taken from the owner! So many fighting pitt bulls are to vicious to be fostered and turned around! Some are and that is proof of most of the pitt bulls from Michael Vick's dog fighting kennel! Where I live I am seeing more and more pitt bulls! I think alot of people get them just why my friends brother did! Just for show! you wonder how many of those dogs will be abandoned? I don't want to think about it!

• United States
22 Jul 11
People have said that it is in the nature of these dogs to be violent, but I'm not sure if that is true. People have also said that pit bulls will turn on babies for no reason, even if they seem to be the sweetest dogs ever. Many people have had great pit bulls that haven't hurt anyone, and were absolutely gentle their entire lives. I actually have a fluffy little white dog that seems to be a sweetheart breed, but he's actually kind of mean and had a biting problem the first few years of his life. I think in general, dogs need to be watched carefully, around kids and babies especially, but no breed can be more likely to be rotten than other, it just depends on how they were brought up.

• United States
27 Jul 11
I think some pit bull are breed to be mean,especially the ones used in fighting. Any size dog can be mean. You are right. It is the way they are raised! If they are raised in a loving envirement,they will be loving animals! The same goes with all animlas! Raise them in the right situation and they will turn out great!

• United States
25 Jul 11
PitBulls really get a bad rap, generally. I would suggest that before people say anything about them, that they take the opportunity to get to know what they are talking about. I have known a few folks that have PitBulls as pets. If the owner wants to have a vicious dog, it doesn't matter what breed he starts with. If, on the other hand, he wants a friendly dog that he can do things with, without worrying about what the dog might do, it doesn't matter what he starts with. ANY DOG CAN BE TRAINED TO DO WHAT YOU WANT IF YOU START EARLY ENOUGH.

• United States
29 Jul 11
You are so right finlander! Any dog can be trained to do what ever you want if you start it early enough! So many people don't do that! If a person could start when a puppy is a few weeks old! Doing this discussion make sm e want to have a dog! If I live somwhere else where I could keep a dog I'd have one! Someday and it will be from the humane society!

• United States
29 Jul 11
I really siggest that, if you decide to get a PitBull that you make sure that you get it as soon as it's weaned. The Humane Society is just a crap shoot if you understand my drift. Make sure, if you can, that the owners of the mother of whatever puppy you get understand WHY YOU WANT THAT PARTICULAR PUPPY.