Next destination: Hong Kong

Philippines
July 27, 2011 10:50am CST
I'm going to Hong Kong soon for work-slash-vacation. I'll be having lots of free time there so I want to explore. I have been to Hong Kong before, and I've been to Disneyland, Ocean Park, Madame Tussaud's Wax Museum and Avenue of Stars. Where else should I go in Hong Kong during my stay there? Also, can anyone share their Hong Kong experiences so I'll have an idea on what to do and what not to do? Where's a recommended restaurant or place to eat? Any tips on haggling? I'm going to be packing soon, so what should be on my "to bring" list? I'd love to hear your stories and tips to make this Hong Kong trip a very memorable and fun one!
8 responses


• Philippines
28 Jul 11
Yes, i took the offer! Haha! Thank you for remembering. Although, i'm still scared to take this risk. We'll see! :)

• Philippines
11 Oct 11
Hi. I realized this post is made 3 months ago. I hope it's okay to add some more places here. If you loved shopping, try visiting the following malls: Citygate Outlets (Tung Chung Station) - offers huge discounts all year round. apm (Kwun Tong) - a lot of my friends recommend this place. I think it opens until 2am. Festival Walk (Kowloon Tong) - tourists can get discounts. Simply present your passport at the customer service desk to avail the Festival Walk Tourist Passport. Langham Place Shopping Mall (Mongkok) - I love the mall's unique architectural designs. If you loved computers and gadgets, you shouldn't miss Golden Shopping Center (Sham Shui Po) and Wan Chai Computer Center. If budget permits, try eating at the restaurants in Sai Kung. You can also check out Chi Lin Nunnery, a small garden where you can take some nice pictures. I've been to Hong Kong several times. I always visit during the Christmas holidays. I think it's best to visit Hong Kong during Christmas and the Chinese New Year. By the way, how was your trip?:)

• Philippines
14 Mar 13
Wow, it really sounds like you know a lot of places in HK that only the locals know. I am now convinced to visit Chi Lin Nunnery. Do you know of any other parks or places where locals hang out? It doesn't have to be tourist spots as I love walking around neighborhoods and meld into the scenery. I heard that there are some great places to explore along the elevator in Central. Maybe you could recommend some of them?

• Philippines
15 Mar 13
Hi whitneysquirrel. I just research a lot.:) Where are you staying in Hong Kong? We stayed in Causeway Bay. There is a park in front of our hotel - Victoria Park. There isn't much to see there. Just trees and green grass, but my dad would always go there every morning and do some "exercise" LOL. I've never been to Mid-Level Escalator. I heard that there are lots of restaurants there. So if you want to go food-tripping, you can check the place out. Otherwise, there's nothing much to see there. If you want a different experience, you can try the rooftop cinema. As the name suggest, you watch movies outdoors - on the rooftop of M88 (in Central)! I think it's a cool experience though I haven't tried it yet.

•
28 Jul 11
I am a Hong Kong resident. You have already visited quite a lot of places in Hong Kong. Did you visit the Peak at night last time? If not, then you should try it this time because I am sure you will enjoy the beautiful vicotria habour view at night time. If you have tried this already, you might take the ferry across the victoria habour instead and enjoy the view of victoria harbour. Then go shopping at causway bay or tsim sha tsui. Maybe you can try the giant buddha and Ngon Ping 360 at the lantau island. If you would like to know more about the history of Hong kong, you may also go to visit some of the museums and most of them are free of charge on Wednesdays. You might like to have a look at the following website: http://www.discoverhongkong.com/eng/index/html It tells you quite a lot about the attractions and things to do in Hong Kong. Hope it helps.

• Philippines
28 Jul 11
It's good to hear from a Hong Kong resident. It's a big help! Thank you! I wasn't able to go the top of the peak last time. I wanted to, but i was on a tour package and only had limited time. This time, i'll be able to have all the time I want! Thanks for all the great tips and suggestions. I'll try to visit them all! :)

• South Korea
28 Jul 11
Woop!! So you did take the job there. Good for you

ANyway I have never been to Hong Kong but it's a dream. I might be going there next year. The main reason is one of my best friends live there. Can't wait to see his face hehe anywya i hope you have a great time there. good luck

• Philippines
28 Jul 11
Hey thatgirl! Thanks for remembering! Yup, i took it but still scared about it. Haha! I hope nothing goes wrong with the visa process and everything. I'll update you about my Hong Kong experiences once I'm there. I hope you get to visit your best friend soon! :)

• South Korea
28 Jul 11
yes I did remember

and yes it but natural to be a bit scare but don't worry friend, once you're there you might forget all the fears and enjoy a lot. and yes I would love to hear the updates. Good luck


• Philippines
27 Jul 11
I've been to HongKong in 1995 and a lot of things has changed there. Hongkong is a shopping place....but you could go to Shenzhen, China and visit the Windows of the World.....you can also take the ferry boat and go to Macau.....

• Philippines
28 Jul 11
I've been to Macau by taking the ferry boat from Hong Kong. I'm wondering how I'll be able to go to Shenzen from Hong Kong. Do you know how? I'd love to go there! Do I need a visa or something? Because I don't need a visa for Hong Kong, and Shenzen might require one? Haha i don't know much about it. How long will it take to go to Shenzen? What's the Windows of the World? (sorry for being unaware of a lot of things. Haha!) What else can I do in Shenzen?

• Philippines
28 Jul 11
There are tour operators that offer tours to Shenzhen and one of the attraction is the Windows of the World....it is a very huge theme park that showcases all the tourist destinations in the world. They built miniature eiffel tower, joanne d'arc, venice, liberty statue, grand canyon, niagara falls, safari, etc.....one day is not enough...in the evening they have parade....we were joking that time because there was nothing from our country, and one of us said that it is outside, the pile of garbage that represent smokey mountain LOL! I went there in 1995 as a side trip as my destination was HK, we took a train from HK to shenzhen, it will take 45 minute travel, we got the visa at the border, you just have to pay for the visa, then cross the border...that time HK is not yet under china's territory, but it will be handed over to them soon as they have a countdown meter on the border on how many days left for them to acquire HK. Now, I have no idea but I think you still have to get a visa as china is not a member of the asean countries where we could just enter without any visa. But better do research as that time the language barrier had posed a problem as they do not speak english. Buses has numbers on their route, i think better to buy a tour...aside from windows of the world, we just walked on the downtown areas, atmosphere is very much different in HK and we did food tripping as it was really excellent. Oh, do not drink the tea that will be first served in the restaurants upon seating as it is meant to rinse the tea cup...that was what I was told....and chopsticks are sooo heavy...

• China
28 Jul 11
try the trail at Westb Kowloon to see wild monkey, go to the walk of starts. on Wenesday all museums are free, West Kowloon Park to see the totem pole Canada gave Hong Kong, Wong Nai Chung Trail to see the bunkers where Canadians fought the Japs.Shek O beach is small but not crowded sit near the front window on the top of the bus with camera, walk out to the point fantastic scenery

• Philippines
28 Jul 11
Wow, I assume you've already been to Hong Kong? How was your experience there? Thanks for the tip about going to museums on wednesdays! :)

• United Kingdom
27 Jul 11
I visited Hong Kong when I was 28 years old and it was very hot weather in July. It was sunny and very humid. I stayed on the top of Mount Davis. The view up there at night was spectacular. Wow! I was on my way down to Perth in Western Australia. I really enjoyed riding on an old tram. I liked seeing the beautiful looking harbor. I found the shopping there excellent. I remember taking a bus and ferry out to one of the outer laying islands. You should bring cool clothing with you, sun cream, a sun hat and a comfortable pair of sandals. You should keep space in your luggage for things that you buy there. I hope that you will have an excellent time in lovely Hong Kong.

• Philippines
28 Jul 11
Wow, thank you Maximax! I'm sure you've traveled to a lot of places already. I envy you! Thanks for the Hong Kong tips! I can't wait to go there again for the second time.

• Philippines
1 Mar 12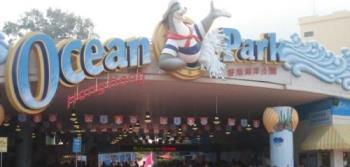 Honestly, what I mostly enjoy about Hong Kong is the shopping. I am not so impressed with the place. It is not a clean place. Well the Ocean Park is great and the the Disneyland as well but if not for the shopping I will not visit Hong Kong again. One visit is enough for me. What restaurant I'd recommend. Well I wasn't really able to take note of the restaurants because we ate mostly at the hotel and spent most of our time shopping.