We love our kids but..

5 responses

• Philippines
1 Aug 11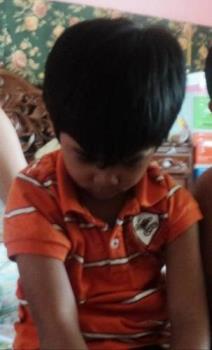 Foolishness is bound in the heart of a child so it is but natural to see them going naughty at any one time. This is the reason why we parents should be watchful. If we see them going beyond the limit, they should be admonished and if needful then can also undergo spanking. Now as for me I've always been patient with kids but when they become too stubborn I always employ the rod of correction. As for me, one of the things that calls for discipline is when I see them hitting each other. I don't want them to do that. I always want them to love each other so if I see one of them is always starting the trouble I make sure I discipline that child.


• United States
30 Jul 11
My 6 year old when she's hungry, she rubs her tummy, doesn't say Momma I'm hungry, and then she starts to whine. Next thing you know she's saying "But I'm starving". Drives me batty especially when it happens less than an hour since we ate a meal.

• United States
30 Jul 11
My daughter will call me all darn day long. Ma can you this or ma can you that. and it will go on till I get mad and tell her to stop calling me.

• Philippines
28 Jul 11
When our daughter was just a kid, what annoys me is her liking to eat her meal while watching her favorite cartoon program. Well, she's still a kid so we just let her. That way, she just keep on eating whatever we put in the spoon for her to eat.


• India
28 Jul 11
We love our kids and at times their pranks make us laugh and forget our anger on them. With me, my daughter talks a lot and at times i have to tell her to shut up or can we talk later. Since i also go out to work and i see her only in the evening and she wants to just make sure her reporting is finished and all day-long stories has been shared with me. Another point is she also make sure my son of 9 is not disturbing our chats... but sometimes my husband has to intervene between us and yell at us to shut. My son study only when he's in a mood to do so irrespective of the time even late as 11 at night when i really wants to end up my day. But he is the comedian at home and make us burst out laughing with all his sweet comments, actions. he make the serious situations into a lighter ones.