I'm Very Pleased With My Body

Thailand
July 28, 2011 7:35pm CST
Hi guys! As you all know from my posts, I have been working out and lessening calorie intakes for some time now. I think my efforts are now starting to pay off. I currently weight 51kilos, my abs is getting tighter and I'm losing the bulges in my stomach!

And what's great is that my cravings for snacks have declined A LOT! I did this with no special diet. I simply ate just the right amount of foods and I exercised regularly. A great amount of self-control also helped tremendously! Yee-hah!

I feel great! I feel sexier and more physically fit, most of all. My husband's been noticing it too.

To everyone who's trying to lose weight, just believe in yourself and pursue your dream weight until you get it! For sure, you'll get there!
11 responses

• Philippines
30 Jul 11
Wow congrats to you. I'm doing same thing too trying to be sexier but instead of exercise mine is zumba dancing but not really consistent with my zumba. I hope I will be able to maintain my zumba dance lesson next week and gain what I want to have. Healthy living to us..

• Thailand
31 Jul 11
Healthy living to us, indeed mack! How do you do zumba anyway? I haven't heard of it before..hihihi

• Philippines
31 Jul 11
Zumba it just another form of exercise but in dancing way. You can search it in youtube. There are two types of zumba for cardio and for abs. Maybe you will like it better the plain exercise in the gym. You can buy zumba vcds. But mine I only downloaded it from youtube. It is very effective for me. You better try it.

• Canada
29 Jul 11
Ijust love inspiring stories on weight loss, I have a slow metabolism, and so I can gain weight so fast it's not funny, but when I try to lose weight it's an uphill battle. blah. But I've also switched my diet and eating more salads, and I also watch condiments, espeically creamy stuff. I was 75kg, got down to 70kg, and my aim is 50kg, which is in my healthy weight range, since I"m only short.

• Thailand
31 Jul 11
Hi masihi! My metabolism's slow as well. That's why a 5kg weight loss took me A LOT of time. It's rewarding still after we've shed all the excess weights. So good luck on your weight loss journey. Focus, focus and believe you can do it. You'll get there at some point, for sure!

Before and after photo?? Hmm.. I'm a bit shy..hahahaha!!


• Philippines
29 Jul 11
Achieving your ideal weight and figure really needs determination if one really wants to attain it. Self control on the food we eat, clean living and regular exercise are the keys to have a healthy body.Congratulation my friend to your success.

• Thailand
29 Jul 11
Thanks stanley. It's not a walk in the park, that's for sure. I'm just happy that I can see and feel the results of my work. It doesn't stop here, though. I'll maintain my daily activities and my eating habits so I can enjoy life more.


• Philippines
25 Aug 11
Yes, having that body of your's fit and healthy is really an achievement.kudos to you my friend.



• Philippines
29 Jul 11
Well it is nice to know that you've been successful in weight losing goal and I am not surprise if you are pleased with the results. It seems you are really serious in your goal so keep up! I hope it is not just a "ningas cogon" thing just as what happened to many people who strive to loss weight. It is always nice to look fit and healthy that to look obese and unhealthy. So go my friend, I support you have my support in that endeavor


• Philippines
29 Jul 11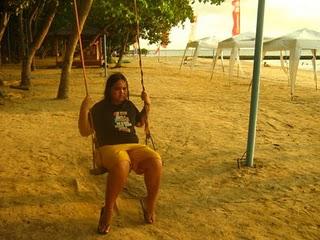 And by the way, I hope I can encourage my grandchild by my niece with your story. I've been encouraging her to lose weight by from the looks of it, she is even gaining more weight day by day. It is really sad to see her growing bigger and bigger each day.


• Thailand
29 Jul 11
Hi my dear! Yes, I'm very happy with what I've accomplished. It's not easy to change unhealthy habits. But slowly, it can be done. I didn't lose weight fast though. It took me some 2-3 months before I finally got to know the rhythm of my body. I don't think I'd ever want to go back. I'm keeping this figure!

I hope to inspire your grandchild. How old is she?

•
30 Jul 11
nice to know that you are eating and exercising the right way. you will certainly have the great shape that you are looking for.

• Thailand
31 Jul 11
Thanks naija! I'm very happy with my body right now. I can move easily and my pants are really, really loose. I'm planning to buy a new pair soon.hihihihi... Anyway, yep I'm exercising at least 5 days in a week. And I limit my food intake to a minimum. How about you? What's your daily regimen to stay fit?


• Thailand
31 Jul 11
Thanks pacr! I'm very happy of what I've accomplished. But it doesn't stop there. The challenge now is maintaining and keep the weight that I'm currently in. Actually, I'm aiming to lose at least 2-3kilos more.

Hopefully, I do it soon so I can start with a new routine.


•
29 Jul 11
I am happy for you. It is good to be fit, alert, strong, healthy and energetic. i really don't exercise much. I take it on my house chores. I always clean the house and sweat and dance occasionally. I have a fast metabolism and I watch what I eat. I only eat junks very rarely. I also notice that when I do exercise I become more careful whith what I put in my stomach. It just comes automatically and I don't crave. It is really good for you. Keep it up. Congratulations.

• Thailand
29 Jul 11
Thanks thetis. Good for you as well that you don't crave much. I would usually eat sweets during the day and chips at night. Good thing I was able to stop that habit. It feels nice.


• Malaysia
29 Jul 11
Congrats. A very few people can say that actually. A few years back someone told me a proverb that "Beauty is just the external packing of what gift lies internally". I loved this thought. But I think beauty matters a lot. Anyways I am glad that you got what you wanted. Remember the key to losing weight is not "what" you do but "how" to do. Good luck and good day.

• Thailand
29 Jul 11
That's exactly right vish. Also, it's not how fast we lost weight that's important. We should make a habit out of it. I did a lot of changes with my eating habits that benefits me everyday.

• Philippines
29 Jul 11
Congrats!:-) Happy for you that you loose weight that fast. Me i am trying now.

• Thailand
29 Jul 11
Hi igatiful!

I didn't lost weight fast, my friend. It took me months to finally know how to lose weight without dieting or eating any slimming products. It's a process for me.

Know I still continue to enjoy eating foods. I control the portion of foods that I take. And I choose foods with low calories and high in nutrition. I also exercise regularly.


• Australia
29 Jul 11
I am very happy for you

I am similar to you & don't really have to diet

I don't really watch what I eat but only eat when I'm hungry & make sure I have my fill of veggies everyday. I also walk my dogs for about an hour a day which helps to keep me fit...I also walk to the local shops instead of driving as they are only a 2-5 min walk away - this also helps to keep me fit.

• Thailand
29 Jul 11
Yay! Good for us, my friend. It's important to stay fit and live healthy lives. It's difficult though because of all the fast foods that we have. If only they were low in calories.

Like you, I do eat a lot of veggies and fruits. My favorite dessert is watermelons and melons. They're everywhere here in Bangkok.hihihi


• Philippines
29 Jul 11
How I wish you give all those pounds you got rid from your body. I am the opposite. For so long I had been trying to gain weight but it seems fats are elusive to me. I also do weight exercises and eat but I am losing interest. . . . .

My husband asks me where the food I am eating goes!

because I stay slim. I want to get fat too!

• Thailand
29 Jul 11
I think you need food supplements and vitamins irene. My husband has the same metabolism as you. He eats a lot but never gains weight. Well, not until I made him drink food supplements every night. He's had gained a few lbs. Still, I would like him to gain a bit more. All the best, my dear.