E N J O Y M E N T - is something which comes....from - H E A R T..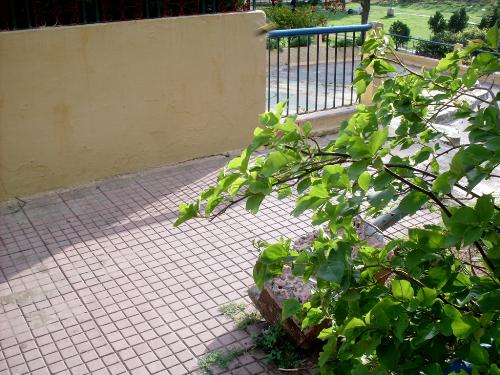 India
July 31, 2011 12:13pm CST
Enjoyment is something which comes from the heart and there are many places for acquiring that.. [b]

I was just strolling down the path this evening and came across this particular spot which made me to enjoy the beautiful sunlight that created a wonder amongst the subjects available here...the flooring,wall and the eye-catching greenery with fantastic lighting....which made me to capture...the picture...

I really enjoyed ....[/b] Do some instances like this make you joyful..

Please share your thoughts..
3 responses

• Philippines
2 Aug 11
That's true, enjoyment comes from the heart. Actually, we can get enjoyment from anything that we can truly appreciate with simplicity. Just watching those people doing their early morning activities, as the jeepney passes them by, makes me happy. Just watching them would make me realize that it's so good of God to give us another day to live.



• India
11 Aug 11
[b]

Yes, what you say is correct.The early morning scenes touch the core of our hearts and gives us tremendous joys which cannot be expressed in words.But these scenes are limited to only few from the society-they have an inclination towards such happenings. There are many who do not observe these,I just wonder seeing these people too who have DRY thoughts in their minds..

I really appreciate your thoughts......[/b]

• Philippines
12 Aug 11
I think some people are just too busy or in a hurry each morning to get to their work or appointments that they don't have time to really "see" the beauty of their surroundings.


• India
24 Aug 11
[b]

You are right,and I agree with you totally. But this is the present situation of daily life. If you go back say around 3 decades,that was the real life when every one was having leisure in their life's and also would enjoy the morning atmospheres beauty... I have seen those days hence commenting ....

Now a hectic life - cannot be described at all. Every one has a different world of his/her own....hence indescribable.....[/b]


• United States
31 Jul 11
I always try to see the beauty and wonder in life.Nature is amazing and I will find my self happy just to be a part of life.I love also taking pictures and where I live we have a beautiful little stream that I enjoy playing in with my kids and taking pictures of it.

• India
4 Aug 11
[b]

Yes whispers168,this is a great way to see beauty in things in and around us,,, and very less people have this type of nature. There are few who do not even enjoy the things nearby...sometimes I just Wonder of these type of people...

Your are very fortunate to have a beautiful stream nearby your living area,and also glad to note that you really enjoy with your children playing and also capturing some beautiful photographs which stay as a memory for you and also to them ...[/b]

• India
31 Jul 11
Everything is inside ourselves. If u like something or somebody everything will be good. If u do not like everything will appear bad. I liked Niagara falls scenery very much when I visited that. Similarly Darjeeling -- if u travel by train the scenery is superb.


• India
4 Aug 11
Yes,these are the wonderful things achieved by the inner thoughts we create and the result is happiness.the more positive we are towards the things makes us more happy..and every individual have their own field of getting happiness.