First time to ride a small boat or a "bangka"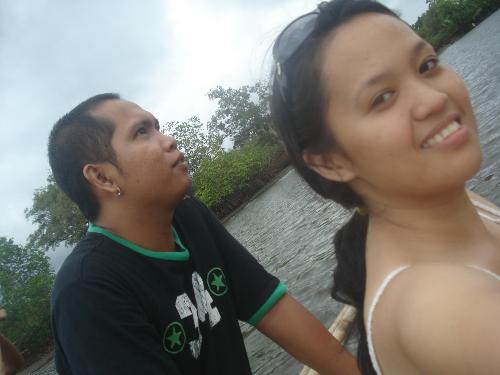 Philippines
August 2, 2011 4:19am CST
Me and hubby did took a break and we went to a province, 8 hours away from the city. It was actually a business trip.. ( for our new business - we did some presentations) still a part of it turned out to be a leisure trip. It was our first time to travel just the two of us. without the kids.

Well, we stayed at my aunt..and my aunt invited us to visit her "fishpond" it was 2.5 hectares. That big!! and she was still having it fixed and soon it will be growing fishes and prawns and crabs. Well, i didnt know we have to ride a boat to be able to reach the place! It was a laugh for me because i do get scared riding such. But i conquered my fear and hubby had laughed all the way. It was my first!!
10 responses

•
2 Aug 11
to ride a boat "bangka" is nice right? I remember before we have a vacation at quezon province,then our uncle took us fishing at sea and we ride to his small boat,the whole trip became exciting and worthy of trying. that was the first time i experienced that, and it was good, i like it, and if i have a chance to ride again, i'll be glad.

• Philippines
3 Aug 11
nice? lol it took every balance in my body! lol. Its like i was afraid to move it might topple down hahahahaha



• United States
2 Aug 11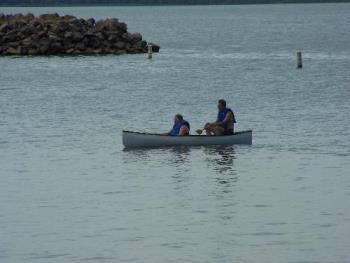 It sounds really nice to combine business with pleasure and a family visit.

I like boats, pretty well. I will look up to see what a bangka looks like.

We have a canoe, and we always wear a life vest if we go out in it. We have to drive some distance to a lake to use our canoe. Is it custom for you guys to wear a life jacket or life vest when you do things like this? It will help you float if you fall out of the boat.


• Philippines
3 Aug 11
yes it was great. i guess you call it canoe back there

Well life vest are only used for those who can avail it.. the place we went to does not have it..

• Holiday, Florida
2 Aug 11

aaawwww. you and hubby just look so cute. im so glad you had such fun and got to spend time together. i think thats quite important in a relationship.


• Philippines
3 Aug 11
Thank you bunny

it was a first for us..going somewhere without the kids and looking forward to doing it again lol. We both did realize we needed more of that.

• India
2 Aug 11
Hi jazel.. You know the world largest and smallest river islands are here in my province. When i was a university student, we three friends went to that smallest one and that was my first boat riding over river Brahmaputra. And surely it was thrilling experience. Hope you had the same. have a nice day.

• Philippines
2 Aug 11
Really? i didnt know that. well we do have seas here but i am just not fond of riding those small boats lol. its like i need balance there and i do not know how to swim lol

• United States
2 Aug 11
I just wonder where it your city is. I did ride a boat before, a small one at the lake near my house. My friend haul his boat there simply for fun, and we ride it around the lake, and enjoy the scenery that day. Actually, we had a picnic, and kids playing around along the shore. Me and a couple of friends drove the boat around to scout the area.

• Philippines
2 Aug 11
I live in zamboanga city, Philippines and we went to Dapitan City. It was wonderful to be able to relax and have fun.

• Philippines
3 Aug 11
It's nice to know you had some quality time with your husband away from the hustle and bustle of our daily lives. It's nice to be close to nature. I miss nature. As you know, I used to live in a pretty forested area. Now I'm in a jungle of steel and concrete.

Just seeing your pic makes me miss home. A fishpond is a pretty good business as well. I know you're business-minded nowadays.

Riding a boat is okay I guess. As long as it won't rock too much. I'm sure your guy would be helping you calm down during the ride. (I hope he isn't the one rocking the boat!)


• Philippines
3 Aug 11
Well in fact he was teasing me the whole time and was indeed trying to rock the boat but i know he did not overdo it because he knows i do not know how to swim lol Funny thing is he volunteered to row it to the other side by himself! which made me more scared because i know he is not good at it too! lol. He tried it and i end up laughing and worried at the same time because he was rowing it the wrong side!! hahaha.. the little kid who was with us in that boat who was around 7 years old rowed the boat herself! yes! it was a little girl and i guess she is used to that life that she is very good at rowing. I will upload her picture tomorrow. i took a picture of her.

• Philippines
4 Aug 11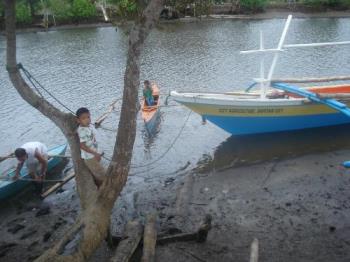 I attached the picture here. that small boat in the middle was the one we used. that guy at the side with white shirt is my dad's brother.


• Philippines
5 Aug 11
lol. I'm a scaredy cat myself, and when others joke around and tease, I just get more pissed.

Like when we rode the Ferris wheel last Sunday, my brother keep twisting the carriage, and my boyfriend says he'll stand up. You know how heavy he is. I just want to eat them both at that moment. Anyway, more of that story later. Back to you, I guess the kid who rowed your bowed grew up in that neighborhood that's why she's so used to maneuvering the boat. She could even beat grown ups who are rowing for the first time.

Why didn't you use the bigger boat? I can see in the picture there is a bigger one.

That would probable ease the nerves a little.


• Philippines
3 Aug 11
Wow, that's really an exciting trip.Imagine that far, you and your husband took it with just a small boat.I do hope the boat was fitted with balances because its dangerous if there is none.You even braved the dangers of drowning since you have said you don't know how to swim.Anyway you are with your husband and the fact that you go there for business presentation that's really a feat.

• Philippines
4 Aug 11
It has balances on both side. you can check the next reply for the picture of the boat. it was a bit scary because it was small! The fact that i do not know know how to swim was a lot more scary.


• Philippines
4 Aug 11
Yes, it has balances.It's in the picture which I forgot to look at.I hope you have a nice presentation though because you have brave the dangers just to be on the other side.




• Philippines
25 Nov 11
hi, its a great to have an experience riding in a both,i had try once to ride in a boat when we had an outing together with my workmates,we had explored the place thru the boat and i was really scared because the water was angry that time,all of us felt afraid during that time but happy after that because we experienced it.