Inside a radio station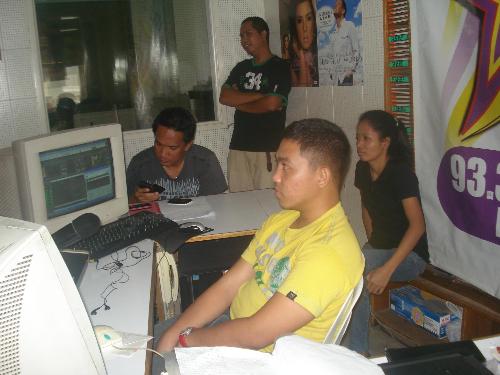 Philippines
August 3, 2011 9:43pm CST
During our short break, me and hubby went to visit a friend who is a DJ. He is the manager at that radio station. He was assigned there two months ago. Since he and hubby are close friends, he let us in inside the DJ booth!! It was my first time to be inside as well. There was a DJ inside and was on air. We were like all quiet lol..and it was amazing because the voice of that DJ is magnificent and sooo different from his regular voice. I was like - how did he do it? lol.

Have you ever been into one? What was it like for you? were you like amazed like i am? because i am! till now. lol
4 responses

• Lapu-Lapu City, Philippines
4 Aug 11
yeah, i know how it feels while inside the booth. i have experienced this a lot of times. i have a few friends way back and me and my wife frequently visited them while on air. actually, being a dj is one of my dream jobs.


• Philippines
21 Aug 11
During my college years, one of our subjects require us to visit different radio stations to check out and study their communication devices. We've been into DJ booth as well. I must say I got fascinated because I am able to see famous DJs in flesh. I noticed that DJs are multitasker too, they worked on the computer for music playlist, they worked wearing a huge headset to communicate to listeners and they worked on a control device for audio settings. We approach and talk to them when they are on Off-Air or commercial mode status for couple of minutes. It is an unforgettable and nice experience visiting radio stations.

• South Africa
4 Aug 11
Wow this is so interesting! I have never been inside a DJ booth but have seen pictures before - what a great experience for you to be able to actually be inside one and see how it all works and how different it is to what you may have thought.

• Philippines
4 Aug 11
Yeah, I actually have, I worked for a family friend's radio gig for a while and I was there beside him taking notes and handing him sms messages from the 'fans' or 'texters'. It was cool but I thought that it was really weird talking alone hahahahaa... I doubt I could do that though. Have a great MyLot experience ahead!