why do they fake it?!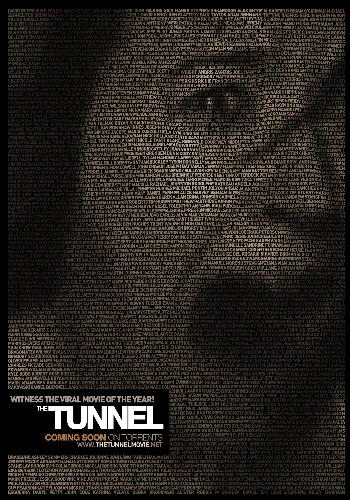 August 4, 2011 6:52am CST
last night i watched the film called the tunnel.. it's a really awesome film don't get me wrong. i enjoyed watching it, the acting was good, and i was scared, and i enjoyed the storyline.. it was one of the films that are really popular at the minute that are made to look like real footage, as if this actually happened to someone and they recorded it on their hand held camera ya know? i mean c'mon we were all nearly fooled by paranormal activity that it was real, until the director announced it was fake lol! but this film went way too far!! .. it was defo not real, because when you going onto IMDb it gives you the name of the characters, and then the actors names. so you know they are acting lol! but at the end is says "blah blah no longer works for blah blah - she never went back" and all this stuff.. and at the start its like "this footage belongs to the australian olice department under forensic evidence" and this nonsense.. why do they put that stuff in to make you think it's actual real footage and actually really happened? when you know its fake because the people are played by actors.. so if the people being interviewed are actors, and the people in the footage are the same people.. it's clearly made up! why do they do that? does that annoy anyone else?
10 responses

• United States
4 Aug 11
The Texas Chainsaw Massacre was totally made up, but the crew claimed it was based on true events because they were just a little independent film trying to get publicity. The Blair Witch project was also a little independent film, and it sold itself on being "found" footage of real events. It's a selling point, suspension of disbelief kind of thing. Multiple films such as Blair Witch Project and Paranormal Activity have used the "found" footage format. They weren't really claiming to be real per say, but making everything look and seem real really made the film better. They're not going to come outright and say, "Hey! We're just making a fictional movie here." in the middle of the film. I think in this case, they know you're smart enough to know its all fiction but they want to make the film seem as real as possible while you're watching it so that you'll find it scarier or enjoy it more.


• United States
5 Aug 11
Yeah, I understand that it would bother you, but there are some people who like that film style. It works for some people. Personally, I'm not the least bit fond of horror movies in general, and this style isn't really found anywhere other than horror movies, so I wouldn't watch them just cause it's usually a horror movie. if this isnt real, and its all fake, and theres no actual footage, then why? why a handheld camera? why didnt they just make a good film and be done with it. Well in the case of Paranormal Activity, they had no budget. So they could either make an obviously dramatic film and have it look like it had low production values (something that really turns lots of people off), or they could make it found-footage, home-movie style and get away with having low production values. Almost the same story with Blair Witch Project, though Blair Witch was kind of the original film to try using that style. It's not always about the lure of the style, it's sometimes about making something look better and more in its own element. I'm not saying it's totally cool and you should like it, just that there's a reason they do those kinds of things. Haven't seen the 4th kind, but I believe that while no one actually came out and said it was fake (they were claiming that it was 100% real the whole time, obviously), people were accusing them of being fake cause they couldn't find anything about the events in the news of the area or something. Yeah, it's probably stupid to run "real" footage alongside "fake" footage to make yourself sound more credible, but they're just trying to sell a movie.

• United States
4 Aug 11
I never ever belive a movie when it says 'this footage is real.' Because I know it's not, in violent situations I don't think it is legal to show it as a movie to the public. So that's why I will never believe a comment like that. That being said, I do like movies that are shot in the POV of the actors like that. I loved Cloverfield, Blair Witch Project was good, Paranormal Activity....all great movies. I know that that shooting style does annoy some people. I'm bummed! I tried looking up "The Tunnel" on Netflix and I can't find it there. What is The Tunnel about?? When was it made? Thanks!



•
5 Aug 11
haha thank you for sharing my opinion lol!

•
4 Aug 11
i think they put it there just to make the movie more interesting, many movie done that and i think its ok, but i do respect your opinion, you have a good point though.

•
5 Aug 11
i know, but it makes people believe that its real. which is stupid and false. i mean why does it have to be on handheld cameras? why cant they just make a normal movie since its fictional? arghhh! it annoys me!

• United States
4 Aug 11
I think they put that there just to make it seem more real. It is annoying because you think"is it real..no wait maybe it is...no it's fake..but what if". It's just there to mess with your head. There was a movie done a long time ago called Cannibal Haulocost. They made it seem so real the government was going to arrest the director or something. He had to bring the actors in ( who were brutally killed in the movie) to tell the judge it was all fake. I think the movie was from the 70s or early 80s.

•
4 Aug 11
see its so annoying i hate it.. the whole way through i thot it was real. they showed you some footage, then interviewed the people in the footage etc.. and at the start, they had some people declined to be interviewed and i was like holy crap this is real.. watched the whole thing, and it had all this stuff like "jim tangles has never been found - his family remain hopeful" and all this. THEN as the credits roll.. it gives you the characters name - and the actors name beside it..so how is that possible if its meant to be real footage? so then i thought.. maybe its meant to be a reinactment.. but then surely it couldn't be real footage, and then why would the people in the reinactment footage be being interviewed and not the real people? so its obviously all fake and they add in that stuff for effect :(

• Canada
6 Aug 11
It had a big start back in the day with the radio show, "The War of the Worlds", which was all about an alien attack on earth, which was made to seem like it was all real events, that were really happening, and it got such a huge reaction in the people. Thats what film is really going for, they want the people watching it to react, and the more realistic it looks and feels, the closer it'll hit them. If it's all perfect dolly shots and montage, then it won't hit the people in the same way, but if you feel like you're the one behind the camera, it works like magic.

•
8 Aug 11
personally, making me feel like i'm the one behind the camera, actually ruins the entire thing for me. i'm a big book lover, and i love getting taken into a story.. feeling like i'm watching someone elses day from their eyes does nothing for me.. but i can see how it can be appealing.

• China
5 Aug 11
I think I will also be as disappointed as you when I found out the truth.

•
5 Aug 11
it is! it's very disappointing!! .. why oh whyyy do they set us up for a fall? haha :)

• Garden Grove, California
4 Aug 11
hi chicksdigscars not really it does not annoy me as I see its part of the fiction story and I don't get shocked o r annoyed by it as its like reading Short write in to a fiction story when you know its part of the set to stretch our imagination and it will all come out in the end. so I kind of like it.lol its really I sort of enjoy it; lol lol lol Most people for one thing do not stop; and think if this lead in and the end part were real it would not be fiction. watching too many stupid reality shows on t.v, lol lol

•
5 Aug 11
awk i just think the entire thing is a load of rubbish. fair enough i can understand where you are coming from because obviously if you read a fictional book etc, it tells you what happened to the characters etc.. and when you watch a film it tells you what happened to the characters etc.. but can;t they just make it like a really good movie, and have that bit at the end? why do they have to use handheld cameras and make it look like it really happened, and add in those bits confusing people, and making them think it really happened? thats stupid. they could just make it like a normal film with those bits at the end and stop jumping on the band-wagon of documentary style film making, to make an extra few quid!lol! my poor brain cant take it haha!

• Nairobi, Kenya
4 Aug 11
I like true life stories even though acted by other characters. You know, the setting of a movie based on true events in someone's real life has that touching effect to the real people, and I think that is the reason why they make a negative impact when the viewer learns that the story is not real but acted. I watched Escape from Sorbibor (Whichever the spelling of that word) and it was good because none of the actors and actresses in that movie went through that hell camp,it was just a reflection of inhumane activities organized by the NAZIs and people's survival tactics. Some movies as you said brings heroism to people who don't deserve such kind of treat since they are not real, but only moral lessons is what I go for.

•
4 Aug 11
yeah but i'm talking about people who put things into the movie to pretend its actual real, when it isn't! i dont mean a movie ABOUT real life events, played by actors.. i mean movies where they pretend the footage is real, and it really happened, yet it's not because the people are actors.

• Philippines
4 Aug 11
I guess they fake it too add up to the effect of the whole movie. This can thoroughly make or break the whole plot so maybe that's why they feel like they had to fake it too.

•
4 Aug 11
but like, it was a good film.. it was good as a made up film.. why feel the need at the end to be like.. "blah de blah - was never found - his family remain hopeful" .. and your like, whos family? it's a made up film, the guys an actor.. and if it WAS based on a real guy.. how come its an actor in the so-called "real" footage? see what i mean.. even if it was based on actual events.. and the family was hopeful and he had never been found, but these were actors acting a reinactment, fair enough.. like the do on reconstructions of things on tv, but have the real people just being interviewed and have an actor acting it - but its not that. they are trying to pretend the footage is real, even though its the actor - IN the footage! lol!