Here is the Picture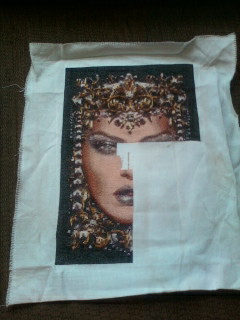 United States
August 4, 2011 1:00pm CST
I have been promising you girls an updated picture of the April Birthstone. I am making this for a Christmas present for my husbands granddaughter whose birthday is in April. I am almost done with it. Then will take it to be framed. Anyway hope you enjoy the picture. This is from Mystic Stitch The artist is Maxine Gadd I am doing the smaller of the two sizes and its on 14ct. Finished size will be 8 7/8 x 13 1/2 stitches are 125x189 which will equal 23,659 stitches when finished. Will be glad to start working on a new piece to finish.
4 responses

• Philippines
5 Aug 11
I just so LOVE the pattern that you are finishing! Thank you for sharing iI also like the black color. Had I told you that I like working on black material? Be it thread or cloth. But I don't like working on white cloth. If you have time to post again pictures, I'll be happy to see your finished works too.

• United States
5 Aug 11
I never keep anything I have made. Each one is designated to a family member. I want to get a piece done for each child and grandchild before I pass hopefully. Thats my goal though. thanks for the compliment on the piece. I am about to shoot it myself LOL Will be working on a much lighter piece after this one. K guess I better go work on it.