I don't think the baby is going to survive.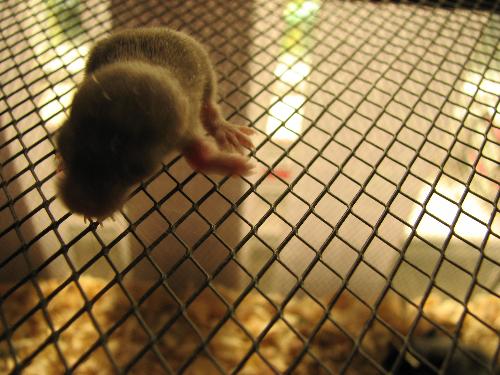 Canada
August 5, 2011 2:05pm CST
Yesterday I told you about the baby gerbil with the deformed leg. I didn't think much of it at the time, I thought that maybe she'd be ok. This morning though, when I took her out of the tank to get a better look at her and I saw how small she was. She's about half the size of the other ones, her head is almost larger than her body and her eyes are bulging out of her head. They're not open yet, but I'm hoping they are soon. So now I'm trying to feed her kitten replacement milk, but this is a challenge in itself. When I've tried, she wood knock into the syringe and get it all over her face. I finally figured out how to get her to get at it, but she still fusses around. Gerri isn't taking care of her, which is why I need to do this. Since I only have the weekend free, I can feed her when needed until I go back to work on Monday. I'll be keeping a close eye on her, but I don't think she'll make it unless I can feed her enough to get her to grow.
4 responses

• United States
5 Aug 11
Oh I feel so bad for the poor little girl. That is so awesome that you are giving her TLC. She needs it. I hope that she makes it through. If that was a picture of her she is so cute. It is so sad when animals are faced with such hardships. My grandmother in law bought a bearded dragon and later as it didn't start to grow we realized that she has bone problems that are common in bearded dragons. So now my husband is taking care of her. I feel bad for her as well because her arms are starting to turn inward. We probably are going to have to take her to the vit and get certain shots for her. So don't give up on helping your baby gerbil I really hope she pulls through and grows ok.

• Canada
5 Aug 11
I will be posting updates throughout the weekend. I'm hoping that she will survive. Just have to keep a very close eye on her this weekend.

• Philippines
6 Aug 11
Poor little thing. She must be hurting. She is so lucky to have someone to take care of her. She must be underdeveloped. She really needs that care you are giving. God bless her and I hope she will survive.

• Canada
6 Aug 11
She turns out to be a he. But so far so good. Mother gerbil has started to look after him after I took him out and started to feed him. I'll check in the morning to see what he's doing and will try to feed him then. I think he's feeding from his mother though right now and that's a good sign.

• Garden Grove, California
5 Aug 11
hi kris I read a little about deformed gerbils and a lot of them do die from w hat I read. How sad, poor little baby gerbil. shes really

so small.well ma ybe a miracle will happen and she will be the runt but getstronger and suvive yet.Hope you have somone who c an feed her when you are at work as that will be a problem. God Bless.



• Canada
5 Aug 11
I'm preparing myself for the worst, if it happens, it wont be so hard on me. But I will be keeping an eye on her to make sure that she's surviving.

• United States
14 Aug 11
I am catching up with your discussions and just responded to the one where you stated he had a deformed leg. I do hope he has made it until now as I see some time has gone by since you posted this. Sad that at times some make it and some don't.