"I went for a Long stroll :P"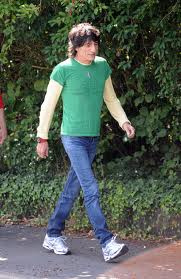 Philippines
August 8, 2011 8:30pm CST
Hello

Lotters, It was awful last night because I couldn't sleep end up sleeping roughly

around five in the morning with at least five hours of not so good sleep. couldn't sleep so i decided to do some stuff to my PC and tighten up some screws that are loose here. Supposed to my-lot that afternoon when mom asked me to visit my brother and want me to sent something to him. And so I didn't hesitate doing it because I know i had a chance to walk around and browse some cheap LCD Monitor for my PC. unfortunately, when I was nearning their home, they told she wasn't around and attenting her training. she told the right way to go and I made it. but since I didn't feel in a hurry I decided to walk and take another Public transport and walked again. but after going somewhere else, I decided to have a small Pasta break and went home, I was so tired that i fell of the Bed.

though it was sunny, better than raining. Have a nice day
6 responses

• Philippines
9 Aug 11
why cheap lcd? why not buy a brand new medium sized lcd monitor? try to think of it... lcd monitor is used everyday and a good quality is the best.... sometimes the most cheap is the most pricey and especially the brand of that unit is concerned.... it's because you use computer and internet frequently, therefore, have a best of the best type of lcd monitor.... led is too pricey.... choose lcd instead of led

• Philippines
9 Aug 11
Hello

mantis, Because Mine isn't new. I'd be intimidated having a new monitor and an OLD CPU. the last time this computer was bought the CPU was new and the monitor was second hand. besides, I don't know what can affect my CPU if it's a new LCD monitor. Yes, I am considering LCD, don't worry i saw this one and it's BIG like my old monitor. btw, is there a point to my discussion?



• Philippines
9 Aug 11
all open discussions here whether you like it or not, are all valid.... and whatever the reply whether you like it or not, are all valid also.... the most important thing here in myLot is no using of "Foul Words" in most of the other forum websites, i can't take their Foul Words of Expressions... and that is the reason why i migrated here, i really love myLot hehehehe

• Philippines
9 Aug 11
that's true, i guess i shouldn't have mylot knowing i just woke up hahahaha




• United States
11 Aug 11
Hi Letran

Walking is one of my favorite pass times. I live across the street from a very nice park and do love to walk around just taking in the outdoors. Oh I also love pasta too so that is one of my favorite dishes here. lol I was out in Arkansas for 2 1/2 weeks where the weather was so horrid and humid. It was so hot it was terribly hard to breathe. I ended up with bronchitis and not doing well while there. Oh also had a break down of our vehicle on the expressway so our trip was doomed from the very start. *sad* I am so glad to be here back at home, and in my own bed. lol Hope you are resting now as I believe it is very late by you.


• United States
12 Aug 11
Oh yes I am much better now, thank you! I am indoors and since our apartment is not very big the air conditioning has me a bit chilly.


• United States
9 Aug 11
Well it sounds like you had a good day.. walking really helps sometimes especially with sleep. did you sleep better last night after the walk? I know if I've not slept and then walk around or do a lot of chores it helps a great deal when I do finally go to sleep. I don't know a lot about PC's so I won't even comment there. Hope you put some heat on your sore legs to help them relax!

• Philippines
11 Aug 11
Hello SomeCowgirl, Yeah It was a really good day for me because I had a chance to travel to different places again. not to mention I was able to browse some parts of the computer, which I've been planning to do for months. now that my computer is fine, it's back to mylotting once more i think. It's going to take a while before i start walking around again, i might have to do my best to sleep early




• Philippines
9 Aug 11
Hello stephcjh, I wasn't raining that hard that's for sure but you know things are really better now than before because we can get ourselves wet. but you have a pool so there's no problem for you going for a swim even though it's rain




• Philippines
9 Aug 11
dear LK, Ok fine you take a walk and have some pasta and went to bed

Better jog next time okay. And why a cheap lcd?...buy a good one

Good morning brother

sis,
jaiho®

• Philippines
9 Aug 11
Hello Sis, I like it that way. besides, My CPU isn't new unless some one helps me set up for a NEW motherboard. it's ps/2 outlets aren't good shape that i couldn't remove the keyboard or the mouse. I am still doing my best in terms of sleeping early.

If i can find a way to sleep early then that's the time that I would start jogging in. besides, treadmill can do better for me sweating

goodmorning

• Malaysia
12 Aug 11
If the weather was cool and breezy, i love walking, too. As for now, i prefer not to walk too much, since the weather is too warm and humid. I can't stand the hot weather and we can easily become sick if we are to spend so much time outdoor. Usually, i will do some walking only in the evening with my family. By the way, have you decide which LCD monitor that you want to buy?