The Ditty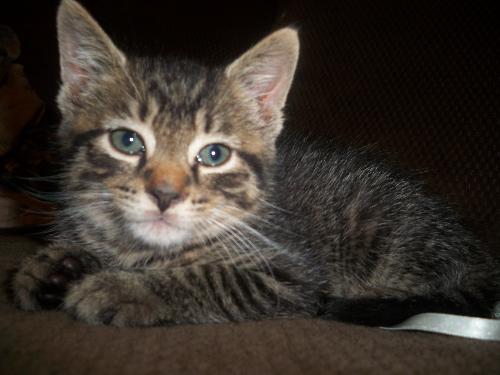 United States
August 11, 2011 11:02pm CST
Haven't been on much this summer..so busy! So I wanted to share our newest addition to our family. Ditty. He is a grey and black, a little tan tiger kitten. Just 3/4 lb when we got him. I did not want another cat. I was at a garage sale with the baby, who was just turning 1 in a few days, and they had a box of kittens there for free. Well one got out and climbed right up on the baby's lap. He was purring away and the harder she squeezed the louder he purred. How could I not get her a kitty for her Birthday?! So home he came. She calls him Ditty and so that is his name. He is an active little fellow of 3 lbs now and they have become my twins of terror. Today they got into the plastic recycling bin and had soda bottles all over the kitchen. both chasing them around..lol. I brought home more then just a pet I brought her home a best friend!
6 responses

• Boise, Idaho
12 Aug 11
Oh, what a sweet kitty. And sweet story. I had a dog named RObin from the time I was born until I was 13. I remember my mom was having trouble finding just the right gift for my step brother one year. She found these little terriers that were so cute. She picked out one. It started raining and she brought it home in her coat. Ofcourse it was supposed to be for my step brother but it was her dog from the first. LOL

• United States
12 Aug 11
It is funny how animals attach themselves...these to are always together napping, playing, getting into everything!

• Boise, Idaho
13 Aug 11
Cats are fun to watch. Nice that they each have a pal to play with. I think it is sad when animals are by themselves.

• United States
13 Aug 11
It is, cats and dogs are such friendly creatures they need companions. We have two dogs three cats they are never actually alone..just like our kids, we have 4 of them..there is no alone time here!

.....

....



• Shingle Springs, California
12 Aug 11
AW, just adorable. He looks a lot like our foster kitten, Ernie. He got adopted a couple of weeks ago.

• United States
12 Aug 11
oooh I could never do foster care I would't be able to not get attached GBU!

• Shingle Springs, California
13 Aug 11
It's hard, but somebody has to...


• United States
12 Aug 11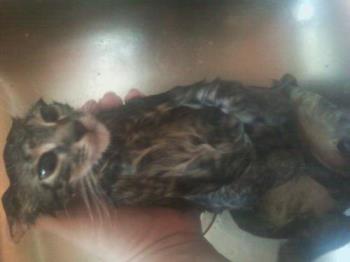 Though I may laugh later on down the road my bathroom being destroyed by the pair this morning was a bit much for today

toilet paper and tooth paste every where! Ditty needed a bath...poor lil' guy.

• United States
12 Aug 11
That is what happens when Daddy is in charge while I am in the garden...

• United States
12 Aug 11
Oh, that is adorable! I love how children and pets seem to have a natural bond and understanding of each other ... at least in many cases they do. I also like how the kitten seemed to choose your daughter as his own. That is how we got a few of our animals - we did not choose them but rather they chose us. I think that bond is precious and wonderful, although as you say it can be quite messy and mischievous as well.

They seem to be a perfect fit.


• United States
12 Aug 11
Such a sweet story! Thats about how I come to get Tink which you may have seen him in pictures on some of my discussions in cats. He was 5 weeks old, and only supposed to come to the Vets office for a bath and then on to Humane Society. I was peering in the crate and the groomer there said you know you need another pet. I said yea like a hole in the head. We laughed. Well come down to him and his 4 siblings were sick. So Doc had to keep them. I was torn between picking him and his sister a snowshoe looking cat. I finally decided on him because he looks siamese a lot but the very tip of his tail is completely white. I told the groomer I would take him. So I got to make a kennel just for him and get a kitty bed, toys etc. He knew my voice I volunteered the whole time he was sick to clean out kennels and spend time with him. He is now such a suck up kitty and acts more like a dog than a cat. I know what you mean I had a chihuahua previously that passed and my husband SAID he hated cats. But I notice him play with them from time to time. I think people dislike something when they don't really know about them. But with my illnesses he did say he knows Tink is a lot of company for me when he is gone to work. When I am setting he barely leaves my lap! Good Luck on the new addition.

• United States
12 Aug 11
Thanks, my hubby was a little off about another kitty but we were home all of 5 minutes before he was curled up the couch with him. Ditty has a real good personality other who do not like cats all seem to be compelled by those eyes to pick him up and love him


• Daytona Beach, Florida
14 Aug 11
I guess the old saying is true. Cats chose us, we don't chose them. She's going to have a friend for life, and while a cat wasn't in your plans... it's a good thing for her. Having a pet is proven to be very healthy and will help her in the long run because it already loves her. When she gets older, she'll learn to take care of it, but for now It's cute to just let them have their fun. I just love animal rescue stories.