Just Being Fair?!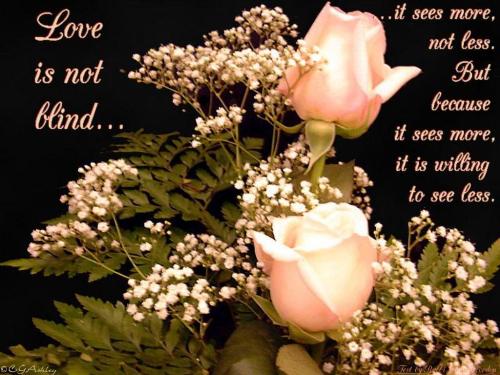 Philippines
August 15, 2011 9:32am CST
Sometimes falling in love can really damage you instead of building you. We think relationships &? marriages benefits us but it does not always workout that way. People change, a lot changes in life. The one who always get hurts is the one that loves truly. Despite all this, it's better to be the one that truly loves & never live life full of regrets. No one is perfect & people are almost the same. Sometimes jumping from one person 2 the next is not solution. Work it out or be alone. Life is fair, and love is trying to be fair! Views are welcome.

7 responses

• Philippines
15 Aug 11
my lady, LOVE is fair. People behind every relationship are the ones who are not fair. It hurts and really disappointing to know and realized that ,we love someone who doesn't worth loving for. I've learned a lot from heartache, and it gives me fear to love again. But how will I ever find true love if I will never open my heart and let LOVE comes in. Risking maybe the right word...but it's worth trying for, for I feel love comes knocking and how can I resist then.


• Philippines
15 Aug 11
Hi my lady! Yes, you are right too. Love and life is fair its just us humans who are not unfair to it and maybe to ourselves too. and its right not to close your heart even if you have been heart broken. You are such a strong woman and because of that I salute you!


• Philippines
15 Aug 11
Ahemmmm,and what does this mean bunso,you're falling in love again,oh no,lol! Well,you have the right to love 'cause you're just a human being with feelings. Love has many sacrifices bunso,it's upto the person then if he/she will make his/her life miserable out of the love he/she has or wanted. There are some who is already satisfied with just showing her love to a person without any love in return for her but this is her choice,that is what can make her happy. Sounds unfair but that is love. Goodnight bunso!


• Philippines
16 Aug 11

• India
17 Aug 11
hai people use to say i enjoyed my love life but while coming to married life with loved one they are not enjoying their life as before they get married,it is a silly reason why they are not enjoying as before, reason is "adjustment" before love you may be free bird,but after you get married you will be find tuff to be free,adjustments make love strong, i can remember many of love married couples are enjoying their life in 60s also, this is why because adjustments

•
16 Aug 11
95% of the people are ungrateful. So don't expect any true love from anybody. Go through the history, and you will find that most of the people were unkind and ungrateful. The best way is to live with them without expecting any true love from anybody. you must work hard and earn money and live happily with that money and don't expect any mercy or love from anybody. True love is a rare commodity and it is not available in this world. O.K.?


• United States
16 Aug 11
would be great if men think like woman did, maybe than things would be better...or if people didnt cheat, lie, and hurt one another...so many relationships now a days dont work out cause someone is always getting hurt.

• Philippines
15 Aug 11
Falling in love is a very tricky feeling into having a relationship, but as time passes it either wears off or hopefully increases more in its intensity. we have the choice of either falling out or falling in, and i think happiness is in the heart who truly loves even if the risk of being hurt is overwhelming.