Looking for some extra money..........................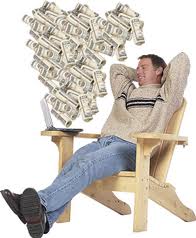 India
August 23, 2011 10:34am CST
Hi Friends, I am back to mylot after a long time.Now looking for some extra money through online.Once i will struggle for it,but can't make much success.But if i will get a way to make money through out the online,its a great asset for me.Also i will understand that the continues work only win. I need help to know which are the new good methods of making money through online?Which one help me to make a $5 a day. Happy mylotting friends...........

10 responses

• United States
24 Aug 11
I guess it depends on what you want to do. You can make money here by responding to discussions and by using the search bar. Also if you like to write there are a lot of great writing sites to make money on. I have a goal too and I am about 1/3 of the way to my money making goal. My goal is not huge but reasonable. I just started though in February so I am not doing too bad for just starting a couple of months ago. I am going to keep trying and so should you. Good luck.

•
24 Aug 11
if you want to earn more income u can start some online investments and earn up to 2% daily profit.all what you need is patient.can i show you some of trusted sites that make me rich

• India
23 Aug 11
to make money online the most important thing you need to know is that you need to keep patience...

• United States
23 Aug 11
Well, myLot is a great place to earn some extra cash while having some fun, and making friends. You just have to follow the guidelines and take tips from the FAQ to earn well. There are also many other legitimate and trustworthy sites to earn on. I will not list any here, or give you referral links. However, if you wish to know which sites I use to earn with, I have banners on my profile.

• Indonesia
24 Aug 11
Hi girl... If you have skills in terms of attracting friends in social networking, I recommend the online resellers. You simply promote the products of other companies, and you can make a profit in any way you want. Via blogs or social networking sites you can make a media campaign. Having a blog is also important because you can earn passive income from there. I did not mention any site, try your own browsing of sites with the program I mean. But if you do not know how it works I will try to help you explain it. Of course, as much as I can help you. Success for you :)

• Philippines
24 Aug 11
I am also looking for some part time job online well, mylot is already one. Have you heard of odesk and freelancer?i was able to make $25 in 5 days from freelancer. maybe you would like to try it.

• United States
24 Aug 11
I just sent you a friend request so from there I will except and then we can go from there.

• Chile
24 Aug 11
I have been working online for years and I get about $100 a month after some time, downline building and great effort. I only use international sites and don´t invest. Probably you could earn more if you risk some money, but I´m not willing to do it. I tred that and only lost.


• United States
23 Aug 11
I am also interested to make money online.But dont now the exact ways.I hope I can collect some information by this discussion.

•
23 Aug 11
If you want to make $5 per day then you will be glad to know that it is perfectly possible to do, with a little bit of work on your part. How long would you like to work each day in order to earn that amount of money? Do you have a specific skill? If you can draw or paint then you could do this and then sell them online. I write articles, and spend about half an hour per day writing a new one, which will make me about $5 in the first day that it's online. It works well for me, and you really can earn however much you would like to providing you're willing to do the work.

• Philippines
24 Aug 11
I doubt I could share you something because I also wish to earn the same too but I am not capable of doing it. I stopped trying for other site and just have 2 sites which I keep on doing, one is Mylot and the other is a social network site. I am not successful here but I'm still hoping to be on the future through reading on discussion like this, I might get some information that would help. Goodluck!