Hesitations

Singapore
August 23, 2011 9:34pm CST
Many people keep asking me to put up photos of my newborn baby boy on facebook. I did put up about 10 photos but I hesitate on putting up more as I felt like I'm invading his privacy! Being a proud mother I like to share details about him with friends and family and I have started a blog on him but I do hesitate on putting him online for all to see especially now when accounts are hacked and misused so easily. This is a dilemma. What's your view about this? I would to hear from you please...thanks...
7 responses

• United States
24 Aug 11
If I was you i would probably be thinking the same thing, personally I wouldn't put my child all over my blog and facebook because I don't think everyone really needs to see him and if I was the baby I wouldn't want to be all over the web. I would probably put a few pics on facebook so people close to you but haven't been able to see him can still get to see what he looks like. I would keep most of my pics on my phone so I could show people upon request.

• Singapore
24 Aug 11
That's what I have done, just posted a few pictures when he was just a newborn and no more after that. I keep thinking of what people do to abuse photos available online though I have set the privacy settings. I do see friends posting tons of their baby photos, but it just didn't seem right to me. It's a good idea to store the photos in the mobile but then I seldom meet up with some friends, they are just so far away and it's not easy to do that. These are the ones who kept asking actually, because we can't meet up and they want to see the photos.

• Chile
24 Aug 11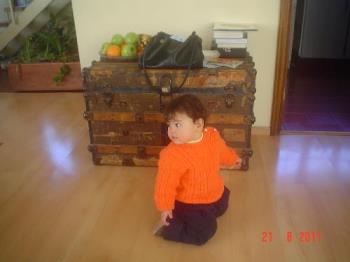 I think that this matter is very personal. I don´t imagine that one could invade a baby´s privacy. I think privacy starts later. But if you have any doubts about that, I think that, just so you don´t feel uncomfortable, don´t post the pictures. I´on the other hand, took yesterday pictures of my baby granddaughter Sofía, just to post them here.


• Singapore
1 Sep 11
Hi marguicha, Whether "a baby's privacy" can be invaded seems like a legal question but let's put that aside for now. I don't mind talking about him, about his behaviour and so on, but to post pictures seem too personal to me. I think I would hold it off for now. Even though I don't put up mine, I appreciate others putting theirs up. Sofía is beautiful, thanks for sharing! :)

• Chile
1 Sep 11
Thanks for finding her beautiful. I think so too, but of course I´m her grandmother

. If you find that posting your baby´s picture is too personal, by all means don´t do it. Happy posting!

• Singapore
1 Sep 11
I'm sure the genes do run!

I'm working on a blog now, actually it's all about him, so I will put photos there instead. Cheers!



• India
24 Aug 11
Well moon. From my point of view, you better know which one of his photos should post or which one not. Better you can send the photos to them via mail, who have asked? I dont know why you should post them publicly. As to me, i have just changed my avatar. This photo was taken on my sister's marriage. Sister was there beside me in this photo but i have crop her out.... as i dont wish see her in trouble from misusers. Have a nice time.

• India
24 Aug 11
Thats a good idea, mail is sometimes good way to share pictures if its just few pictures. And by this way, we can avoid it from misusing.

• Singapore
2 Sep 11
Hi shi... I guess you mean email? Yes, it is a good idea, provided the other party has an email address and also if it is not a lot, I know of some programs which allow us to send a large file so I can even send a whole load all at once. Regarding your avatar...I did wonder about the flowers around your neck, so now I know it is for a special occasion. hmmm, your sister's wedding...when is it going to be your turn? heehee

Hi besthope, I think I am a bit lazy to send email, because we have to upload them, attach to email, then send off, but I do agree that it is a good idea.

• Canada
25 Aug 11
I think that if you can manage the privacy settings on facebook, and can make sure that only a certain people can see the photos, then it would be OK. I do the same thing with my kids. But that's because their grandpa and grandma is halfway around the world. It just makes it easier for me to take a picture from my phone, and quickly post it.

• Singapore
2 Sep 11
FB does give us a lot of convenience in sharing info, but there is also potential threats in there. I prefer to be more cautious.

• India
24 Aug 11
I would really appreciate you on how you care about invading your child privacy. Sometimes you are right, Facebook and networking sites, people do misuse the photos. But its purely how you feel, if you think its not good and if you really dont like, please dont post it. If you like to post..do set your FB privacy settings and share the baby pics only to your friends and family. Cheers!

• Singapore
1 Sep 11
I do set my FB to private but there's also a problem there, I add a lot of friends to my account, some of them for gaming purposes so they are actually strangers. I know it is not so advisable but once I have added people, I don't really feel like taking them out again, so there's my dilemma. If only I can group them into different categories and have an option to choose which group of people to share photos with.

• Shingle Springs, California
24 Aug 11
I post pictures of my children,but if you're uncomfortable posting details, then don't do it.

• Singapore
24 Aug 11
Hi dawn, I know many people who do that all the time, I think I have witnessed some kids' growth from when they were a little baby to becoming a toddler and then entering school. They felt ok with sharing and I like looking at the pictures they posted as I can know their updates, especially for friends whom are residing overseas.

• Garden Grove, California
24 Aug 11
hi bluemoonpavilion I think now if its beginning to make you nervous I would honor your feeling.somehow I have always trusted my woman's intuition and its never let me down. You are right, accounts can be hacked and misused so why take a chance. also although you know your family you might not really know all the friends you have on Facebook so no, do not feel bad if you do not want to post more pictures.He is your pride and joy to protect and cherish. I say go with your gut feelings and you cannot go wrong.



• Singapore
24 Aug 11
Hi Hatley, I definitely could do with your advice, thanks!

I'm not sure I have the so called woman's instinct but I have been hesitating for a long time over this issue. I guess it is really not a right thing to do, for me at least. I accept lots of friends' requests on facebook and some are not really people that I know, so I felt that it is very open and unsafe.