Obama Full-Month Approval in August Falls to Lowest of His Presidency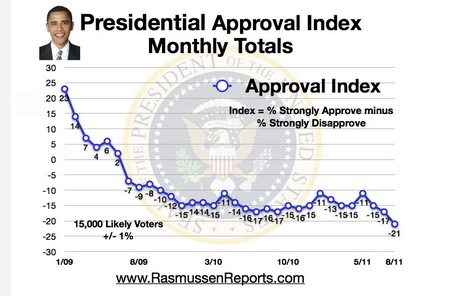 United States
September 2, 2011 3:22pm CST
Friday, September 02, 2011 When tracking President Obama's job approval on a daily basis, people sometimes get so caught up in the day-to-day fluctuations that they miss the bigger picture. To look at the longer-term trends, Rasmussen Reports compiles the numbers on a full-month basis, and the results can be seen in the graphics below. In August, the number who Strongly Approve of Obama's job performance was at 21%. That's down three points from 24% in July and the lowest level measured during Obama's entire presidency. The previous low was 23% reached in both April and June of this year. Since July 2009, the number who Strongly Approved of the president's performance has now ranged from a low of 21% to a high of 31%. By comparison, 43% Strongly Approved of Obama's performance in January 2009. The number of voters who Strongly Disapprove of the president's performance increased a point from July to 42% in August. The number of voters who Strongly Disapproved has ranged from 37% to 44% since July 2009. The full-month Presidential Approval Index rating for August is down four points from July to -21. That's by far Obama's lowest full-month approval index rating since taking office in January 2009. Prior to this survey, Obama's lowest level of approval was -17, reached three times since January 2009. With a few exceptions, the president's approval index rating has stayed between -14 and -17 since the beginning of 2010. The full-month numbers for August show Strong Approval from 43% of Democrats, while 73% of Republicans Strongly Disapprove. Among voters not affiliated with either party, 14% Strongly Approve and 42% Strongly Disapprove of Obama's job performance. http://www.rasmussenreports.com/public_content/politics/obama_administration/obama_approval_index_month_by_month Surely the slavish adoration of Obama's supporters cannot say he is doing a great job as president when the numbers say otherwise. BTW trashing the source does NOT disprove the numbers. What is your opinion? Do you think these numbers show a great president who should be re-elected?? Please see the attached chart. The steady decline of Ibn Barack Hussein Obama.
7 responses

• United States
2 Sep 11
I do not base my election choice based on irrelevant opinion of the ignorant masses. I found these "well the polls say..." arguments just as meaningless and retarded when the left was crying about Bush in 2004. I'm certainly not going to give them any credit simply because it's the right talking about Obama. Plus (and I apologize for saying the truth) I don't know that McCain would have done much better given his leftist views. The best thing about McCain losing is that I can at least know that a Democrap is doing all the damage. I'm sure if McCain had won, I'd be hearing about how horrible his socialist policies were screwing everything up. The only difference would be the democrat congress would be supporting those policies, but shifting all the blame for them, on McCain.

• United States
3 Sep 11
At least we know that McCain is a natural born American who loves his country. That cannot be said for BO.

• United States
16 Sep 11
Come on, if McCain REALLY loved his country he wouldn't have unleashed Palin on us! (Just joking. Personally, I don't think I have the right to judge whom or what someone else loves but I'd bet my life most everyone who's run for President loves his or her country in his or her own way.) Annie

• United States
16 Sep 11
Palin was far more of what I support, than McCain ever was. If fact, Palin is the only reason McCain had a fighting chance. If you followed his Campaign, like I did in 2008, before Palin showed up, he was barely getting an audience. I'm convinced that that there is two specific reasons people hate Palin. First, unlike McCain, she stands for what she believes, and that is threatening to the left. And second, I am totally convinced that people, and mostly women, are envious and hateful, because she actually looks nice. When Palin showed up, the only thing I wanted to know was what does she stand for? What's her position on the issues? I can't count the number of times that a leftist told me "You only like her because she's attractive!". Which tells me.... they are superficial people, and they are envious of her looks. That's pretty sad.



• United States
3 Sep 11
At this point I do not know who could beat him although I have been watching Herman Cain as I think a black politician would have a chance and not have the racial slurs thrown at him by Obama's sycophants.

• Paso Robles, California
3 Sep 11
The will just call him an Uncle Tom, say he's not really black, or some such. Look what they tried to do and are still trying to do to Clarence Thomas. I also like Herman Cain. But he's not the only candidate I like.


• United States
6 Sep 11
I see this discussion is still standing!!! Whether one agrees with the discussion or not, they shouldn't be taken down. I notice that a lot of your discussions are taken down! You have some serious haters.

From what I can tell, there are about a hundred threads started here daily that break any "rules" more so than discussions I've seen you start, so it's obvious that someone's out to get you. I've even noticed that two comments I made on your previous discussions were also taken down when I replied to an insult levied against me. Of course, the original insult stood; only
my
reply was deleted. It's a crock of sh1t and they can kiss my a$$.

Anyway... Obama is definitely trending down. His big "speech" yesterday was a microcosm of his entire presidency. President Obama is more than willing to roll up his sleeves and do the work when it comes to rallying support amongst his base. But when it comes to actually fixing the economy with any measure that doesn't require spending more money, his "plan" is to pass the buck full term and hope we stay polarized enough for 2012 to repeat 2008's results. It's so painfully obvious. Hell, even the people who dream of one day being promoted to czar of Obama's zipper so they can fondle the royal nuts know that his entire presidency is all about being reelected as president. The rest is just the rest. The number-one goal of this administration from the day it formed was to stay intact until 2016. But it doesn't look as if things will work out like that. Much to Obama's dismay, nobody gets riled up for his rhetoric except the people who always get riled up for his rhetoric. In his biggest and boldest moments as America's President, Obama has done little more than preach to his choir about what he wants to do. When it comes to actual results, the biggest possible accomplishment by Obama's policies one can cite is that our recession did not turn into a depression. And even that's as hard to prove as whether or not god exists. So I think he's in real trouble.

• United States
6 Sep 11
You and I are definitely on some-one's "hit" list. I am so sorry you lost your BR on the discussion on how much the illegal support cost the US. Supposedly it was a joke, recipe or a poll no-no??????. That is so far from the truth as to be ridiculous. I was going to dispute it but I did not have time. I hope you get a chance to read this and accept my apologies before it is deleted. It is probably the work of some Obama fans stooping as low as their adored leader by copying the underhand methods. You said "It's so painfully obvious. Hell, even the people who dream of one day being promoted to czar of Obama's zipper so they can fondle the royal nuts know that his entire presidency is all about being reelected as president." The is the best (truthful) description I have ever read regarding BO stinking re-election.

• United States
6 Sep 11
I forgot I had a BR in that last one. Now I'm mad!

Nah, I'm not worried about some BR. I Just think it's BS that myLot is taking your discussions down! At least the bozos reporting you should stand up and disagree with you in your discussions instead of whining behind your back. I might be pulling the classic "assume" move and making an a$$ out of myself, but I will assume here that some uberlib is reporting you as being divisive. And with that, the true picture is painted of exactly WHY good, decent people in America do not want these idiots in power! They don't want debate. They want to silence all opposition. So if I'm wrong about that, I'm wrong. If I am, I'd love to know the real reason and not some chicken-sh1t "rule infraction" spin.


• United States
16 Oct 11
The conservatives do not want to embrace Romney yet, and I understand They feel they want more of a clear conservative. But actual, Romney is quite conservative but he appears to the midstream more, which loses the far right. The right does not want a neutral guy, like McCain, and they want a far right guy. I think Romney being the middle guy may be able to win over the middle guys and independent voters, which a far right guy would lose and go over to Obama. I feel good about Romney. However, I can support pretty much any one in the field right now. The GOP have a strong field of candidates, and the media is trying to down play them. Right now, I think almost everyone in the GOP race has a good chance to beat O.

• United States
6 Sep 11
For everyone that thinks his approval rating is too high,you need to look at the polls by race.88% of blacks still think he's doing a good job.Everyone has a right to their opinion,but I don't see what they see.

• United States
2 Sep 11
The numbers must be skewed...it is still too high...