All these exercising is getting in the way of my eating (habits)!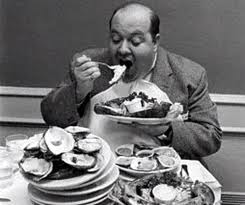 Canada
September 2, 2011 5:42pm CST
I work in an industrial area where a lot of gyms and exercise places have come up. Everytime I walk or bike home, I meet a lot of people who are obviously working in the area, but have changed into their workout gear to get some exercise. It seems like I'm surrounded by people trying to be healthy everywhere. Even I have resorted to walking or biking home. Don't get me wrong, I don't have any complaints about getting healthy. It's just that I like (over) eating too! And sometimes I forgo eating the late afternoon snack because I still have to go out and bike, and work up a sweat. Are any of you guys in this dilemma too? Do you find that all these exercising gets in the way of your eating habits? Is it a difficult choosing between having a snack or exercising instead?
8 responses

• Philippines
3 Sep 11
I can hear you clearly. I am same dilemma with you. I wanted to be healthy and bodily fit but there so much good foods that surround me. It is really difficult to focus on what you desire. But then, in the end, if you really want to be healthy and fit it is still up to us. Maybe, we just have to treat ourselves up. We decide what day of the week that you could eat without any boundaries but the rest of the days of the week you do your fitness program. I tried it, works for me. Hope it works with you too.

• Jamaica
3 Sep 11
I like eating too and it is so regrettable that fat makes everything taste so good. a few pounds have piled on after losing 25 so I am going back to exercising and eating healthier. I have downloaded a diet so am going on this as I do not want to get bigger. I threw away my clothes when I went down 2 sizes so I have to lose the weight


would like to go down one more size too and then will just maintain. If I had to choose between exercising or a snack then I would probably take the snack


• United States
5 Sep 11
I know right? It's kind of a cruel thing that fat, sugar and salt taste so good, and are so addictive, yet are so unhealthy for you! wouldn't it be nice to just have it all? I'm waiting for the day that someone invents a fat free sugar free food that tastes as good as the fattening stuff, and doesn't cause cancer or some other terrible health concern.

• Canada
6 Sep 11
Hi cynthiann. ...it is so regrettable that fat makes everything taste so good I just saw a re-run of the movie Last Holiday in where Gerard told Queen Latifah, that the secret to life (or good food, or something like that) was butter! And butter makes everything taste good, but also is just fattening. Goodluck with your diet!

• Jamaica
6 Sep 11
Butter is healthier than any margarine or any kind of spread for bread. Three cheers for butter! I am on the second day of my diet. It is a fruit day. Fruit three times a day and a deli sandwich for the fourth meal. If I last today I am GOOD!


• United States
3 Sep 11
I think it is well worth doing anyway. I recently went into the hospital with very high blood pressure. Aside from being a very uncomfortable feeling, it made me think about what I am doing to my body. Upon further testing, they found that my heart is also enlarged. If you like to over eat, and you don't have any of these problems you are very lucky. My doctor said that exercise is much more important than eating habits. Specifically she said, that petite people who can eat all they want and never gain a pound, will die much sooner than an obese person that eats well, and exercises 30 minutes a day, 4 times or more a week. That conversation really opened my eyes.

• Canada
4 Sep 11
Well that's a scary thought!

I think you just opened my eyes. If there are really studies that indicate that petite people who over eat tend to die 'sooner'.
Maybe I'll skip lunch tomorrow!

Thanks for the response zionsphere. And I hope that you're feeling better.

• United States
5 Sep 11
You're welcome, but I wouldn't skip that lunch if I were you. Studies also show that when we go too long between meals, our bodies think that we are lacking food, and go into a stasis mode that shuts down your immune system and actually makes you hold on to fat longer. If you want to lose weight, a good rule of thumb is to simply eat less calories. This means making healthier choices like a turkey sandwich with mustard verses a burger with mayo, and bulking your meals up with more vegetables than meat or bread. If you are simply wanting to maintain your health, all you need to do is increase your activity level by half an hour at least four times a week. whether or not you change your diet, doing so will increase your health. Good luck!


• United States
2 Sep 11
In a word No! I never thought I Had to exercise instead of eating what I wanted. See I have always been in shape, Round! But I have lost weight How? In my job I'm on my feet all shift long and on work days I don;t eat until after my shift . That's when I have my one huge meal for the day. So by working and eating less often I lost weight without even trying! So I wouldn't go to the gym and I really don't care what others do , I'm going to eat what I like and when i want it!

• United States
5 Sep 11
I've heard other people say that the one meal a day thing works, but I've never been able to stick to it! If I don't eat till say 3:00, no matter how big my meal is, I'm hungry again at 6, and then again at midnight! Not only that, but I am craving the most chocolaty, salty, meaty, fatty (one of these things of course)thing I can find! everybody is different though, and if you can do it, all the more power to you!



• United States
5 Sep 11
Yes you are! Did you have to condition yourself? or have you always been that way?

• Canada
7 Sep 11
Fresh out of university, I also got a job which required me to do a lot of physical stuff. Aside from walking around the plant all day, I also carried a lot of heavy stuff. Those days I didn't worry about what and when I ate, as my lifestyle took care of my exercising. Thanks GreenMoo.


•
3 Sep 11
Exercise is good for our body. Doctors recommend exercise as a way of putting our body in great shape. It is equally good to eat some good food but we must be careful about the food we eat in order not to endanger our health. Eating too much also can also make us to be obese or very fat. Moderation is the key to a healthy lifestyle. When we eat right, we enjoy good health and we live much longer on plant earth. Sorry too much chemicalization of our today's diet have resulted in cases of cancer among the human race. Our fore father and mother eat natural food. But today, we eat processed food which affect our longevity on earth.

• United States
2 Sep 11
I did in the past but I changed my ways. I am one of those you mentioned that am always watching what I eat and exercising. I have raised my metabolism very high now for three years that I don't have to do much but still I do exercise. It was not easy but I was tired of the merry go round dieting that I had to change everything from my eating habits to my exercising. I am able to eat 3 - 5 times a day but my portions are smaller then before. It is not easy but at some point I decide to get very serious and thankfully it has worked out well. I do watch want snacks I do intake but from time to time I do splurge as I know I will be working out again the next day. So it is a routine one gets into but one has to make sure that it is not temporary.

• Canada
4 Sep 11
I am actually the opposite. When I was younger, I think I had high metabolism, as it was hard for me to gain weight. I would eat a lot, and yet not gain weight. Nowadays, I think my metabolism has gone down. That's the reason I can see all these 'exercising' more clearly now. Thanks.