It's snowing here in pt pleasant, wv usa

United States
3 responses

• United States
20 Nov 06
there is a light coating of snow today. i think the snow season will be starting pretty soon.

• United States
20 Nov 06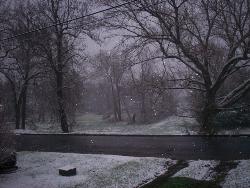 I love the snow..it is so peaceful to see it before anyone walks through it;)+

• United States
20 Nov 06
There is no snow where I live right now. They are saying that there will be snow/flurries in the counties north of me. I don't want the snow to happen just yet, because when it comes then the ice isn't far behind. I hate having to drive on icey roads, because of all the accidents it causes.