what's the first food that you learned how to cook

Philippines
September 13, 2011 9:52pm CST
Hmm, let me guess guys, I bet , it's eggs.

I too, learned how to cook egg first. It was the scrambled style. First time that I was able to cook one, it was already perfect. My mother taught me how to. Then, I learned how to fry it, sunny side up. But until now though, whenever I boil an egg, it's always cracked.

11 responses

• China
14 Sep 11
I can't remember the first dish that I learnt how to cook.However the stir-frying eggs is a homely dish .There are various ways of it,for example ,the commonest one is scrambled eggs with tomato,in addition,with fragrant-flowered garlic,with shredded meat and jew's-ear also known as pork fried with scrambled eggs.

• Philippines
14 Sep 11
I think, because you were already a good cook after first learning how to cook, you overlooked what was it that you first cooked.

You have just mentioned a way of scrambling eggs with a not common ingredient, jew's ear . What's that, the ear of the pig?

• China
14 Sep 11
Oh! not the ear of the pig but black fungus that benefits Cardiovascular disease.

• Philippines
15 Sep 11
Maybe that's what we refer to here as the Tengang Daga (Rat ear, yeah sounds gross but that's how we call it).


• Chile
2 Oct 11
I don´t remember what was my first, but there were a lot of "first" at the same time. I saw 11 years old and we had gone to live for a year (which turned out to be a year and a half) to the US. Up to then, in my country, we had Grandma and a maid to help out. My Mom got sick and bedridden shortly and we had to cook (my brother and I, one each day) under her orders from the bed. I do remember though that I cooked quite nicely then but forgot it all later, as soon as my mom got better

. I doubt that eggs were my first: we did not have the custom of eating eggs at breakfast. I made toasts and had them with strawberry jam and butter.

• Philippines
3 Oct 11
Whatever dish we had for our first time to cook, it helps us to be able to learn how to cook more dishes afterward. I think for me, after learning how to cook the scrambled egg, i started learning some simple ones too.

Sometimes my friend, an emergency like what happened to your mother, forces usd to learn some things we haven't done yet, like your cooking .

• Chile
11 Oct 11
It seems that all my first attemps at cooking were due to emergencies. It was a lot later that I started to love to cook.

• Philippines
29 Sep 11
As far as I can remember, i think the very first food that i cooked was rice. I was an elementary student at that time. My late grandmother was the one who looked after for my siblings when my mom went to the market on those days. Her house is meters away from ours. One time my grandmother arrived late in our house and i thought she can't come at all on that day. And there wasn't any cooked food to eat at lunch. What i did, i decided to cook the rice all by myself. Since i always watched my grandmother every time she cooked food in our house. So i just tried to remember the steps on how to cook the rice. I'm so glad that it was successful.

• Philippines
30 Sep 11
Really? Oh i envy you because you can cook rice even when it's your first time to cook. Me, i really don't know how to cook rice until now. It's either burnt or very soft .

It's a good thing, there's the rice cooker. At least i can now cook a perfect rice. However, the problem is when it's brown out.

Congratulations my friend because you have cooked a difficult one for your first time to cook.


• Philippines
30 Sep 11
Thank you Ms. SIMPLYD for the compliment! :-) Yes, it's true, cooking rice is really quite complicated. However, sometimes we intend to overcooked the rice because my mom likes to eat the burnt part of it. Hehe..quite ironic, isn't it?

• Philippines
1 Oct 11
My dad also like the burnt part. We call it "tutong". But for me, i don't like it. It goes to the food of the dogs, whenever it's brown out and we can't use the rice cooker.


• Southend-On-Sea, England
28 Sep 11
The first food I learned to cook was apple crumble in a cookery lesson at school.

• Philippines
29 Sep 11
So you did took a cookery lesson in order to learn how to cook. That's nice. Imagine cooking apple crumble as your first dish! That's something. At what age was that, if you don't mind?

• Southend-On-Sea, England
29 Sep 11
Yes, we had regular cookery lessons at school. The apple crumble was when I first started at secondary school, back in 1965 when I was aged 11 (I'm 57 now!). I'm not sure if cookery is taught in schools now, or if it is, how it's presented.

• Philippines
30 Sep 11
I guess we call it as Home Economics in our time, where we are taught how to sew, clean the house and do chores as well as simple cooking. But this was taught to us when we were already in grade 6, before going on first year high school. It's the same age as yours, but the meals taught were just the simple ones. Unlike yours , it's more intricate. That's really very nice.


•
14 Sep 11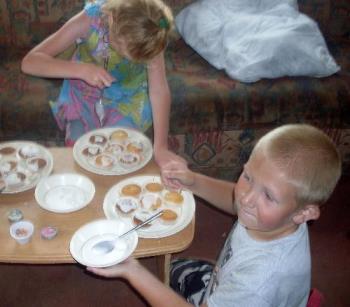 Being an old biddy of 60 I have to think back a long way!! However I do remember hat the first thing I learned to bake with my mother when I was about 4 years old was pastry and jam tarts. I learned my love of cooking from watching my mother cook and I have taught all my children and grandchildren to cook in the same way. This picture is of two of my grandchildren, Harry and Alice (aged 9 and 7) decorating the fairy cakes they had made while staying with me for the summer holidays.

• Philippines
14 Sep 11
Wow, you learned to bake at that early age. I envy you my friend, because until now i don't like to bake. My first experience and the second one was a falure, i never tried anymore, ever.


• Philippines
15 Sep 11
Yeah, it's a shame that until now i can't bake.

I guess, i just have to be contented with buying the ready made ones.


• Philippines
14 Sep 11
Really, you were able to cook rice on your clay pot play set. So, how was it? Wasn't it a burned one.


• Philippines
16 Sep 11
Well, if it wasn't burnt even if it's your first time to cook rice, then you really have the making of a good cook , when you were still young!


• Philippines
14 Sep 11
I think I learned how to cook rice first. It was a tedious process before rice cookers were used. It could be too hard, too soft or burnt!

(I was scolded a lot for that because of the times I cooked rice, maybe about half of that was burnt.

) I don't know when I started to learn cooking viands and what my first dish was.

• Philippines
14 Sep 11
Oh, cooking rice!. Good for you because you really learned how to cook rice. Me, until now i still can't cook a perfect rice, with no burnt under layer.

At least now you can already cook rice , unlike me.

Actually, cooking rice is one of the topics i started too today. You might want to see it.

• Philippines
15 Sep 11
Thanks for the BR! I think I have seen that discussion. I put some tips in there how not to get it burnt.

• Philippines
16 Sep 11
Welcome. You deserve it.

Yes, i will wait for that tip on that discussion.


• United States
14 Sep 11
I think my first food was a grilled cheese. Now I make all kinds of varieties. It is still one of my favorite foods and I love to add different things to it... tomatoes, bacon and my all time favorite is a double decker!!! I have a trick with boiling eggs. I add the eggs to the water, then bring to a boil. Once at a steady boil I cover the eggs and turn the heat to low for 13 minutes. They are perfect every time... good luck!

• Philippines
14 Sep 11
So it's grilled cheese to you.

Thanks for the tip in boiling the egg, i will have that in mind. I will try it for tomorrow's breakfast.



• Philippines
14 Sep 11
Hahahahaha...I don't know that I have ever mastered cooking anything, but you are right, eggs was one of my first attempts at cooking. To this day I still cannot turn the egg over without breaking the yolk. Every once in awhile I succeed but it is pure luck. i try boiling eggs and it always ends up with the egg shell sticking to the egg and I mangle it beyond recognition when I try to remove the shell. Thank God my wife is a good cook or I would starve. lol

• Philippines
15 Sep 11
At least menace, you have tried how to cook them. You are lucky to have a wife , who is a good cook.


• Bulgaria
14 Sep 11
first food I've tried to do was to boil the eggs and also cooked eggs. I can also say that the eggs were cooked as above and I was because I had delicious meals at home and so I learned to cook. nice day!

• Philippines
15 Sep 11
Just as i thought, it's usually the eggs that is the food that we have first learned how to cook. It's the easiest to cook that's why. Right?


• Malaysia
14 Sep 11
i learned to cook maggie 2 minute noodle ~ BOIL water, put the noodle and the paste into a small container, pour the water over and cover for 2 minutes ..... then EAT EAT EAT

• Philippines
14 Sep 11

I think that's not actually cooking. But however, it's the start of learning how to cook.