Will you attend my Kitchen party? To end off kitchen session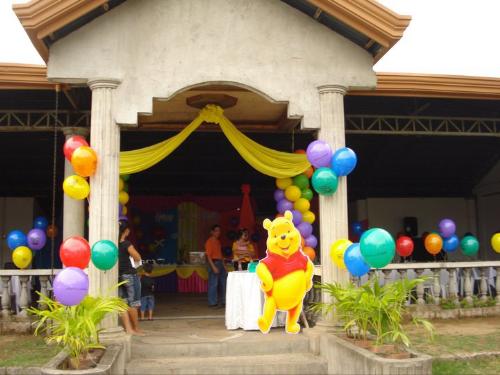 India
September 17, 2011 2:45am CST
Now everyone knows my eating and kitchen session is end today is last day of week, so I am arranging a party that is "Kitchen Party" No chiken party and kitty party my party name Kitchen Party something different. Party will be on Sunday but preparation is starting from today because this is big party because I know more mylotter will join my party...

I will announce there the next week interest ahhah

But before attending my party you should read the terms and conditions and follow the rules so read carefully dont miss anyone 1.[b] No chapati is allowed without butter 2. Not allowed remains food in plate 3. Dont get annoyed on foods or meals if anyone tell something 4. It is necessary to share your food or meals with your friends

5. Watching TV is not allowed while eating [/b] After reading the funny rules you all are Welcome in my party..Let's go enjoy Hip hip hurrrree
9 responses

• India
17 Sep 11
Hi fanta,

I agree all the terms and conditions except the first one. I just recovered from the typhoid (not completely yet) so I can't use the butter in chapatti, but I assure that I won't waste any food even though it is without butter. At present I am much hungry so I don't want to watch any tv, I need my food. As you know that I won't mind if anybody said any bad comment, I will finish my eating without getting annoyed. Finally I can share my food, no problem with that too.

Now I hope I am eligible for the party and you may agree with one exception which is due to my bad health. Now tell me when and where I have to reach.


• India
17 Sep 11
Ohhh my dear I also forget to ask the place where is party I am laughing what a logic of fanta! hahahh....

means 2 guest are fix of fanta's party hahahha



• India
18 Sep 11
hiii sree Dont worry if have problem then not follow the first rule but I forget to tell one thing apron is necessary in kitchen party because my budget is very less no call any servant in my party and after fun we can clean our plate... hahhah...

yes you are the first person who join my party so Welcome in my party by heart ,....

• India
17 Sep 11
Thanks fanta for the invitation . I promise to comply with all your T&C . Please provide me with details of address . BTW what's the menu ? :-P

• India
18 Sep 11
Hii lolly I dont know address so upload the photo of place and you all should find where is this place and came there but no entry without gift and I forget one last rule hahahhah


• India
17 Sep 11
Hiii funny fanta! I am laughing very much wow! what a good arrangement of party and you are waiting for me on main gate ahahh...

nice I will surely came and I agree with all the terms and conditions. You are really great what a special party is arranged for mylotters

Ohhh no chiken thats great then surely I will attend your party. Nice name KITCHEN PARTY ha ha ha


• India
18 Sep 11
hii talkative women I read on discussion in which you were crying and now you are laughing and this is your good quality and in party only laughing no crying.. so join and enjoy hurrrrrrr


• United States
17 Sep 11
Good way to start a party is to set forth some ground rules.

You have such a humorous way about how you start your weekly sessions. They are intended for fun, but upon viewing the great many responses and comments I can see how informational they are at times. I do enjoy reading about the cultural differences as they do put forth that no way is the right way for all, but that all ways vary and the comfort it bring forth to each individual. Good job Fantabulus for keeping the interactions flowing. Okay so where is the champagne for the party.


• India
17 Sep 11
Ohhh friend what is happening here also only your profile pic is not displaying but all are clear.. .check it immediately whats problem

• United States
17 Sep 11
myLot has some site issues so anyone with a .gif avatar is not visible. This has happened before so I am sure they will fix soon.

• Malaysia
17 Sep 11
It is a pity to see some of you don't have picture for your profile. Hope Mylot admin will fix this matter soon. Is this only happened to those who upload their profile using a.gif avatar? Luckily, all our posting is still visible like usual...


• Malaysia
17 Sep 11
Hi Fanta, so you are sending out invitation to those who are able to follow your rules and conditions only? How about some of the mylot members who are having health problem and need to excuse from some of your rules? Hope you will give exception to them ,so everyone able to join your party without any problem. As for me, i don't have any problem to follow all your rules. So, hope to hear announcement from you regarding the food and venue of the party...


• India
18 Sep 11
Hiii fb wooooo nice question and for health problem people no rules are necessary only one should follow sharing the meals because my bedget is not more and meals is less hahah...

and I know you all will be came without gift so no meal..

• India
17 Sep 11
Hello fanta You just made a great announcement to me.I like a lot these type of home parties where I can make many new friends.These type of parties are always fun.I will surely follow all you terms and I will come before time to help you making arrangements for parties and will go late to help you for all pack up.It all will be a pleasure to me.

• India
18 Sep 11
hiii vikki Yes in my party fun will be more and meals will be less because my budget is not more hahah....

and public is also coming less because still only 8 people are ready to join my party with term and condtions..

• India
18 Sep 11
Hello fanta, No problem that your budget is not large but I believe that fun will be very high.You brought such a good idea to us,that is very sweet.

• India
18 Sep 11
I need to know where this party is held and yes you forgot to mention about the type of clothes we need to wear. Do we have to have aprons as the party is in the kitchen and so you will expect us to wash the dishes after the party is over

No problem with your rules but I must have a sweet dish - hope you will keep this in mind.

• India
18 Sep 11
Hiii knowing Woooo I forget to tell the cloth pattern but you can wear anything because this party on all over the world basis so different country different dresses and we enjoy lot and will play the funny game hahha...

Ohhh yes apron is necessary to tell your all friends because my budget is not more so I not call any maid servant haha....

Everything is available in my party but under limitation no more eating hha...

• Garden Grove, California
17 Sep 11
hi fantabulus I

will come as its sounds like fun and although I have never eaten chapati sounds good and sure will have butter with it and I always clean up my plate, and I never get annoyed at a party especially a kitchen part. I am always willing to share food with my friends and I am not much of a TV watcher so your rules will be easy to follow. What fun/



• India
18 Sep 11
Hiii Hatley aunty woooo you are the first person who are accepted my all rules thanks... but my budget is not more so in my party fun will be more but meals will be so sharing is necessary for all.. still only 8 people are ready to join my party so sad.. my party will be bore without lots of people.. but you are there then no problem we will play more funny game hahaha....

tell me how is name of party "Kitchen Party"

• Delhi, India
18 Sep 11
Hi there! It sounds a great idea. However, I was late in responding. I do not know whether the party has already taken place or you are still contemplating it

. I will abide by all the terms and conditions mentioned by you and they appear acceptable.