Tell me what is your experience about love?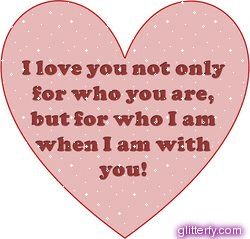 Philippines
September 19, 2011 4:06am CST
For me love is the greatest gift of all. Love are feelings in which by the will of your heart that beats like a drum and calling out the sounds of inspiration. I'm a person with emotional in life. I easily get carried out with this thing called "love". Don't get me wrong. I'm a straight guy. I never wanted to own this feelings to happen. By nature love already exist in you. I just share a little bit about love. Now what I want to know is how love controls you and what do you experience about love in life? Tell me about it.
3 responses

• Philippines
20 Sep 11
For me love is a very powerful emotion. I fell in love with my boyfriend who is now my husband. I met him 15 years ago. I can say that love change your perspective in life. Love made me realize that money and career is not very important to me. I worked in a foreign country and left my boyfriend. After several months of being lonely, homesick, and sad I decided to go home. My friends were shocked and my family was disappointed. Being far from your loved one is the worst experience I have. I tried my best to adjust but happiness eludes me. So I was firmed with my decision to go home and follow my heart. And I did not regret that decision because I am married to a loving, caring, thoughtful, and responsible husband. Moreover, he gave me two wonderful daughters. I have never been happier and my friends and family understand and they are happy for me as well.

• Philippines
19 Sep 11
For me love sometimes very confusing because it's too hard to know or too hard to analyze whether it is already love or just an infatuation. I don't know yet how to define love and how to tell if it's love already or just a simply infatuation.

• Philippines
19 Sep 11
Love is a feeling.Love can blind you.. can in love with others.. nothing wrong to be in love ,but it is a feeling we have.. i think when you love someone at first,you feel not to sleep ,or can't feel good if the person is not around you..