can you cry under water???

5 responses

• South Korea
23 Sep 11
I have never tried crying under water but I think it's possible but you might choke on the water. When we cry we usually inhale strong breaths so you might be doing the same underwater. Ok now I think it's more dangerous.

• United States
23 Sep 11
Sure you can cry under water if you want to let out your emotion. You can cry anywhere if you want; crying is not limited on land only, it is not only possible under water. You can cry in space, in a vaccum, in space craft, or even in the public, so long as you are feeling comfortable letting it all out.



•
23 Sep 11
do you know another funny thing will be that the person who will be crying might not need the tissue paper .. haha . so it i must say it will be environmental friendly tears .. lets try crying underwater then .. i havent cried yet but will try next time when i enter the swimming pool

• United States
23 Sep 11
Yes I can cry underwater, under my running shower water that is. As for crying under water such as in a river and or pool, I have not tried that and I think my mind would be concentrating on assuring I would not drown. Crying at least for me means I gasp for a lot of air and while under water, I suppose that would not be possible for me.

• Philippines
13 Oct 11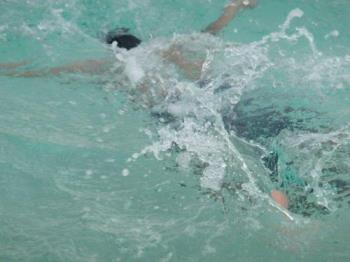 I don't think I'd be underwater when sad. But maybe some people do beat their sadness by swimming or dipping in water. Now how can one shed a tear if he is underwater? Could it be possible? Of course it is. Although I am not crying underwater I am certain we can always still cry even underwater but as for me when underwater I will just enjoy swimming instead of crying.