CSI Vegas Season12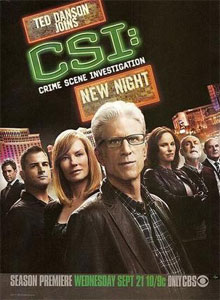 Singapore
September 23, 2011 8:28pm CST
CSI Vegas kicks off with a rather bland plot "73 seconds" this fall and I believe fans will be a little disappointed. As usual we have to expect another change as the team is having another team leader after Grissome (William Petersen) and Dr. Langston (Laurence Fishburne) - in comes D.B. Russell (Ted Danson). "D.B.?" (Nick) That's right. The first episode starts with a chaotic shoot-out on a hotel tram leaving two dead, almost no witnesses, and a lot of contradictory evidence; while another team (Sara and Greg) had to deal with a dead man in Panaca County who had a young man's face and an old man's body. Just find the dialogues being dull and draggy (I almost fell asleep) which lead me to wonder if the series could survive another season. What do you think?
3 responses

• Brazil
24 Sep 11
Well, I didn't watched the first episode yet (because here where I live, the new season only going to start on 10th of October). But, I really liked the end of the last season, so, I was really thinking to come back to follow the series. And, I really liked Ted Danson choice (but, of course, no one is better than William Petersen). From all the CSI shows, the CSI Vegas still is my favorite one.

• Singapore
24 Sep 11
moneywinner, I have to agree with you that the last season was much better with Dr.Ray Langston (Laurence Fishburne) as the team was led to stop the notorious Dr. Nate Haskell (Bill Irwin). However, it seems like Dr. Langston had chose to retire as his fiancee had accepted him again. Hence, you can see that the team is really trying to readjust with their new chief D.B. Russell (Ted Danson) who really has a new work ethic which really needs some getting used to. Not forgetting that after the Langston Haskell fiasco, Catherine has been demoted and Nick has to give up his room for D.B. I do not know about you, but I am really doubting Ted Danson's ability to turn the show around for this season - he is just in between with a rather odd work ethic to be a leader in CSI. I am anticipating that he will turn rogue in the middle of the season. Who knows? It's anybody's (my) guess.

• United States
24 Sep 11
I have not watched the original CSI since they killed off the character of Warrick. I never really did like Gil, but I also didn't watch when they had Langston on the show, so I don't know how he was. I was hoping Ted Danson's character would reenergize the show because it was so fresh and oriingal when it first aired. I read so many positive reviews of the first episode this new season and critics were praising Ted Danson's character, but if the regular viewer like you doesn't like it, then that doesn't bode well for the show - critics good reviews or not. I really wish Marg Helenberger was not leaving the show. I really liked her.

• United States
26 Sep 11
I used to watch CSI a long time ago, but when they changed the night of Survivor, I honestly quit watching it because it was always just the perfect show to watch between Survivor and flipping the television to NBC so that I could watch ER. I do, however, still watch CSI Miami because I really like the characters in that version of the show and I really like the fact that there have not been tremendous changes in characters and plot lines. That said, I do think that the show will continue for quite some time.