Nail Stamping Vs Gel Nail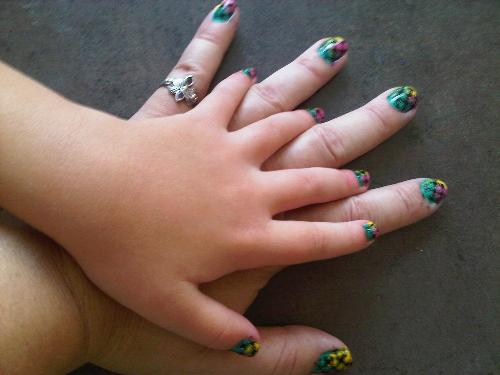 Canada
September 26, 2011 11:23am CST
My girlfriend and I got into nail stamping a few months ago. We both really enjoy it and it fun and easy to do. I use to go and get gel nails done, it's expensive and something that needs to be upkept constantly. Basically it's 45 dollars for a fill which can become costly. The worst part about it is that if a nail rips or lifts it can be painful. what I like about nail stamping is that it looks good on short nails and you can redo your nails daily and feel pretty! It's so easy, pick a base coat of nail polish and then stamp a pretty stamp onto your nails ...add clear coat and your done! Here we did 3 colors and chose a black nail polish pattern. Lots of Fun.
2 responses

• United States
3 Oct 11
How cute, the mother/daughter nail stamping! We just found a less expensive place to get gel nails or I was giving it up. I get the gel coat over my own nails rather than the tips or fake nails - that is crazy expensive! I heard about nail stamping but haven't tried it yet. I am definitely going to give it a shot, thanks! I think my daughter will love it.

• Canada
5 Oct 11
Mamasaid We have so much fun stamping and painting each others nails. It is much fun to paint our nails to match our clothes. I do think your daughter will love it, especially now with all those quick dry nail polishes. she will look and feel like a princess with in 30 minutes!

• United States
27 Sep 11
I did the false nails once. Once was enough to last me a lifetime. Felt like my nails could not breathe. I have very hard nails always have and they grow out quite well. I never was into doing much with my nails. They look good natural and when I did put on a light shade of polish, it would chip and peel and I hated the way they looked. then when I used nail remover it felt like it was making my nails softer. So I just let them grow and shape them as I cut them and basically they always look nice without anything on them. Your nails look awesome and I am sure your daughter enjoys having hers done too.