The Sorcerer and the White Snake (2011) trailer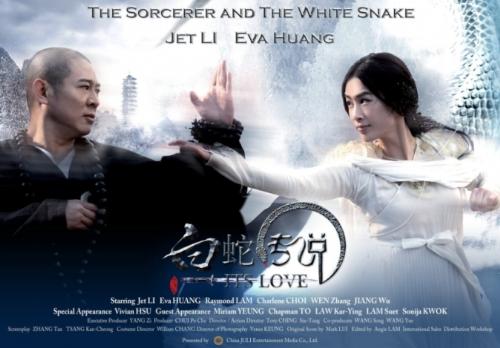 Philippines
September 28, 2011 6:56am CST
Jet Li's new movie!!!! As I have said in my other discussion about this movie, this is about a Chinese folklore. This will start showing on September 29, 2011 in Hongkong.

Here's the awesome trailer (not a referral link): http://www.youtube.com/watch?v=eova0lSmxGw Fantasy epic!

4 responses

• Malaysia
29 Sep 11
Hi Secret, from the trailer, this movie seems very nice and interesting. It is good to see the directors able to re-do another story based on the old version of Chinese folklore. So far, i haven't got the time to watch this movie in the cinema yet. Maybe after back from vacation, i will ask my hubby to bring us to watch it. Seems like, Jet Li's movies all are very interesting and highly action-packed as well. So, we won't be bored when watching his movies.

• Philippines
2 Oct 11
And I think you can bring your kids when you watch this movie. For sure, kids will enjoy the adventure part.


• Malaysia
3 Oct 11
Yeah, my son really loves to watch adventure stories. Only when the character get hurts and vomit blood, then he will quickly cover his eyes with his hands. He scares to see blood. Is your nieces also do the same when they saw blood in film?

• Philippines
7 Oct 11
Nope. She gets disgusted but she does not cover her eyes. But she says "ew".



• Malaysia
28 Sep 11
oo i about to see this movie just now..but its playing around 9.30pm.. i wanted to watch some movies around 8pm..so ended up watching Appolo 18-- over here in Malaysia... The Sorcerer and the white snake.. is showing since 27th sept. (not sure HK opens 2 days slower.) maybe i will watch it this weekend..

• Philippines
2 Oct 11
Wow!!! It's already showing there???

I wonder when this will be shown here in our country...

• Malaysia
20 Oct 11
hey..this movie is bad..i seen few days after i posted that comment above..its not good..and worth ur jet li time..;) the kungfu fairly slow for his standard..he got a sidekick that turned into an ugly make up vampire/bat man! only the upside is the gorgeous whitesnake demon.. whos love for the guy she love very..u know//heartfelt.. other than that .this is a BAD movie... just download it..free..

• Malaysia
20 Oct 11
i mean..NOT WORTH your JET LI time..


• Philippines
28 Sep 11
another Jet Li fan here. I saw the posters for this a few weeks ago, and was very excited. I am sure to watch it even without seeing the trailer. I was anticipating this big Chinese movie called "My Kingdom", turned out, it will not air in my country. Good thing Jet Li's movie will.

• Philippines
2 Oct 11
Me, too! Even if I didn't see the trailer, I will definitely watch this movie! I just have to wait when it's finally showing here in my country.


• Singapore
29 Sep 11
Wow! There are so much CGI effects in the movie.. haha :D Awesome! I think i will watch the movie on the big screen, if not for the story but the effects.. lol

On top of that, most of the actors in there are new to me, especially in terms of movie acting, since i'm seeing them mostly in dramas.. haha

Hope the actual movie won't disappoint me and i'll be waiting ^^