Buying Christmas Presents for Friend's Kids

United States
September 30, 2011 11:53am CST
I had my first baby this year and my friend is about to too. We plan to invite each other to our kid's birthday parties b/c even though my kid's parties will only be for family, me and my friend are close and want to be involved in the kid's lives. So obviously I will be buying presents for her kid(s) every year on her birthday, and she will be buying for my kid(s). I'm wondering about Christmas though. Both kids birthdays are really close to Christmas so I thought it would be easier to get her to agree to only buying presents for their Birthday's, not Christmas. Part of it is that I don't want her to feel obligated to buy a Christmas Present then a Birthday Present shortly after. The other part is I know it gets hard to come up with present ideas for ANYONE, let alone the same kid back to back. So should I bring it up? Do you think she'll have a problem with the idea? How should I say it? And do you buy presents for any of your friends kids?
2 responses

• Canada
1 Oct 11
It usually hurts when the birthdays are close to a national holiday. Then the child feels that he does not get as many presents as the child whose birthday is a distance from the holiday. I would ask the mother what would she do because she is in the same situation with her children. However I would think that she does not expect you to buy something big for her kids. I wold buy something small for each of them. So get the child a small present for birthday and a small present for Christmas. She will do the same. Then you get a big present for birthday and Christmas for your child and she will do the same for hers.

• United States
5 Oct 11
We discussed and are going to do birthday presents but not christmas presents. We won't actually see each other ON Christmas anyway since we both have our own families to see, so the Child won't really know the difference. I can understand when it comes to family that you make sure the kid gets presents for BOTH occasions, but this is a friend so I'm not too worried about the child getting upset. I'd rather by a medium or large gift for the birthday b/c I have more ideas that way. If we are limited to only small gifts, it's even harder to come up with something.

• Canada
5 Oct 11
sounds like a good idea. It was rather difficult to buy smaller presents. AFter all, there are only so many Golden books and so many Dora the Explorer books or games and the trouble is that the parent of the child might be buying it for them along with their regular presents and there is a danger of duplicates. Besides they would not be expecting something from y9u for Christmas because they would know you would be spending it with your family.

• Philippines
2 Oct 11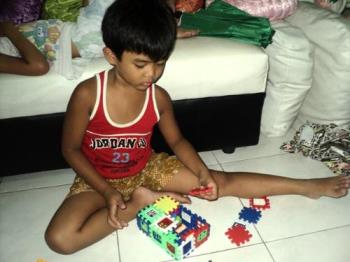 In your case if you and your friend are really that close and you feel she will be open-minded enough to accept your suggestion then you can always discuss your idea with her. I agree with you, we must be really practical these days. Although toys do really make the kids very happy because they are part of being a child, I don't think we should really spend that much for toys. A gift per year would be enough I think.


• United States
5 Oct 11
She did accept the suggestion and I think she is probably relieved not to have to buy 2 presents a year for my kid. 1 is hard enough to think of :) I don't want to spoil my child anyway, and I think between all the family members she has that she will already get enough presents for Christmas. We are only buying her 1 thing for Christmas and 1 thing for her birthday - something big like a kid's Chair. She will get enough presents from everyone else. I don't like going to a bday party where a 2 year old gets 20 presents from his parents alone. That is just too much!