Anybody seen Captain America?

Philippines
September 30, 2011 3:47pm CST
Has anybody seen Captain America? What are your thoughts about it? I liked the movie but I was really at awe on how they manage to make his body that small? I am not sure if that is special effects or he really did something about it - like you know make himself thin?
5 responses

• India
1 Oct 11
i didn't it.. i don't like the trailer of it and it is more of the similar stories and graphics attached to it. i used to see real good action movies.

• Philippines
1 Oct 11
so you mean you have read the comic books? How was it? I have not seen that comic book ever and I am unsure if it is the same with the movie. For the other action hero type movies, I only base them on what I see on the TV series but nothing about the comic books because for one thing, they are very very expensive to have. What type of action movies do you watch?

• Malaysia
27 Jun 12
I've seen captain America just literally a few hours ago ( well its actually because I watched the avengers lately...sad case, I know). His body is so small because sine parts were acted by a completely different actor whose name is Leander Deeny or something like that. Besides, it would he seriously unhealthy for him to thin down or bulk up in a short amount is time. Besides, he can't do it in a short amount of time anyways.

• India
1 Oct 11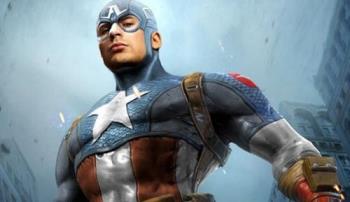 Keeping aside how he looked and all. i dint like the movie. Waste of time actually for a super hero flick. When we have movies like Batman begins, Spiderman and Superman which are completely entertaining, even kick-a$$ was a nice flick.. i couldn't just accept this one . I wish to inform this also that i have read other Captain America comics and i like him as a Super hero.

•
1 Oct 11
If they can make Ian Holm hobbit-sized, it's pretty easy to make a guy skinny. Special effects.

I enjoyed the film though, like most, it was pretty straightforward. If Hugo Weaving hadn't been in it, it would've sucked a lot more. Basically 90 minutes (or however many) of simple amusement, nothing more.

• Malaysia
1 Oct 11
yes..ived seen it..i think a lot of people have seen it.. that part when chris evans become thin ..they had a stand in actor ..a skinny guy taking the special effects photo shoot..and then super imposed on chris character in the movie.. the making is available if u bought the bluray for this movie.. i got one.