I'm often heated the mouth.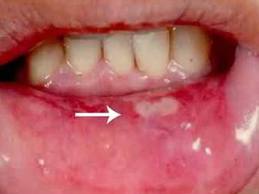 Vietnam
October 8, 2011 4:11am CST
I often heat the mouth. I usually mouth sores, painful and burning when eating. The situation is getting worse. It occur two to three times per month .I was really uncomfortable. I went to the doctor. But he said it was because my body. I must accepted this disease. It can not be cured. Do you have any advice for me in this situation, so I can live comfortably with it .
8 responses

• India
14 Oct 11
These are called mouth ulcers. It specially happens when our whole body system gets heated .Sometimes deficiency of Vitamin C also could lead to Mouth ulcers.In such conditions,plenty of water should be taken with simple plain foods by avoiding too hot and spicy items.In market various types of mouth ulcer gels are available.We can use those also.

• Canada
11 Oct 11
This looks like the canker sores my mom used to get all the time in her mouth. They can be very painful but they go away on their own in roughly 7-10 days. Doctors actually don't know why people get them but, apparently, they are likely hereditary. Does anyone in your family get them too? They are also linked to food allergies, ill-fitting dentures, etc. My mom used to do several things to try to make them less painful ... because she often had difficulty eating and sometimes even speaking because her mouth would be
so
sore. Certain foods are recognized for causing or aggravating the sores. Examples are chocolate, nuts, spicy foods, strawberries, citrus fruits, juices, tomatoes. Coffee and sugar are also of concern. My mom was a
huge
coffee drinker and she liked her sweets so some of these things were difficult for her to avoid. Also, if she even ate one chocolate that had nuts in it, she was sure to get a canker sore. You can try eliminating some of these things from your diet or get an allergy test to find out if you have trouble with anything specific. Also, you should take a good multi-vitamin daily to make sure you aren't deficient in folic acid, B12, etc. When you already have the sores, you can do a few things to make them less painful until they go away. Simple baking soda -- you can put some directly on the sore several times a day or make a paste with a bit of water and apply. Might hurt a little but, ultimately, it can give relief. My mother preferred to gargle salt water several times per day -- put about two tablespoons of salt in a glass of warm water. There are also commercial mouth rinses but she found plain old salt water helped her most. You should search "canker sore treatments" or something similar and you will find a lot of information. Good luck and feel better



• United States
8 Oct 11
Oh wow that has to be irritating and frustrating. If your doctor has not recommendations, I probably would seek a specialist such as an ENT, EAR, Nose and Throat specialist. I would say maybe it is due to dehydration as my mouth can get a bit way too dry when I don't drink enough water. But I wonder if that is the same for you and if so the doctor would have recommended this. So my suggestion would be to seek a professional/specialist as my thoughts is that if there is nothing you can do then it will continue to get worse.

• India
8 Oct 11
I am sorry, I do not believe your doctor.

Please take a second opinion about your problem. Most probably, it is related with some stomach problems...are you occasionally constipated? Include fruits and vegetables in your diet and a lots of water will help you. Above all, a second opinion is the best possible course of action. Best of luck.


• India
8 Oct 11
I had blisters which used to form frequently.My physician at that time prescribed multivitamin tablets which were to be used for a month or two with a gap of a month.This seems to have worked because they do not come as frequently as earlier.When the blisters are severe i use a mouth wash containing potassium nitrate with sodium fluoride and it helps to a great extent.

• India
8 Oct 11
As same doctor also told that my body is very hot always i need to cool my body by drinking some natural drinks like natural fruit juices coconut juices etc. As doctor prescribed some jel to apply in my mouth then doctor told to avoid chilly items in my habit of eating food.

• India
8 Oct 11
I often had this complaint but not too bad like the image u portrayed. But when i had this my mom always scold me why im not taking fruits and milk at night more. As she telling its the reason why my mouth get little burned as when we eat hot foods we had this complaints as fruits helps us to cool our body mainly my mom advice to take apples with little milk.