Celebration brings bitter/sweet memories!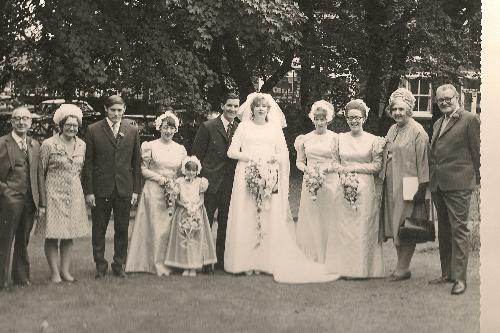 October 8, 2011 9:22am CST
Tomorrow is my 40th wedding anniversary. Because of this I got my old wedding album out to bring back some memories! This picture was both happy and sad for me to look at as it is a picture of my husband and I with our best man and chief bridesmaid and both sets of our parents. All our parents have long since passed away so looking at the photo made me a little sad but also brought back some happy memories of them! I have a scroll in my album that everyone at our wedding signed - reading that scroll I was sad to think that around half of the names on it are no longer for us. It was strange to run my finger over the signatures of my parents and all those relatives who have passed away. Does looking at old photos bring you joy or sadness, or like me a mixture of the two!
6 responses

•
12 Oct 11
Congratulations on your anniversary.Unfortunately we have no pictures of our wedding day. It is sad but no one thought of bringing a camera and it was only a small family affair. We have to hold the day in our memories. I remember my father in law had a motor cycle accident previously in September and he had his leg in plaster for our wedding in February. The front room where our reception was held was decorated by me and my future wife. We have worked together ever since. To get back to your post, yes of course it's a mixture but that's the same for memories and the photo's are only a prompt.

• Pamplona, Spain
4 Mar 12
Hiya chem, Yes there must be things like looking at old Albums that can make you feel like that but hey you must have had a great Party and a great time too so why not remember that instead? People who are no longer with us can make us feel that way yes but I prefer to live in the present now much better than any other.

• Pamplona, Spain
5 Mar 12
Hiya chem, Me neither I did not manage to get any photos taken of our Wedding as his Friend said he would take them and he turned up when everything was over. There was not really enough money to buy a Film Cartridge and Camera at that time or even a Wedding Dress like we had planned. Some plans never get through because of other things that get in the way. Things that happen I guess and not because you want them to but they just do.xxx




• United States
11 Oct 11
old photos especially when you know some of the people in them have long since gone does tend to make me a little sad, but Happy at the same time for the chance to know them. Especially when it is family, it is because of them that we now are, and hopefully lots better off because of that.

•
12 Oct 11
This is exactly how I feel! When I moved home 6 years ago I left a large 4 bedroome Victorian house for a small cottage; I didn't have room for all the thousands of family photos that I had collected over the years so divided them up between my four older children. I kept plenty though on disc and on my computer and my daughters will scan any I want and send them to me!

• India
10 Oct 11
Congratulations and a very happy anniversary! As the time passes the old photos are always something that would bring a smile on our face, though I accept many of our near and dear ones remain only in the photos. It is fun to see the old wedding album for us and i can show my children those pictures of those revered persons who are no more.


• United States
8 Oct 11
I can't help thinking what I looked like in 1971 - that is embarrassing! That picture is wonderful in the sense that it is timeless. It could well have been my parents wedding picture from the early forties, or it could have been taken yesterday. There is much to be said for a traditional wedding with the appropriate dress sense!