Just another day in paradise...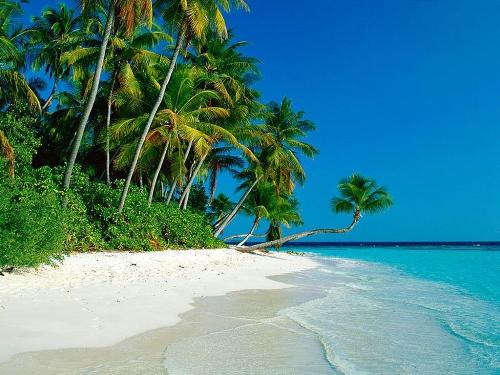 United States
October 11, 2011 3:05pm CST
I'm going to admit my ignorance here! I guess I should probably listen to the song named after this saying, but what does, "Just another day in paradise" really mean? When you think of "paradise," what does that mean to you? What is your idea of true paradise?
7 responses

• Canada
12 Oct 11
I think the song is about a man who's happy with his life no matter what happens. When I think of paradise I envision every person being on good terms with God and with every other person. So no wars or anything that hurts someone else, not even the animals. There is enough food for all, so no worries about that. The air, water and soil is clean, so no pollution of any kind. Everyone has a home and time to enjoy their life.

• United States
12 Oct 11
You know these days are coming, right?

Yes, I think what you described is pure paradise. And you're right about the song too. I finally found the lyrics (posted a couple responses above), and that's exactly what it is. A man is so happy and in love with his wife that he's completely content; his life is his paradise. I wish I could be more like that. What a great song now that I know what it means LOL! Thanks for sharing your thoughts. I'm looking forward to real paradise in Heaven someday.

Thanks for your response!!

• Canada
12 Oct 11
Thank you for the BR award! If you go to the paradise in heaven then you are truly blessed. But the paradise on earth won't be that bad either when heaven is looking after the earth. As Jesus said about God's will, may it be done on earth as in heaven.

• Canada
12 Oct 11
You made me so curious that I had to listen to the song and watch the video. I can tell you, it made me cry. I guess I was remembering the happy times when my two daughters were about the same age and the fun we had. Here is the video if anyone is interested: http://www.youtube.com/watch?v=QR4Y6Ll0DwA


• United States
12 Oct 11
Springtime, Hockey Playoffs,and a Pizza for dinner, and My guy to share it with!

• United States
12 Oct 11
I think it's great that you know exactly what you want! I think your paradise just might come...perhaps in a couple months?

Pizza for dinner with my hubby cuddled up to watch a good movie would be nice for me. I don't know about hockey, but as I said before, I'm slowly getting into sports.

I can at least tolerate when they're on TV. It's more background noise for now, but at least I allow it for starters - lol. Maybe someday I'll actually sit and watch a game with the hubby.

I hope you find your paradise soon or at least pieces of it here and there if not all at once. Thanks for your response!!

• United States
13 Oct 11
Thanks. My paradise does come true , in pieces.If Hubby is anything like my dad was ,all you have to do is sit down while the football or hockey game is on and ask questions. This is how my mom got into football. She was sick and tired of nort understanding why my dad would hurry home from church. By the time I was born, They both were into football. I got into What was actually happening on the field after highschool. As for hockey , I wanted to learn it right after highschool too.It took a few years for ESPN to air the games but when they did, I sat down and saw a few games.If you ever want to learn hockey, send me a private message and I'll explain the basics.

• United States
13 Oct 11
Hey, thanks for that! You're right about sitting down to watch the game with my husband. That would probably mean the world to him...after he gets back up from passing out - LOL! That's really great how your mom learned from your dad how the games go so that she could learn to enjoy them with him. That's a great thing to share. There's no drama in sports like there is in the soaps (which I refuse to watch, by the way lol) and other TV shows. With sports, it is what it is; what you see is what you get. I think I could really learn to like them. I've always enjoyed going to games whether I'm a fan of the sport or not. I understand most of the rules about hockey, and I love when they get in fights haha! I have yet to actually go to a Detroit Red Wings game, though...maybe this winter I'll be able to get some tickets from work. I got my husband, my dad, and a couple of their friends tickets last season, and they said the game was so much fun. Football is the sport I don't understand, so I'll have to sit down with hubby and figure that one out. I think that's what I hate most about it is that I don't get it. You should've heard the conversation my dad and I were having a couple weeks ago...he was trying to explain Fantasy Football to me. Crazy! Anyhow, I will try this (learning football) for the sake of making my hubby happy and also since the Detroit Lions are undefeated this season. Now's as good a time as any! Thanks for the encouragement and great ideas as well as offering to explain hockey to me! If I find something I can't figure out, I'm definitely taking you up on your offer!


• Philippines
9 Nov 11
When I hear that word, the only thing that pops my mind immediately is the resort. The name of it was Paradise Resort. If you are not living here in Davao, you might not know it. But what's on my mind is the amazing beach in Samal. I have been there for many times already. And I love going back to Samal, not specifically to that resort because there are still a lot of resorts that are also nice like Paradise..

• United States
16 Nov 11
"Paradise" is the perfect name for a resort! I had never heard of the one you referred to until now, but I'm definitely going to check it out online right now... It looks beautiful! I've never been out of the country (America) other than Canada, so obviously, I've never been to the Philippines either. That's one place I'd absolutely love to visit someday, though! I hear your weather is a lot nicer (warmer) than what we have here in Michigan, US. My husband's uncle's wife is from the Philippines, and she loves white rice. Do you? Sorry, just had to throw that out there - LOL! She moved from the Philippines to America about three years ago, and I know it's a lot different for her here. She now lives near Montgomery, Alabama, which is a lot warmer than where I live, but it's still colder than the Philippines in the winter. My paradise is definitely somewhere tropical and warm. The resort near you sounds like that would be a wonderful place to be!

• Canada
15 Oct 11
I guess petersum up there explained it rather well. One's paradise may become so ordinary if it's all the same everyday. Although the phrase has been used to mean both in a positive and negative way, I've always associated with being boring.

• United States
19 Oct 11
I take the saying as complete sarcasm most of the time, regardless of what the song says. I like the song and it's meaning, but it's not very commonplace for everything positive to happen where absolutely everything goes our way in a day; it's all about people's outlook on everything. I think knowing this, we don't expect there to be paradise anywhere until the afterlife, perhaps. What prompted this discussion was a coffee mug I saw in the sink at work a couple weeks ago. I forget exactly what it said, but it was along the lines of, "Another crazy day in paradise..." Sarcastic and negative, just how I thought the saying went. Thanks for your response!

• India
12 Oct 11
Dear JJ, What's paradise to me? Beautiful sunny day, lovely chilly breeze, lots of fruits, oranges, citrosity in the air, lot of fun food, family, my nieces, nephew, abundance of joy, love, giggle, laughter. Being in the paradise, also, means good health and peace of my loved ones, the people who care, whom I care for. Nothing like having to go to bed knowing that your loved ones are happy and hearty. Nothing can beat this, can it?



• United States
12 Oct 11
You're exactly right - there's nothing better than a gorgeous day to share with your family! Being loved is such a great feeling, isn't it? Spending time with those you love and who love you is something so special. Even on a rainy or snowy day, the weather can be horrible outside, but we can still have joy and love in our hearts. That can overshadow everything.

Thanks for sharing your idea of paradise! I surely hope you find this paradise in your life.


• Philippines
12 Oct 11
Hi JJ! I guess the phrase "Just another day in paradise" would mean a very happy day without worries and problems. That everything goes according to the person's preferences that make him or her think that he or she could not ask for anything more.

For me, paradise would be just like that. No worries, no problems. Everything's going my way and luck is on my side. Well, it's different if we are talking about a place that is paradise. For me, that would be somewhere with clean air, fresh water, a meadow full of flowers, lots of fruit-bearing tears, something like that.


• United States
12 Oct 11
Hey there, SB! I went online and actually found the lyrics to the Phil Vassar song because I was really curious to know what the song meant. I definitely appreciate your explanation! Here are the words... The kids screaming, phone ringing Dog barking at the mailman bringing That stack of bills - overdue Good morning baby, how are you? Got a half hour, quick shower Take a drink of milk but the milk's gone sour My funny face makes you laugh Twist the top on and I put it back There goes the washing machine Baby, don't kick it. I promise I'll fix it Long about a million other things Well, it's ok. It's so nice It's just another day in paradise Well, there's no place that I'd rather be Well, it's two hearts And one dream I wouldn't trade it for anything And I ask the Lord every night For just another day in paradise Friday, you're late Guess we'll never make our dinner date At the restaurant you start to cry Baby, we'll just improvise Well, plan B looks like Dominoes' pizza in the candle light Then we'll tippy toe to our room Make a little love that's overdue But somebody had a bad dream Mama and daddy Can me and my teddy Come in to sleep in between? Yeah it's ok. It's so nice. It's just another day in paradise. Well, there's no place that I'd rather be Well, it's two hearts And one dream I wouldn't trade it for anything And I ask the Lord every night For just another day in paradise Well, it's ok. It's so nice. It's just another day in paradise. Well, there's no place that I'd rather be Two hearts And one dream I wouldn't trade it for anything And I ask the Lord every night For just another day in paradise For just another day in paradise Well, it's the kids screaming. The phone ringing Just another day Well, it's Friday. You're late Oh yeah, it's just another day in paradise http://www.cowboylyrics.com/lyrics/vassar-phil/just-another-day-in-paradise-9493.html Now that I actually know what the song says, I think you're exactly right. It's a couple who's in love, and anything goes because they're ready for anything. They're so in love that they don't let the craziness of the day pull them apart; they always find time for one another. I think it's a great example of what I need to be like. Things will always be crazy, and we need to be ready for anything! As for your idea of paradise, I think no problems and nothing to worry about would be absolutely beautiful, a dream come true. Flowers sound nice too.

They're so peaceful and calming. I like your ideas! Thanks for responding!!



• United States
12 Oct 11
Wow, now that makes sense! Thanks for that. I never really thought about it that way, but it's crazy how true that really is. I've lived in Michigan all my life, but I always wanted to live somewhere that was somewhat warm all year round. So...a few years back, I went to college in northern Florida for four years. Guess what? I liked the warm, but it was too warm plus very humid most of the time - yuck! So when I was in Florida, I missed the beautiful seasons that Michigan has. Yep, I was in my "paradise" for four years, and I wanted something else! I really appreciate your response.